Hygge (pronounced HOO-ga) is a Danish and Norwegian word for coziness and comfort, the good things in life that bring about wellness and contentment.
You've likely seen the buzzword blanketing books and listicles, on candles, pillows and knitted everything. This warm and fuzzy Nordic notion is about simple pleasures—from sipping tea with an old friend to connecting with your kids over a fairy-tale.
Here are the best Breckenridge shops, destinations and experiences to help you tap into hygge this season.
Soft, glimmering lighting ushers in comfort and peace. Visit the Breckenridge Candle Cabin for handmade aromatherapy soy candles. They even have a Ullr prayer candle for honoring the Norse god of snow while illuminating your home.
Wrap your family in pure cozy joy with a trip to Joy of Sox, where walls and rows of socks, slippers and hats invite oohs and ahs. Touching the incredibly soft materials and giggling at the hilarious offerings is part of the fun (bacon socks, anyone?)
Tucked into an adorable brick alleyway off Main Street, Breckenridge Cheese & Chocolate and sister shop Ridge Street Wine serve up an intimate sipping space, small-batch chocolates, jams, tapenades and acoustic live music. Feel-good vibes flow freely here.
When you surround yourself with nostalgia and soul-warming goodness, your home feels, well, more like home. The owners of Marigolds Farmhouse Funk & Junk curate Midwest antiques, locally crafted jewelry and art, whimsical scarves and much much more in this downtown boutique.
Across the street at Magical Scraps, thoughtful home goods and colorful kids clothing beckon from an inviting Victorian home. This is the perfect spot to gather attentive and charming gifts for others. Wave a thank-you to the talented staff in the workshop behind the counter.
Carve out time for a round of cards or board games by the fireplace at The Crown, Mountain View Coffee Bar or Amazing Grace. Guests at The Lodge at Breckenridge and the Breck Inn kick back on comfy leather furnishings next to floor-to-ceiling stone fireplaces. For classic mountain ski lodge feels, head to weekend happy hour at the Breckenridge Nordic Center's Black Forest Tavern and soak up pine aromas and trail views over hot toddies.  If you have a sweet tooth find the best hot chocolates in town.
Sweet, savory nourishment brings blissful moments in the form of baked oatmeal, bacon and cheese-loaded strudels and steaming lattes at Moms Baking Co. The chocolate croissants and delicate pastries at La Francaise French Bakery are coveted scratch-made treasures. For dinner, families and friends gather around comforting cauldrons of melted cheese at The Swiss Haven.
Warm and welcoming ambiance pairs up with satisfying, creative dishes at Breckenridge fine dining havens like Relish, Aurum and Ember. Tuck in, enjoy great company and conversation and cherish course after course of globally inspired cuisine.
The Breckenridge Tourism Office works to enhance and promote the unique character and experience of Breckenridge as a world-renowned destination resort and to represent, serve and perpetuate the common interest and character of its membership and community. Lisa Blake is a regular contributor. The Breckenridge-based freelance writer, editor and mom enjoys researching and sharing stories on health, wellness, dining and the outdoors. Find her work in Breckenridge Magazine, The Purist, 5280.com, and at lisablakecreative.com.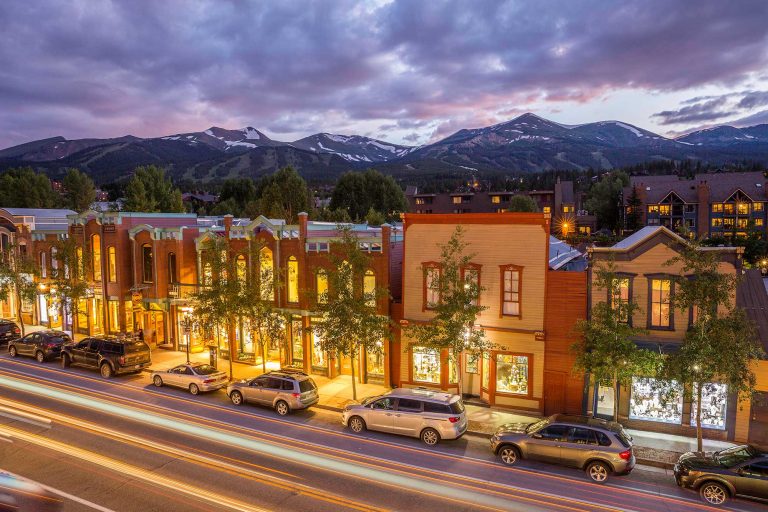 Embrace The Spirit
BLike Breckenridge™️ is a movement born of the spirit of our historic mountain town for those who call it home—whether for a weekend or a lifetime—to live by. It is a cause that connects us to each other, that we can all be a part of.