Fall in Breckenridge is an incredible time to enjoy cooler weather and gorgeous views. The high peaks of Breckenridge become peppered with groves of brilliant changing aspens, and the fall colors range from golden yellows to bright oranges and reds. Here is your ultimate guide to autumn leaf peeping- check out the best of the best this fall in Breckenridge, and explore a few of our favorite places to see the fall colors this season.
When Do the leaves change in Breckenridge?
Due to our high elevation, Breckenridge is one of the first places in the country where the leaves begin to change color. Early to mid-September is when you'll start to see the fall colors turn, and visitors and locals alike flock to the trails and embark on scenic drives to see the vibrant colors of green, orange and yellow come together on hillsides, valleys and around town. Not only is Breckenridge great for leaf-peeping, events and festivals fill the calendar and there are tons of outdoor activities to fill your itinerary.
Where Can I see the Leaves Change in Breckenridge?
French Gulch Area east of Town
The trails of French Gulch pass through Breckenridge's "Golden Horseshoe," one of Colorado's most fertile mining regions. The initial strikes here in 1859 are what eventually led to the birth of Breckenridge as a town. For most of the next century, the town's fortunes were largely driven by the Golden Horseshoe's output. Dozens of mines were active here at one time or another. Most amounted to nothing; a few yielded huge fortunes.
The groves of changing aspens make this area a beautiful hike or bike during autumn to see the fall colors. History buffs can opt for a guided hike with Breckenridge History.
Fall Hiking/Biking Trails:
Scenic Drive: French Gulch Road
A short drive up French Gulch Road rewards with dazzling displays of fiery colors surrounding historic mines and abandoned town sites. The dirt road is graded and passable by most vehicles. In addition to profuse aspen forests, you'll pass many old mines, including the Country Boy Mine, which is available for tours and open year-round, the Reiling Dredge and the Lincoln Townsite.
Directions: Take Wellington Road east from Main Street to the three-way intersection with Reiling Road and French Gulch Road. Continue east on French Gulch Road. The pavement ends just after the Wellington Neighborhood.
Local's Tip: The easiest way to get around Breckenridge is by foot, bike or bus. Take the Free Ride bus to the end of the Wellington community and hike along the road from there.
Local's Tip
Leaf Peeping is one of the most popular fall activities in Breckenridge and the trails on this list are some of the most popular places to explore this time of year. We encourage you to visit these trails on weekdays if possible to experience more solitude. Fall is also a great time to visit our hundreds of miles of scenic trails not know for fall colors.
Where Can I see the Leaves Change in Breckenridge?
Aspen Viewing around Town
Hiking/Biking Trails in the Area:
Main Street & Blue River Plaza – Walk around historic Main Street and take in the scenery and fall colors while exploring vibrant downtown Breckenridge.
Blue River Trail – Single track trail that parrelels the Summit County Bike Path.  It's a popular spot for fishers, hikers and bikers due to it's river access and scenic views of  the 10 Mile Range.
View Trail
Pence Miller Trail from Town Overlook –  The miners moved a lot of water around the mountains for their mining endeavors, leaving a web of ditch trails for our aspen-viewing enjoyment. The Pence Miller Ditch circles Shock Hill, offering a variety of views and micro-climates as it meanders through an aspen forest. Park at the Town Overlook on Ski Hill Road, and look for the trailhead sign across the road underneath the Gondola. The trail switchbacks steeply before reaching the mostly-flat ditch. Proceed north for the best views of fall colors.
View Trail
Carter Park to Jacks Cruel Joke – From Carter Park on High Street, climb the sledding hill to the ditch trail at the top, then proceed south to find massive spruce trees and aspen canopies over the trail. Jacks Cruel Joke is a steep hiking and biking trail that switchbacks down through the aspen forest with outstanding views of the Ten Mile Range and the Breckenridge Ski Area, before looping back to Carter Park on the Sunbeam Trail.
View Trail
Summit County Rec Paths and Bike Trails – The Summit County Rec Path provides the gateway to road bike rides all over Summit County and connects to surrounding counties like Eagle County, Grand County and Park County. Perfect for road bike enthusiasts, make sure to take advantage of more than 50+ miles of this perfectly paved, award-winning Recreational Pathway system.
View Trails
Where Can I see the Leaves Change in Breckenridge?
Boreas Pass Area
Boreas Pass is a stunning hour-long drive through filled with fall colors and mountain views. Cinders flying from the old narrow gauge railroad that chugged over Boreas Pass 100 years ago created forest fires that cleared the slopes and made way for vast groves of aspen trees. Today, you can walk, drive or bike through this tunnel of trees, creating a canopy of yellow as you make your way up the dirt road heading east from town.
Boreas Pass Road ascends from downtown Breckenridge to over 11,400 feet at the top of the Continental Divide. It's a popular fall route that offers numerous views looking down on the town and surrounding mountains. Trails parallel the upper dirt portion of Boreas, where golden aspens are plentiful in autumn. Be on the lookout for hikers, bikers and foilage photographers as you drive the pass. Allow 30-60 minutes of leisurely driving to reach the summit where you'll find Continental Divide. The historic Section House at the pass is a ski hut in the winter, available for overnight reservations.
Local's Tip: The easiest way to get around Breckenridge is by foot, bike or bus. Take the Free Ride bus to the top of Boreas Pass and hike along the road from there.
Those seeking a longer scenic drive (be sure to fill up on gas!) can make it a loop by continuing on Boreas Pass Road all the way to Como and Fairplay, and then on to highway 9 over the top of Hoosier Pass and back into Breckenridge. Be sure to hop out at the top of each pass and take in the views or do a quick hike to stretch out the legs.
Hiking/Biking Trails in the Area:
Bakers Tank Trail – Continue driving eastward up Boreas Pass Road past Argentine Meadow to Bakers Tank, where the old steam engine took on water to continue its uphill journey. At this higher elevation, spruce and fir trees take over, but you can hike or bike westward on the Bakers Tank Trail through the highest aspen grove. Once the trail turns to the north side of the hill, hikers may want to turn back to the Tank. Bikers have the option of continuing along the Bakers Tank Trail to connect to the Argentine Meadow or all the way back to the Boreas Pass Trailhead at the end of the pavement.
View Trail
Gold Dust Trail – Continue along Boreas Pass Road, over the summit, and proceed down to the Park County side of the pass. In a short distance, you will come to the Gold Dust Trail, a single track that winds its way through spruce forests then aspen groves as it descends to the historic railroad town of Como.  Arrange to have a vehicle pick you up, return the way you came, or loop back on Boreas Pass Road. About 10 miles one way.
View Trail
Aspen Alley – This one takes the cake as one of the best fall trails in Breckenridge, and it's not hard to tell why. This short yet stunning hike is located between Boreas Pass Road and the Stephen C. West Ice Arena, and features some of the biggest groves of aspen trees in Summit County. If you're planning to drive on Boreas Pass Road for the autumn foliage, be sure to also throw this trail into your leaf peeping plans along the way.
View Trail
Where Can I see the Leaves Change in Breckenridge?
Boreas Pass to Fairplay to Hoosier Pass Loop
Scenic Drive: Boreas Pass to Fairplay to Hoosier Pass Loop
Following the abandoned railroad grade, Boreas Pass road terminates in Como, but not before traversing miles of golden aspen forests with distant views across the open grazing lands of South Park. From Como, drive US Highway 285 south toward Fairplay, with sunny yellow aspen forests all along the route. In Fairplay, take a break at the South Park City Museum where you'll learn more about early railroading and life in a western mining camp. From Fairplay, follow Colorado Highway 9 north to Alma where the valley of the Middle Fork of the South Platte River is lined with extensive aspen forests. Complete the journey back to Breckenridge by heading up and over Hoosier Pass where you can stand again on the Continental Divide and take in the views of the Blue River valley. Allow several hours for this 55 mile loop.
Anytime you are out enjoying nature, it's important to abide by Leave No Trace principles. Remember to pack it in, pack it out always— this includes all trash, waste, gear etc. If you see trash along the trail, pick it up! It is best to leave the trail and the wilderness even more beautiful than when you arrived whenever possible.
Know Before You Go
From using less, walking more, leaving no trace, sticking to the trails, respecting wildlife, nature, and each other, and being a responsible steward of our communities, together we can champion a cause that is greater than all of us. But that starts here, with each and every one of us. B Like Breckenridge 
For more trail ideas on where to find fall colors in Breckenridge, visit Colorado's Official Trails App, COTREX, or stop by the Welcome Center and pick up a trail or town map.
As always, remember to Leave No Trace and always practice responsible tourism to care for Colorado so other can enjoy it too. Learn more about Leave No Trace ethics and how to care for Colorado.
No car? No Problem. Breckenridge's easily walkable town and a trail network accessible just blocks from Main Street, most activities–including skiing, hiking, biking, shopping, eating, live music and more–are just a short stroll away once you reach downtown Breckenridge. Take advantage of our free bus system, free hotel shuttles, bike rentals and ride-share apps.
Want more fall fun? Start checking off activities from our list of 50 Things to do in Fall in Breckenridge!
The Breckenridge Tourism Office works to enhance and promote the unique character and experience of Breckenridge as a world-renowned destination resort and to represent, serve and perpetuate the common interest and character of its membership and community.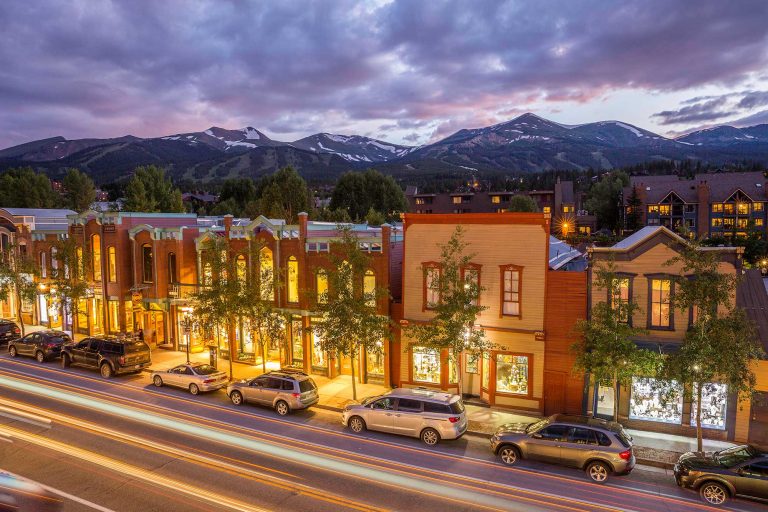 Embrace The Spirit
BLike Breckenridge™️ is a movement born of the spirit of our historic mountain town for those who call it home—whether for a weekend or a lifetime—to live by. It is a cause that connects us to each other, that we can all be a part of.