We all know the saying, "work hard, play hard," But why can't you do both at the same time? This winter is the perfect time to get the blood pumping and have fun at the same time. After all, we have one of the best outdoor playground in the world. Breckenridge's outdoor opportunities provide unique winter workouts that will have you more focused on the breathtaking views than the sweat you're breaking. So get out and amp up your fitness while enjoying all the beauty that Breckenridge has on tap.
Best Winter Workouts in Breckenridge:
Cross-Country Skiing
Where: Gold Run Nordic Center and Breckenridge Nordic Center (various difficulty levels)
Why: Burns around 700 calories per hour
What: Great for cardio improvement, targets quads, glutes and activates your core
Breckenridge is home to two Nordic centers where you can try your hand at cross-county skiing– you can even try fat biking or snowshoeing! With the entire Tenmile Range on display, you'll be distracted enough to forget how many calories you're burning and all the muscles you're activating. Fall in love with the harmony of a well-groomed track and the crisp mountain air.
For an added challenge, try Skate Skiing to add in some balance work and technique. Skate skiing can be a little harder to grasp, but lessons are available to get you going in no time.
After the work is over, warm up in the lodge by the fireplace and grab some lunch at the Breckenridge Nordic Center. Reward yourself with an afternoon coffee break at Cuppa Joe, or check out that cute Arc'teryx top from Mountain Outfitters you've had your eye on.
Fat Biking
Where: Aspen Alley (moderate) or the Blue River groomed Rec Path (easy)
Why: Burns around 400 calories per hour
What: Low impact cardio workout, targets calves, hamstrings, glutes and quads
Now you no longer have to wait until summer to get back on the bike. The latest craze taking over our little mountain town is fat biking. Think mountain bikes, but with over-sized 4″ wide tires that can be ridden on snow-packed trails. Fat bikes have only been around for a few years, but they've matured enough to become stable in price for excellent quality and are readily available at most outdoor rental shops.
Rent a fat bike to cruise Main Street or try a Fat Bike Brewery and Distillery tour and reward yourself with a tasty micro-brew from Broken Compass or delicious Bourbon from the World's Highest Distillery.
Riding a squishy-tired bike on snow is guaranteed to leave you smiling- and most likely huffing and puffing. The perfect time for riding a fat bike is when the sun has been shining and new snow hasn't fallen in a couple days. Go work up an appetite on the trails and then coast back down to Fatty's Pizzeria for a well-deserved burger and cold beverage.
Snowshoeing
Where: Spruce Creek loop (moderate), Baker's Tank loop (moderate) or Sallie Barber Mine trail (easy)
Why: Burns around 600 calories per hour
What: Strengthens core, glutes, hamstrings, quads and calves
Snowshoeing is an easy entrance sport for winter fun and great for visitors. The learning curve is low, and gear needs are fairly simple and easy to attain. Breckenridge's huge network of summer singletrack mountain biking trails transforms into a winter wonderland of snowshoe trails in the winter.
Rent a pair of snowshoes at almost any outdoor rental shop or the Breckenridge Nordic Center to explore the trails on your own, or take a guided history tour to learn about Breckenridge's mining past. Either way, you'll get an awesome workout and take in lots of fresh air and scenery. Check out Sallie Barber Mine trail for an easy but invigorating workout, and for the more adventurous, try Spruce Creek or Baker's Tank loops for a longer journey and more strenuous climbs.
With the combination of up to 600 calories burned per hour, no extensive gear needs and incredible sightseeing, it's no wonder snowshoeing has become a fitness trend and one of our highest recommended winter workouts in Breckenridge. Plus, it's great for the whole family!
Hike-to Terrain and Skinning
Where: Breckenridge Ski Resort
Why: 450 Calories per Hour
What: Gets the quads, glutes and hip flexors firing
An experience you won't soon forget is shouldering your skis and hiking uphill to access some hard-to-reach (and usually better quality) terrain. Hike-to terrain at Breckenridge was once the exclusive domain of ski patrol and a few hardcore locals. Now, with lifts reaching higher than ever, hiking to the summit is achievable for many skiers and snowboarders looking for a better winter workout. The Windows area at Breckenridge Ski Resort offers the simple joy of a manageable pitch, great snow and some open, graded terrain.
Even on sunny days, overnight winds can carry in soft, carvable snow in the Windows area. On the difficulty scale, the hike is easy, taking about 20 minutes to get that all-alone feeling. Make sure you stop and turn around to check out the incredible view of Baldy Mountain in the background.
If you're truly up for creating an outstanding memory, go for a summit hike on Peak 6 or 8, or even skin up the hill early in the morning. The difficulty goes up with more challenging terrain, and heart rate increases with limited oxygen above treeline. The reward is on the descent, and you'll be pumped you made it.
There are a few fitness junkies who hike for the heart rate rush, but most of us do the hikes at Breckenridge for the pleasure of going down some uncrowded slopes, hopefully with a foot of fresh powder beneath our skis or boards. Being in the alpine zone with steeper terrain and fresh snow is one of the best feelings in the world, and one you'll be telling your friends about for a long time about the winter workouts in Breckenridge.
Dress for Success
Like with almost all outdoor activities, it's important to have the right gear so you can focus on fun! Although Colorado boasts 300+ days of sunshine, weather can turn quickly and get pretty chilly once the sun goes behind the clouds or mountains. Dress in layers, especially when excising. You'll start to create some heat as you begin moving, so you don't want soaked through base layers or outer layers that trap in heat. Think synthetic fabrics or wool blends that wick moisture and release excess heat, not cotton, which absorbs moisture. Top it off with snow pants and a snow jacket that you can take off when the sun starts shining!
Here's our basic packing checklist:
Layers!
Snow boots and wool socks
Gloves, neck gator and beanie/headband
Helmet (dependent on activity)
Sunglasses or goggles
Day Pack filled with: water bottle, sunscreen, snacks, hand/toe warmers and excess layers
The Breckenridge Tourism Office works to enhance and promote the unique character and experience of Breckenridge as a world-renowned destination resort and to represent, serve and perpetuate the common interest and character of its membership and community.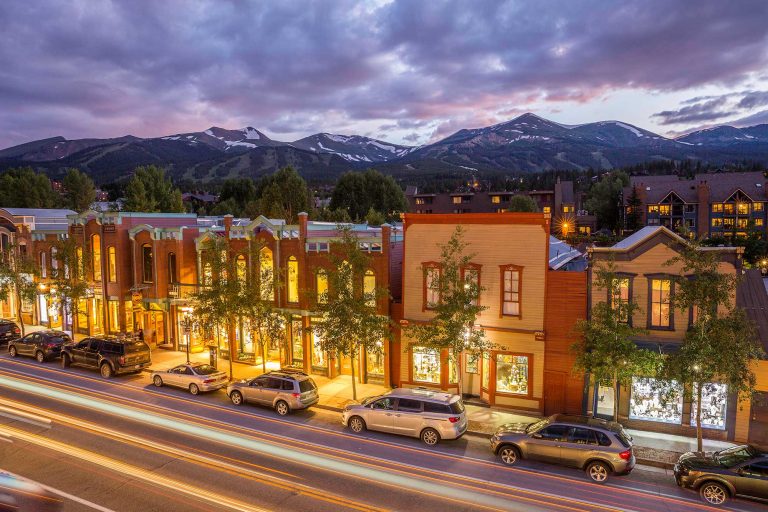 Embrace The Spirit
BLike Breckenridge™️ is a movement born of the spirit of our historic mountain town for those who call it home—whether for a weekend or a lifetime—to live by. It is a cause that connects us to each other, that we can all be a part of.