Breckenridge in December is like stepping into a real-life snow globe. Sparkling holiday lights and glittering snowflakes are enough to make any Grinch believe again. The entire month is filled with special events, holiday celebrations and plenty of reasons to head outside so be sure to mark your calendars for a December trip to Breckenridge this winter!
December Events in Breckenridge
Lighting of Breckenridge & Race of the Santas
Breckenridge ups the ante on small town holiday charm with the return of the Lighting of Breckenridge & Race of the Santas. The first weekend of December kicks off a festive holiday scene in the streets of Breckenridge.  Hundreds of Santa look-alikes will run down Main Street in a race to kick-off the holiday season.  Hang out post-race to watch the town transform into a real life holiday card thanks to more than 13,000 feet and 250,000 LED holiday lights. The iconic holiday lights in downtown Breckenridge are one of the most photographed sights during the snowy months and continue to shine and spread hope all winter long.
Ullr Fest
Grab your Viking hats and celebrate all things winter at Ullr Fest! Breckenridge invites locals and visitors of all ages to praise Ullr, the Norse god of snow, in hopes of a powder-filled ski season. Show your devotion at the Main Street parade and become part of history at the longest Shotski® "unofficial" World Record breaking attempt. If you're in for a legendary party, this is one you won't want to miss!
Top ways to enjoy the Holidays in Breckenridge
There's nothing better than a white Christmas filled with lights and holiday cheer. With snow-covered peaks, frosty trees and scenic views, Breckenridge is the perfect destination to get you in the holiday spirit.
Seasonal Holiday Lights
Breckenridge ups the ante on small town holiday charm by transforming its historic downtown into a sparkling snow globe scene thanks to more than 13,000 feet and 250,000 LED holiday lights. Those visiting Breckenridge during or after December 5th can expect iconic holiday lights throughout downtown Breckenridge.
Dining & Shopping
Holiday Dining
The Breckenridge dining scene explodes with flavor. Expect to find worldly inspired cuisines, fresh takes on culinary classics and plenty of craft beer and cocktails made from our local brewers.
Forego the stress of cooking a big meal for the whole family and eat out at one of many restaurants in Breckenridge providing holiday dining. Many restaurants are open for Christmas Eve, Christmas and New Years Eve, but may have a separate fee for holiday dinners. Be sure to make reservations or start early because tables tend to fill up quickly.
Many of our local restaurants offer a delicious selection of holiday meals and family-style dishes you can enjoy from the comfort of your home.  Be sure to make reservations early as many have an order cut-off for Thanksgiving, Christmas and New Year's Eve.
The local grocery stores also offer holiday dinners for pick-up if you're looking for a tasty stay-in option with minimum prep.
Shopping
Shops in Breckenridge include local boutiques, gear stores, art galleries, children's shops and everything in between. Our specialty? Providing the latest styles and greatest gear for any outdoor outing or adventure. From local goods and gear, small businesses and chic boutiques, you're sure to find something for everyone on your list. With more than 200 stores to choose from, it's easy to spend a day enjoying the quaint storefronts, finding the perfect gifts and updating your gear selection.
Top December Activities
Breckenridge is an outdoor paradise in the winter making December one of the best times to visit.  The ample amounts of snow mean there are tons of great activities to enjoy. From days on the mountain to one of a kind experiences, there is plenty to do. If you are looking to fully embrace the holiday spirit, fill your vacation with classic holiday activities.
Explore more winter activities!
Tips For Visiting Breckenridge in December
Weather & Layers
It's winter in Breckenridge, so be prepared to dress in layers and waterproof gear.  You'll also want to bring sunglasses, googles and sunscreen because with 300 days of annual sunshine, you're bound to catch more than a few rays.  Know the forecast and when the next powder day is expected by checking the locals favorite weather forecasts, On the Snow and Open Snow.
Learn & Follow Leave No Trace Principles
Preserving the character of our town and the nature that surrounds us has always been at the heart of the Breckenridge spirit, our people and our brand. To a large part, our collective desire to protect this special ecosystem is what draws people here in the first place—both to live, and to visit.  You can help us preserve and protect what we love by following the Leave No Trace principles during your visit.


Plan Ahead
During the last two weeks of December, the key to success is to plan ahead.  It's one of the busiest times of the year and some of the most popular activities will sell out.  Make reservations as far ahead as possible, especially for any guided tour that has limited space (dog sledding, snowmobiling, guided fly fishing).  If you are going skiing or snowboarding, buy your lift tickets at least 7 days in advance for the biggest savings, pick-up rental gear the night before heading out and book any ski lessons online ahead of time.  These tips will save you money and tons of time in the morning.
Dinner Reservations
Many of Breckenridge's higher-end restaurants are on OpenTable. We suggest booking a month or more in advance during this timeframe.  If you are going to a restaurant that doesn't accept reservations plan to arrive an hour earlier than normal and expect a wait. Most restaurants have buzzers so you can check-in and stroll town until a table opens up.  If you are looking for holiday reservations, our Holiday Dining Guide is the best source of who is offering what.  Book as far ahead as possible as space is limited.  The local grocery stores offer holiday dinners for pick-up if you are looking for a stay-in option with minimum prep.
The Breckenridge Tourism Office works to enhance and promote the unique character and experience of Breckenridge as a world-renowned destination resort and to represent, serve and perpetuate the common interest and character of its membership and community.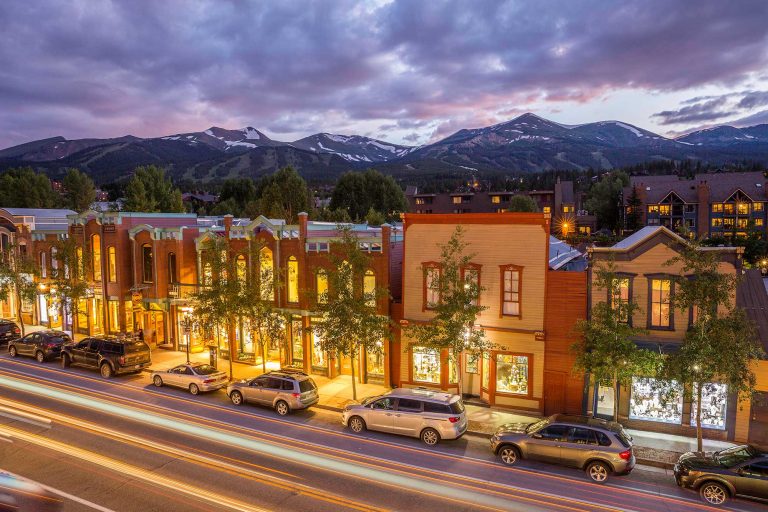 Embrace The Spirit
BLike Breckenridge™️ is a movement born of the spirit of our historic mountain town for those who call it home—whether for a weekend or a lifetime—to live by. It is a cause that connects us to each other, that we can all be a part of.