February is the month of love. Of course, Valentine's Day festivities are in the air, but the real love affair is when dreams of powder days start to become a reality. We get a lot of our snowfall between the months of January and February, so it's no wonder locals and visitors alike love this snow-packed month, with hopes of knee deep powder and icy beards underway.
What to Do in Breckenridge in February
Get Outside
February means it's the perfect time to take advantage of activities that rely on Breckenridge's generous snowfall. From days on the mountain to one of a kind experiences, there is plenty to do. Try Snowmobiling, Fat-Biking and many more winter activities in Breckenridge! Here are some of our favorites:
Check out more winter activities in Breckenridge.
Relax and Unwind
To unwind for the day, head to the spa for a couple's massage, take a yoga class, or sit in the sauna or hot-tub at the Breckenridge Recreation Center. Check out more ways to reset and rejuvenate in Breckenridge.
Once you're feeling relaxed and warmed up from a big day playing in the snow, head out for a night on the town and try some of Breckenridge's newest restaurants. Once you're full, grab drinks at one of many bars right in town, and don't forget to grab some happy-hour deals including late-night specials.
Historic Tours, Haunted Tours & Museums
Breckenridge is rooted in its past and boasts one of the largest historic districts in Colorado. Create memories with affordable guided historic tours and hikes, and enjoy free, family-friendly museums.
Arts + Culture
The Breckenridge arts and culture scene is the heartbeat to our town. Our mountain community is packed with artists who find passion in their surroundings – of course, it's not hard to be inspired here. Explore Breckenridge's thriving art scene by taking a self-guided outdoor sculpture tour, visiting
February Tips
Plan Ahead
Our first and most important tip is to always come prepared. The weather can change quickly and without warning in February, so every local knows that packing smart is the easy solution to having a great day or a not so fun one. Dress in layers, wear the right gear and pack snacks, water and sunscreen. Sunglasses and soaked-through base-layers are no fun in a snow-storm, and a goggle burn is not fun to show up with at work the next day. You'll thank us later.
Want to come to Breckenridge for the Superbowl? It can be a blast with so many sports bars in town, but it can also be busy. Locals who aren't into the game will usually ski that day because the crowds clear out in the afternoon, but if both are on your agenda, hit the slopes in the morning and the town in the afternoon!
You'll save time and money by buying your lift tickets, lessons and rentals ahead of time online. If you buy your lift tickets at least 7 days in advance you can save up to 20% off the ticket window price. When booking lodging, make sure you look into proximity to the town, mountain, or bus stop and it'll be easy to go carless once you arrive in Breckenridge.
Weather & Layers
Let's admit it, winter in Breckenridge can be chilly, so don't forget to bundle up because baby, it's cold outside! The average temperature in February is around 30.2 degrees F and wind can play a big role in this too, making it feel even colder, especially up on the slopes. Don't let that deter you! February does get a ton of sunny days that are perfect for an Apres beer on the patio!
Know the forecast and when the next powder day is expected by checking the locals favorite weather forecasts, On the Snow and Open Snow.
Dinner Reservations
Many of Breckenridge's restaurants are on OpenTable, and we suggest booking ahead of time, especially for Valentine's Day. If you are going to a restaurant that doesn't accept reservations, plan to arrive a little earlier than normal to put your name down, and then take a stroll along historic Main Street to view the lights. Check out our list of some of the most Romantic dining Restaurants in Breckenridge!
The Breckenridge Tourism Office works to enhance and promote the unique character and experience of Breckenridge as a world-renowned destination resort and to represent, serve and perpetuate the common interest and character of its membership and community.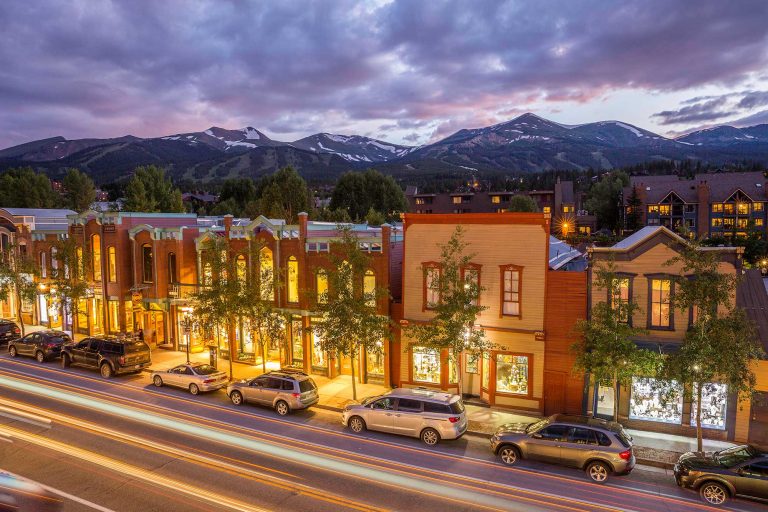 Embrace The Spirit
BLike Breckenridge™️ is a movement born of the spirit of our historic mountain town for those who call it home—whether for a weekend or a lifetime—to live by. It is a cause that connects us to each other, that we can all be a part of.