Known as a biking mecca to many, Breckenridge's unique cycling culture and ideal environment combine to create the perfect road cycling town in the summer. With a multitude of professional bike shops and tour guides equipped and ready to steer visitors in the right direction, road cycling is both easily accessible and tremendously satisfying here in Breckenridge.
he Town of Breckenridge is honored to be designated a Gold level Bicycle Friendly Community by the League of American Bicyclists. Breckenridge is proud of this designation and is working to improve the town's bicycling facilities and educate bicyclists and motorists regarding bicycling rules and responsibilities.
Recommended Paved Routes for Road Biking in Breckenridge
Summit County Rec Path
The Summit County Rec Path provides the gateway to road bike rides all over Summit County and connects to surrounding counties like Eagle County, Grand County and Park County. Perfect for road bike enthusiasts, make sure to take advantage of more than 50+ miles of this perfectly paved, award-winning Recreational Pathway system.
Popular Routes from Breckenridge to Neighboring Towns
Boreas Pass
For those looking to challenge their quads a little more, we recommend a ride up Boreas Pass Road. This beautiful mountain road winds its way up and out of downtown Breckenridge to provide panoramic views of the Tenmile and Mosquito Ranges.
Around Lake Dillon
18 miles around the lake. 31 miles round trip from Breckenridge.
Breckenridge to Frisco
Easy 20-mile ride on the Summit County Rec Path between Breck & Frisco.
Breckenridge to Copper
30-mile round trip down to Frisco and up Tenmile Canyon to Copper Mountain Resort.
Breckenridge to Keystone
Riders can go over Swan Mountain Road or around Lake Dillon or both.
Explore bicycling route maps in the Town of Breckenridge
Additional road biking routes around Summit County and surrounding areas
E-Bike Use in Summit County
The use of electric bikes varies by type as well as location. Summit County, CO has authorized Class 1 E-Bikes on pedestrian and/or bike paths where regular bicycles are allowed. However, all Class 2, Class 3 and unclassified e-bikes remain prohibited on the Recpath. E-bikes are not permitted on natural surface trails dedicated as non-motorized.
Know Before You Go
Operating Bicycles On Town Roadways & Paved Paths
Both bicyclists and motorists are expected to follow the Colorado state traffic rules and regulations within Town limits.  Learn the rules of operating bicycles on town roadways and paved paths.
E-bikes are allowed on the Summit County Rec Path
The Summit County recreation path allows Class 1 e-bikes on the Recpath; all Class 2, Class 3 and unclassified e-bikes remain prohibited on the Recpath. Learn more about e-bike usage in Summit County.
Packing Guide
Use our summer packing guide for a list of items to pack before hitting the road. Remember, conditions in the Rocky Mountains can change quickly.
Tips For Adjusting To High Altitude
Breckenridge altitude sits at over 9,000 feet above sea level creating an unforgettable high alpine climate with low humidity and year-round sunshine.  Use our guide for tips to adjusting to our high elevation.
Bike Rentals & Service
Breckenridge offers plenty of bike shops to rent, buy, or have your bike serviced.
Guided Tours
For those looking to experience a guided tour Mountain Wave, Ridden and Alpine Sports  offer a variety of tour packages for cyclists of all skill sets throughout the summer. Every shop is full of passionate and knowledgeable staff members who want every customer to experience Breckenridge as they do.
Breckenridge's unmatched scenery, access to countless trails and routes, and overall friendly nature makes it the perfect cycling community in the Rockies. If you don't believe us, just ask the locals who've been experiencing it for decades. There is truly no better place to experience the joy of cycling than our historic mountain town.
Explore More of Breckenridge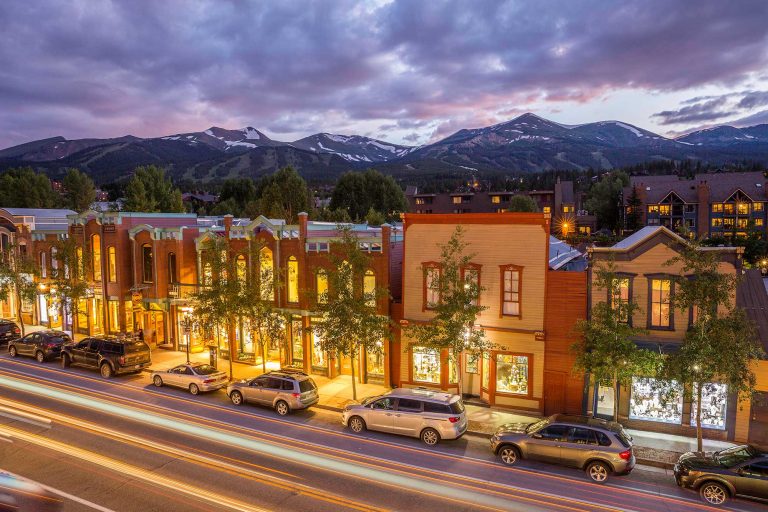 Embrace The Spirit
BLike Breckenridge™️ is a movement born of the spirit of our historic mountain town for those who call it home—whether for a weekend or a lifetime—to live by. It is a cause that connects us to each other, that we can all be a part of.