When you travel with family to the mountains, you want to make sure everyone from the toddler to grandpa has an unforgettable time. For the teen set, Breckenridge activities are as wide-ranging and diverse as teens' personalities and interests.  Get ready for adventure with our summer and fall activity list curated just for teens:
1. Head out on Two Wheels
Spinning around Lake Dillon on skinny tires, tackling world-renowned rugged singletrack on a mountain bike or bopping around downtown on an easy-riding cruiser—biking around Breckenridge is Colorado mountain-town must-do.
2. Go Fly Fishing
Even if you've never laid hands on a rod and reel, casting into Breckenridge's high alpine lakes, rivers and streams is something everyone should try at least once.
3. Get Creative
Visit the Breckenridge Creative Arts District for hands-on workshops teaching everything from pottery to earring-making.
4. Go Dog Sledding (minus the snow)
Summer dog sledding is a thing. Just swap out the snow for dirt and the sled for a dog-guided golf cart or dog-powered scooter and you'll be whisking through forests and over mountains with an ear-to-ear smile.
5. Stroll Main Street
Autumn is an excellent time to snag deep discounts on last season's goods and gear. Pick up a hot cocoa, chai or pumpkin-spiced something at one of Breckenridge's many coffee shops and meander down historic Main Street.
6. Try Horseback Riding
Saddle up for a guided trail ride with professional wranglers from Breckenridge Stables. They'll pair you with a trained horse and lead you across creeks and mountainsides to postcard views of the Continental Divide.
7. Point and Shoot
Break out the good camera and hone your photography skills while blowing away your Instagram followers with Breckenridge's incredible fall colors.
8. Guided Historic Tours & Ghost Tours
Sign on for a Breckenridge Ghost Tour and walk through haunted historic homes, restaurants, and former cemeteries with a knowledgeable guide sharing juicy local lore and once-upon-a-western-town tales.  They'll also enjoy touring Country Boy Mine to explore the historic gold mine and adventure park or taking a guided historic tour to a mining site or ghost town.
9. Rock Climb, Swim, Workout, Play Basketball…
You get the idea; there's loads to do at the Breckenridge Recreation Center. Daily admission for ages 3–17 is just $7.50. Don't forget to take a few spins down the Summit Plummet water slide or try the rock climbing wall above the pool.
10. Hit the Skate Park
Skaters of all levels love the free skate park next to the rec center. Test your mettle in the advanced 11-foot bowl or kick around the snake run, beginner bowl and skateable historic mine cart.
11. Shop
Pick up a new hat, trending ankle boots, top-of-the-line winter gear, souvenirs for friends, cooking supplies or a new board game while perusing Breckenridge's legendary locally owned boutiques.
12. Dip into the Old West
The Breckenridge Heritage Alliance keeps our storied past alive through free museums and exhibits. Visit the Summit Ski Museum to see photos and equipment from the sport's earliest days and the Briggle House to see how the wealthy lived at the turn of the century.
13. Ice Skate
Take some frozen laps around the Stephen C. West Ice Arena during daily public skate sessions.
14. Cook
Learn how to cook something new with a group culinary class at Colorado Mountain College. Fall classes span Thai to Tuscan, soups to sushi.
15. Stand-up Paddleboard
Pick a sunny afternoon to try stand-up paddleboarding. Mountain-flanked Maggie Pond at the base of Peak 9 is the perfect spot to try the sport and test your balance.  If you are looking for more of a challenge, sign-up for a SUP Yoga Class from Bhava or Meta Yoga Studios.
16. Bump, Set, Spike
Round up a crew and dive into the sand volleyball court at Carter Park. The free public space sits next to a pavilion that is perfect for picnicking and taking in the views.
17. Hike, Hike, Hike
The gorgeous and delicate shift from summer to fall opens up opportunities for incredible hiking right from town. Trek among red, orange and yellow aspen, babbling brooks and waning wildflowers.
18. Zen Out
Breckenridge has no shortage of yoga studios offering drop-in classes. Choose from relaxing meditative flows, vinyasa or alignment sessions or a hardcore pilates workout.
19. Find Your Favorite Flavor
Clint's, the Crown, Higgles, Stir-Pan Creamery and more are here for your ice cream touring pleasure.
20. Get Your Game On
Walk to Downstairs at Eric's for 29 flat-screen TVs, 25 arcade games and some of the best pizza and wings around.
21. Take a Free Ride
Cruise Main Street in style. Hop on the free trolley and go from the north end of downtown all the way to the south-end ice rink.
22. Cheer on Your Team
The Broncos (or your favorite college or NFL team) will surely be airing at Ollie's, Empire Burger or Flipside. Pair your pigskin with a delicious grass-fed burger—you can't go wrong at these local faves.
23. Hit the Riverwalk Lawn
Fly a kite, pack a picnic or just sprawl out and take in TenMile Range views on the Riverwalk lawn in the middle of town.
24. Tour a Mine
Venture more than 1,000 feet into a real gold mine and pan for treasure at Country Boy Mine. (Open summer through mid-October.)
25. Stock up on Sweets
Fuzziwig's Candy Factory is like stepping into Willy Wonka sugar heaven. Hand-pick from more than 400 varieties of new and nostalgic candy, along with homemade fudge and tempting confections.
26. Run the Dog
Grab a Frisbee or a Chuck-It and your pooch and head to off-leash Carter Park for some laps with friendly local pups.
Need More Inspiration?
Build your own itinerary:
The Breckenridge Tourism Office works to enhance and promote the unique character and experience of Breckenridge as a world-renowned destination resort and to represent, serve and perpetuate the common interest and character of its membership and community. Lisa Blake is a regular contributor. The Breckenridge-based freelance writer, editor and mom enjoys researching and sharing stories on health, wellness, dining and the outdoors. Find her work in Breckenridge Magazine, The Purist, 5280.com, and at lisablakecreative.com.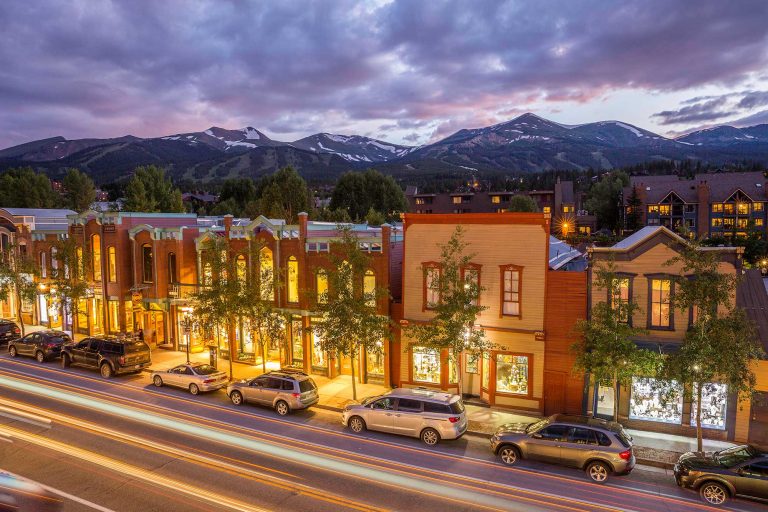 Embrace The Spirit
BLike Breckenridge™️ is a movement born of the spirit of our historic mountain town for those who call it home—whether for a weekend or a lifetime—to live by. It is a cause that connects us to each other, that we can all be a part of.