In Breckenridge, free fun is our favorite kind of fun. Because it means tapping into natural resources unfolding across a bounty of mountains, trails, parks and rivers and playing in the fresh high country air. Breckenridge makes it easy to rely on Mother Nature (and smart city planners) for a good time. Here's where to start on free things for families to do in Breckenridge:
Free Things for Families To Do in Breckenridge:
Parks and Playgrounds
A hot spot for families, Blue River Plaza features a sandy playground near the banks of the Blue River smack dab in the center of town. Relax among riverside benches and soak up expansive TenMile mountain range views. Be sure to stop into the Welcome Center to wander through the interpretive museum and learn about Breck's evolution from gold-mining mecca to Victorian ski village. Across the bridge, the Riverwalk Center plays host to a slew of free summer performances. Check BreckCreate for the schedule.
Take the pooch to one-acre Carter Park on High Street to run off-leash or set up a picnic under the adjacent pavilion. Tip: The trails just east of the park and tennis courts are an excellent way to burn off lunch while dipping into some of Summit County's top hiking and biking terrain. In the winter, Carter Park is home to one of two Breckenridge sledding hills– just bring your own sled!
Next to the Breckenridge Recreation Center, Kingdom Park thrills with softball fields, two playgrounds, a soccer field, a whitewater kayak park and a skate park complete with small swoops for tykes on scooters and an 11-foot bowl for daredevil teens. Young kids love mining-inspired Prospector Park on North Main Street and the High Line Railroad Park on Boreas Pass Road where a real Engine No. 9 train and boxcars live.
Bike and Hike
A scenic Breckenridge must-do, rally the troops and bike the 9.5-mile paved rec path from Breckenridge to Frisco, ending at Dillon Reservoir for some lakeside playtime. Mess around on the Wellington Bike Park and Pump Track's flow trails, berms and stomach-dropping jump features. There's even a Strider track for your tiniest riders.
Take an easy family hike through the woods to discover rushing creeks, mining relics, wildflowers and incredible views. Explore our favorite beginner trails. For an extra adventure, skip the car and take the town bus to a hike right off the bus stop.
Town Gems
Retro and on-trend toys, games, books, stuffed animals and more make Peak-A-Boo Toys a Main Street treasure. Complete with a large candy section and a huge selection of pet toys, this store is a must visit. Be sure to take a selfie with the famous Breck black bear outside the front door (good luck getting out of here without spending any money, though- it's one of Colorado's top toy stores).
Bop around the Breckenridge Arts District for an entertaining conglomeration of studios, galleries, historic landmarks and public art. Request a tour, watch artists at work and inquire about kids camps and family classes.   Catch a free concert at the AirStage or drop-into a kids-only art class.
Find the Breckenridge Troll.  Isak Heartstone is a 15-foot tall wooden troll sculpture located on the Trollstigen Trail in Breckenridge, Colorado. The newly constructed trailhead is located in the southeast corner of the Stephen C. West Ice Arena parking lot, next to Illinois Gulch Trailhead.  Originally built as a part of the annual Breckenridge International Festival of Arts (BIFA) held in August, Isak was created by the Danish artist Thomas Dambo, who is known worldwide for bringing awareness to recycling and upcycling by building great things out of trash.
Explore and Learn
Stroll through Breckenridge's free and family-friendly museums, then peek inside Breckenridge's storied mining and wild west past on a walking tour. The Breckenridge History offers a range of tours for next to nothing (they run around $10-$25 each; so not entirely free, but worth it), including a walk through history, Victorian tea, a ghost town tour and mining site gold panning.
You can help us preserve and protect what we love by following Leave No Trace practices during your visit.  Learn more by taking the Tree-Hugger Challenge.

  Once the challenge is complete, swing by the Breckenridge Welcome Center for your free Tree-Hugger Challenge sticker.
Take a Free Ride
In Breckenridge, the Free Ride bus system will get you around town and to popular neighborhoods without charge. Use it to get back and forth to your rental property, downtown's shops and restaurants or just to give your sneakers a rest. For an entertaining ride, cruise Main Street on the retro Main Street Trolley. (If you ask nicely, the driver may even let you ding the bell.)

Fly high above town and up to Peak 7 and Peak 8 on the free BreckConnect Gondola. Around eight people can fit into a cabin and kids love the soaring sensation as your group is whisked up and over forested mountainsides.  Once you reach the top, relax and enjoy the views or hike to the large pile of snow that's perfect for a summer snowball fight.
The Breckenridge Tourism Office works to enhance and promote the unique character and experience of Breckenridge as a world-renowned destination resort and to represent, serve and perpetuate the common interest and character of its membership and community.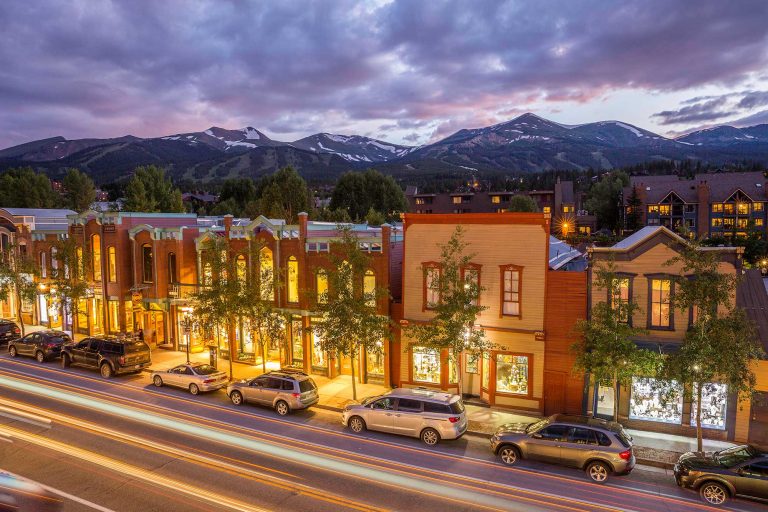 Embrace The Spirit
BLike Breckenridge™️ is a movement born of the spirit of our historic mountain town for those who call it home—whether for a weekend or a lifetime—to live by. It is a cause that connects us to each other, that we can all be a part of.