Families love Breckenridge for its natural high country beauty, variety of outdoor playtime options and wide range of kid-friendly lodging, shopping and dining. Parents: There's a lot to choose from. Here's our quick guide to navigating the ins and outs and customizing your family's Breckenridge winter vacation.
Family Lodging
The first major question to answer is where you'll set up homebase. Breckenridge lodging options run the gamut. We've got private homes and elaborate mountain cabins, award-winning hotels, ski lodge-style condos, multi-family luxury mansions and more. Decide whether you'll be staying near or at the ski resort or if you'd rather be in town. Or perhaps on a hillside overlooking town near a free bus line. You'll find plenty of lodging catering to families with large open kitchens and extended dining tables, washers and dryers, game rooms, bunks for the little ones and access to hot tubs and pools. Bring Fido along to a dog-friendly rental.
If amenities are key for your crew, we've got spas, free breakfasts, shuttles and private bowling alleys and movie theaters. If it's green lodging that tops your list, there are a slew of sustainable and environmentally focused properties. Wherever you rest your heads at night, your family will be received with warm mountain hospitality.
Winter Activities
To ski or not to ski is another biggie on the Breckenridge planning list. Kids ages 3 and up can learn to ski and snowboard at the Breckenridge Ski and Ride School while older kids gain new skills alongside their parents during a family private lesson. We've rounded up real-life advice from real ski moms on how to make the most of your time on the slopes. From gear to lessons to stellar kid-approved terrain and ways to save money, here are our top 5 family ski tips.
Skiing and snowboarding isn't the only way to play in the snow. There are so many ways to dive into winter in Breckenridge. To get you started, we've compiled our 10 best activities for families. Explore the serene powdery forests and mountainsides on a snowmobile, dog sled tour or guided snowshoe outing. Fly down the sledding hill or go ice skating at the Stephen C. West Ice Arena. Take a soaring ride on the free BreckConnect Gondola or travel underground at Country Boy Mine.
After playing in the snow, be sure to stroll historic Main Street and warm up over the best hot cocoa and homemade baked goodies.
Indoor Entertainment
When the weather won't cooperate and it's time to head inside, do like the locals do and hit the Breckenridge Recreation Center for pools, slides and hot tubs. Family gym time is a blast for toddlers with bouncy castles and tumbling play features. For parents looking to get in a quick workout, the rec center also offers childcare for children ages 2 months through 6 years; just call ahead for reservations. First Friday Kids Night Out is a three-hour pizza and pool party for kiddos while parents enjoy a date night or run evening errands.
Get creative together and visit the BreckCreate arts district for workshops, open studio time and kid-focused events, or catch a live theater performance at the Backstage Theatre.
Visit Breckenridge's only movie theater, the Eclipse Theater (formerly the Speakeasy) to catch a flick year round! The Eclipse offers a variety of blockbuster, indie, classic, foreign, and outdoor films. Don't forget to stock up on fresh popcorn and snacks, plus the adults can enjoy local beer and wine on tap.
Choose from three family-friendly themes at Mountain Time Escape Rooms (add on holograms or computer-generated imagery). Join friends or strangers in a locked room at Escape Room Breckenridge and pool your wits to solve riddles and uncover clues in a race against time. Don state-of-the-art 3D headset technology at VR Arcade—Breckenridge's first virtual reality arcade—for a whole new level of gaming.
Hit the ice at open skate at Stephen C. West Ice Arena or catch one of Breckenridge Viper's hockey games for affordable rink side seats.
For more, check out these nighttime activities for kids and additional indoor playtime ideas.
Kid-Focused Shops
Breckenridge shopping isn't just for the grown-ups—though the handmade jewelry, curated galleries and gourmet culinary boutiques are something special. Kids also enjoy our stretch of colorful toy, candy, book and gift shops.
A few favorites include Joy of Sox for cozy and hilarious socks and slippers, gag gifts and games; independent toy store Peek-a-Boo Toys for retro games and stuffed animals; and Magical Scraps for the cutest hand-sewn children's hats, clothing and accessories. Of course, a stop into one of the beloved candy shops is a must. Don't miss Fuzziwig's Candy Factory, Rocket Fizz Soda Pop and Candy Shop, and Rocky Mountain Chocolate Factory. Budding readers will love the kid's section at Breck Books. Funky costume hats and playful helmet covers are all the rage at Breckenridge Hat Company.
Family Dining
Find your family's new favorite among more than 70 kid-approved restaurants. Sit down for a memorable pancake breakfast, burgers and milkshakes, pizza and pasta, Mexican cuisine and so much more.
We did the heavy lifting and found all the places in Breckenridge where it's easy to please the whole crew. Check out our meal-by-meal guide to eating in Breck as a family.
How to Pack
Winter in the mountains means lots of snow, sunshine and cooler temps. Keep everyone's skin and eyes protected with quick-drying and waterproof layers, extra hats and gloves, and plenty of sunscreen and SPF lip balm. Breckenridge is a casual town, so jeans and a fleece will do for dinners out. Sturdy winter boots with plenty of traction will help you navigate icy sidewalks and explore snowpacked trails. Snow sports require a little extra planning—read through our winter packing guide for the scoop.
If you need to rent a crib, baby gate, high chair, stroller or other baby gear, just call on Mountain Tot. They'll deliver and set it up for you.
Keep your family happy, healthy and hydrated by carrying reusable water bottles and filling them often. Remember to bring reusable grocery bags to the store—the town of Breckenridge instituted a 10 cent per bag fee to reduce single-use plastic.
Other Family Tips
Ditch the car and explore the area via the free gondola, bus system, Main Street trolley and lodging shuttles. Fat bikes are another way to get around snowy trails.
Give yourselves time to adjust to the altitude. Life at 9,600 feet feels a little different than sea level living. Take breaks, take naps, eat well and schedule some down time.
Join in the fun and attend a local event, parade or festival. Breckenridge throws one heck of a family-friendly party.
Have more questions about visiting Breckenridge or what to do while you're here? Check out Family Friendly Breckenridge and our First-Timer's Guide to Breckenridge.
The Breckenridge Tourism Office works to enhance and promote the unique character and experience of Breckenridge as a world-renowned destination resort and to represent, serve and perpetuate the common interest and character of its membership and community.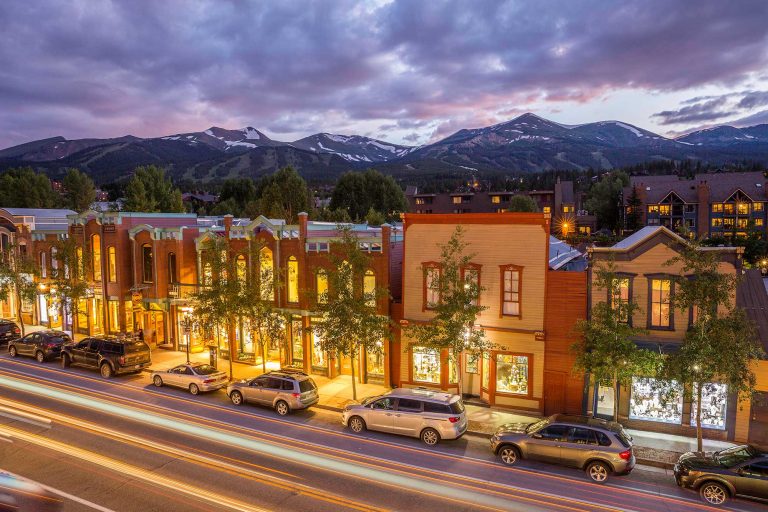 Embrace The Spirit
BLike Breckenridge™️ is a movement born of the spirit of our historic mountain town for those who call it home—whether for a weekend or a lifetime—to live by. It is a cause that connects us to each other, that we can all be a part of.