Summer and fall are stunning in the high country and hiking even a short distance can add an amazing experience to your next visit. Breckenridge is at the center of an incredible trail network with options for new hikers, families and experienced mountain climbers alike. These trails take you to viewpoints, streams, lakes, wildflowers, waterfalls and mountain tops that will take your breath away time and time again. With so many trail options, it can be hard to know where to start so we created these hiking guidelines to help you get out on the trail and enjoy the view.
Choose the right hike
Breckenridge is a hiker's paradise with an endless amount of trails varying in distance, difficulty and terrain. Two hikes are never exactly alike and it's important to consider the length of the hike, elevation gain, weather and the type of terrain as you research your next destination. It is best for new hikers to pick a trail ranked beginner, start with shorter distances and less elevation gain, then work your way up to more challenging hikes. In any case, pace yourself — enjoy time in nature, look around and enjoy the view.
Recommended:
Make a plan
Once you decide on a hike, let someone know where you will be heading with a text or phone call. This communication is simple but can be a true life saver in case of emergency. Read the trail description and be sure to note if there are any details about permits or closures before you head out. If possible, bring your guidebook or a map to use as a reference once you are on the trail. Start as early as possible for optimum weather and to avoid the crowd.
Be prepared
In Colorado, it's said, "if you don't like the weather, wait 10 minutes." It can be hot in the sun one moment and then raining the next.
Layers are your friend!
Wear clothing that can keep you warm and dry without weighing you down. Wear and pack layers made from wicking fabrics and hike in comfortable pants or shorts that are comfortable but will still allow you to be active. Be sure to bring a light, packable rain jacket in your backpack in case a storm rolls in.
Shoes are extremely important- for short or medium length hikes, a good pair of sneakers or trail runners will work great. For more strenuous trails, hiking boots add ankle support for longer adventures. Be sure to break in hiking boots before venturing out on the trail to avoid any blisters or discomfort.
Don't Forget your Day Pack
Bringing along a small day bag is perfect for carrying extra layers and necessities like sun protection (hats, sunglasses and sunscreen) and a reusable water bottle. Be sure to fill up with water at refill stations around town, and always pack some snacks in case you need extra energy out on the trail or just want to spend some more quality time with nature along the way. If you choose to bring lunch with you, remember to pack in all of your trash and follow Leave No Trace Principles.
View our extra detailed packing guide here:
Leave No Trace
Anytime you are out enjoying nature, it's important to abide by the Leave No Trace principles. Remember to pack it in and pack it out always— this includes all trash, waste, gear, dog poop, etc. If you see trash along the trail, pick it up and leave the trail even more beautiful than when you arrived. Stick to the trail and avoid the side trails or any shortcuts to preserve the natural environment as much as possible.
Hiking etiquette for beginners
Follow these easy tips and hiking guidelines while out on the trail to respect nature and other trail users.
A hiker going uphill has the right of way.  If you're on a flat section, please be courteous and move to the side to allow others to pass. If possible, stand on rocks or wider areas of the trail to protect the landscape surrounding it.
Greet other hikers with a simple "hello" or a smile when you pass.
Keep conversation volume down to respect nearby trail users and enjoy the quietude of nature around you.
Keep dogs on a leash to avoid unwanted interactions with other pets, wildlife or trail users. Check out our Dog Friendly Breckenridge guide so Fido can join in on the fun!
Stay on the trail. Avoid shortcuts, unless they are official trails. This helps protect the fragile habit, plants and integrity of the natural area.
Yield to bikes and horses. Technically, bikers are supposed to yield to hikers, but because bikes are moving quickly, it's easy enough to stop and let them pass. When you see horses on the trail, just step to the side and let them pass.
If you see wildlife in Breckenridge, don't approach or feed them. Always observe from a distance- if the animal notices your presence, doesn't have an escape route or changes its behavior, you are too close!
The Breckenridge Tourism Office works to enhance and promote the unique character and experience of Breckenridge as a world-renowned destination resort and to represent, serve and perpetuate the common interest and character of its membership and community.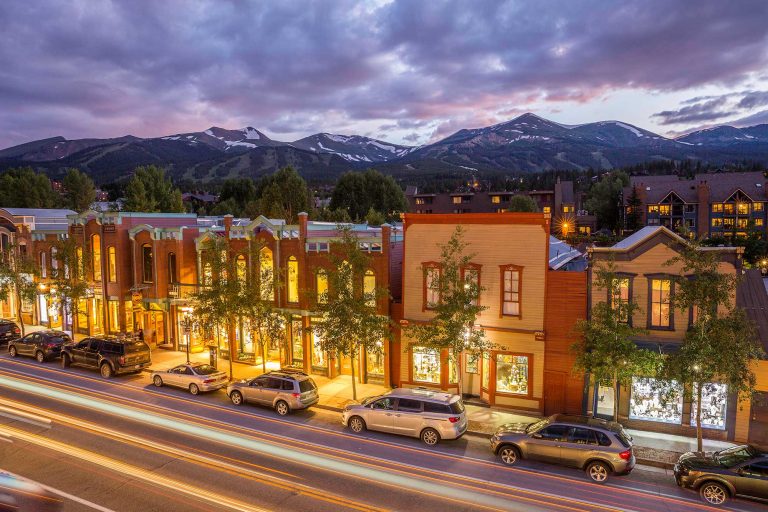 Embrace The Spirit
BLike Breckenridge™️ is a movement born of the spirit of our historic mountain town for those who call it home—whether for a weekend or a lifetime—to live by. It is a cause that connects us to each other, that we can all be a part of.