One of the most common tips you'll hear when planning a trip to Breckenridge is plan in advance.  If you want to take a guided tour – make reservations before your trip.  If you want to go out to dinner – book a reservation or plan to arrive well before you get hungry.  It's a lot to think about and if you're planning for more than two people, factoring in all the wishes and whens of your group can get overwhelming fast.  Thankfully, Breckenridge offers plenty of impromptu ways to enjoy your vacation.  Explore our no planning required guide to Breckenridge for suggestions on the best last minute activities.
Last Minute Activities in Breckenridge (No Reservation Required)
Sledding
Breckenridge is home to two free sledding hills that require zero reservations to enjoy.  All you need are sleds (pick them up at our local grocery stores) and self-powered stamina to make it up the sledding hill.  Both hills are open daily, offer nearby parking, easy bus access and are near local restaurants.
Winter Hiking
Breckenridge is surrounded by hundreds of miles of hiking trails to explore.  No reservations required.  With so many trails to choose from, it can be a challenge to decide which one to visit.  We recommend using AllTrails or COTREX to see if there are any right around the corner from your rental or browse our winter hiking guide for trail suggestions.  Deciding between snowboots, yak tracks and snowshoes will depend on recent snowfall and the popularity of the trail.  If you have snowshoes, you can always bring them and decide at the trailhead.  If you don't and it's been snowy, visit one of the groomed nordic centers or take a walk along the groomed rec path.
Cross-Country Skiing & Snowshoeing
The benefit of visiting one of Breckenridge's two Nordic Centers are the professionally groomed trail network.  Your day pass will give you access to easy cross-country ski and snowshoe rentals, optional lessons, pristine trails and scenic loops that make it impossible to get lost.  This year, both Nordic Centers are asking that you make reservations before heading over.  However, day of reservations are available for those looking to make last-minute plans.
Exploring Main Street
Main Street offers a vibrant collection of boutiques, gear shops, artisan goods and local restaurants to explore.  This year,  it's likely shops and restaurants have capacity limits during your visit so you might have to take a lap before entry. Likewise, plan for a wait if you're planning to dine in town.  Those strolling in the evening will experience the town lit up by 250,000 LED holidays hung throughout downtown Breckenridge.  These lights remain up throughout the winter and create a picture-perfect backdrop for your walk.
Fat Bike Ride
Bike enthusiasts will love the winter equivalent of their favorite sport. While reservations are needed to rent a fat bike, a quick Google search will give you half a dozen rental shops specializing in fat bike rentals.  Jumping on the bike path for a spin out of town is an easy ride for first-timers.  Your rental shop is sure to give you additional recommendations as well based on your experience level. If you can plan in advance just a bit, we highly recommend booking a fat bike beer and distillery tour.  It's a great way to learn the area's history while peddling your way to delicious brews and craft cocktails.
Take A Free Public Art Tour
Breckenridge boasts an impressive open-air art collection with dozens of public art displays strategically placed around town.  You can tour the collection anytime through a self-guided public art tour on your smartphone.  If you're in the market for new decor, we encourage you to tour a few of the art galleries around town.
Play in the snow
With an average annual snowfall of 300+ inches a year, Breckenridge has a winter wonderland vibe that will have you itching to build a snow fort.   We encourage you to spend an afternoon building a snowman, lobbing a snowball and creating snow angels before heading indoors to indulge in some hot cocoa.
Explore a playground
Breckenridge offers playgrounds throughout the town, each easily accessible from lodging and recreational locations. Breckenridge playgrounds have unique offerings and themes, with elements suitable for kids of all ages.
Escape Rooms
Reservations are needed but with multiple options around town an escape room could be the perfect indoor entertainment for your group.  Choose from three family-friendly themes at Mountain Time Escape Rooms (add on holograms or computer-generated imagery). Escape Room Breckenridge gives you an opportunity to pool your wits to solve riddles and uncover clues in a race against time.
Visit a Museum or take a Historic Tour
Breckenridge is rooted in its past and boasts one of the largest historic districts in Colorado. While you can take in historic Main Street any time, you'll want to call 48 hours ahead if you are interested in booking a guided historic tour or a visit to one of the free, family-friendly museums operated by the Breckenridge Heritage Alliance.
Visit Country Boy Mine
Dig into a real Breckenridge gold mining experience at Country Boy Mine, where you'll have the chance to tour a historic gold mine then pan for actual gold. You can also look into Country Boy's guided snowshoe tours, snowshoe treasure hunt or axe throwing experience.  This year, you'll want to call or make a reservation before heading over but they tend to have last minute availability.
Embrace Winter Picnicking
Restaurants are running at reduced capacity, but there are still plenty of to-go options available.  Find a picnic table around town or take your to-go on the trail.  Just make sure you follow leave no trace guidelines by packing up all your food, trash when you go.

Axe Throwing
Embrace the flannel-wearing mountain man (or women) in you with a trip to MTN Axe!  You'll be shocked how good it feels to chuck an axe across the room then perfect your aim to bullseye.  Once again, due to COVID you'll want to reserve ahead but axe throwing is a good last minute activity to book.
Ice Skating
The Stephen C. West Ice Arena offers ice skating, freestyle (competitive figure skating), hockey and games for the whole family. Public skating and hockey sessions are generally offered daily. View ice rink schedule.
The Breckenridge Tourism Office works to enhance and promote the unique character and experience of Breckenridge as a world-renowned destination resort and to represent, serve and perpetuate the common interest and character of its membership and community.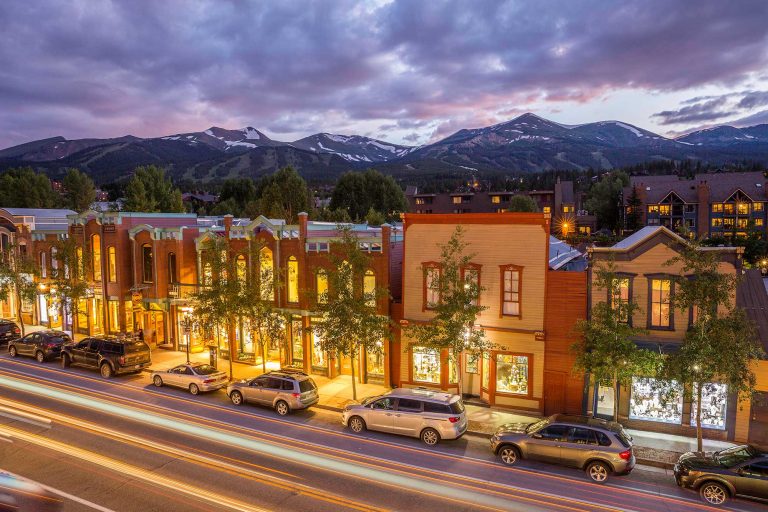 Embrace The Spirit
BLike Breckenridge™️ is a movement born of the spirit of our historic mountain town for those who call it home—whether for a weekend or a lifetime—to live by. It is a cause that connects us to each other, that we can all be a part of.