Breckenridge Ski Resort
What would the perfect mountain town be without its mountain? Boasting 5 peaks, 2,908 skiable acres, 187 trails, four terrain parks and the tallest chairlift in North America, Breckenridge Ski Resort offers unforgettable skiing and riding for all ability levels. Considered by many to be one of the best ski resorts in Colorado, Breckenridge combines unique character with unmatched terrain and impeccable service to stand out from the rest.
Trip Resources:
Local's Tips & FAQs
Should I buy a season pass or day ticket?
Choose a season pass if you are going to ski 4+ days at any Vail Resorts owned property (Breckenridge, Keystone and Vail). Like many things, the earlier you purchase your season pass the more you will save. Buy day tickets if you'll be skiing less than 4 days or want to try it first and see if you like it. Keep in mind that if your muscles aren't prepared, 1 or 2 days on the mountain might be just the right amount. Take days in between to try other winter activities around Breckenridge, explore historic Main Street or relax at the spa.
Where are Breckenridge Resort's Ticket Offices?
Breckenridge Ski Resort ticket offices are located at the bases of Peaks 7, 8 and 9, and at the base of the BreckConnect Gondola.
How much does it cost to go skiing in Breckenridge?
Breckenridge Ski Resort lift tickets vary depending on time of year and type of pass. Discounts for advance purchase, children and military are available. Be sure to factor in prices of travel, dining, lodging, ski equipment rentals and extra activities when calculating costs. Epic Day Passes purchased in advance are cheaper, but are non-refundable and quantity is limited. Daily refundable lift tickets range from $219-255.
How do I save on lift tickets?
The cheapest place to purchase lift tickets is Breckenridge.com. The secret to saving is to make sure you buy your tickets 7 days or more in advance to save up to 20% off the window rate, or better yet, buy them before the resort even opens to get early-bird discounts. A second bonus to purchasing in advance is that you'll be able to skip the line at the ticket offices once you're here. If you are unable to purchase 7 days in advance, you can still purchase your lift tickets online at any time or at a ticket office in town. This is especially useful if you're adding an extra day of skiing to your trip.
Active-duty and retired military can receive great discounts on lift tickets if purchased at the ticket window. Immediate family can also receive these discounts if they have a dependent military ID. These tickets can only be purchased in-person at the ticket window with a valid unexpired military ID.
Should I take Ski/Snowboard lessons?
First-timers should always take a lesson. You'll have a much more enjoyable time learning with an expert and the price difference between and full-day beginner lesson and a single-day lift ticket is pretty insignificant. While we always want beginner skiers and snowboarders to take lessons, intermediate and advanced riders can benefit from lessons as well. If you have little rippers in your group, you'll want to head to the Breckenridge Ski & Ride School to choose the best lesson for your crew – private family lessons and small group lessons are the key to turning kids into your future skiing buddies.
Where can I rent ski and snowboard Gear?
Breckenridge is full of ski and snowboard rental locations, including in-town and on-mountain. Full gear rentals, which include skis/board, poles, boots, bindings, helmets, goggles and clothing, are available, and you can also rent specific items if you already have the rest or left something at home. In most cases, on-mountain rentals will cost more than rentals in town.  Be sure to walk around in your boots and other gear to make sure it feels comfortable before you head out- you are always able to swap out sizes any time.
Local's Tip: Get your ski and snowboard gear the night before. Your feet are biggest at night and it will ensure a better fit day-of. You'll also save time by skipping the lines for rental equipment in the morning. That means you can grab a quick bite to eat and hit the slopes early! If you are renting in town, know which bus you can easily take to get back to the store at the end of the day or if you have an equipment issue. Most buses run every 15 minutes in the winter, meaning you'll have a new set of boots in less time than a lunch break.
What's the best way to get to Breckenridge Ski Resort?
If you're coming from out of the county or from Denver International Airport, we recommend ditching the car and taking a shuttle up from the airport so you don't have to worry about traffic, finding parking or winter weather conditions. If you do drive, it's best to leave your car at your lodging property as much as possible during your trip and take the free bus or lodging shuttles into town. Parking fills up quickly and almost everything in town is pay-to-park.
Breckenridge has free public transportation to the slopes and around town, including the free gondola from downtown Breckenridge up to the Peak 8 base area. You're almost guaranteed to have a free bus stop a short walk from your lodging property. When you are not in ski boots, you'll be surprised just how pedestrian-friendly Breckenridge can be.
Is Breckenridge Ski Resort good for beginners?
Boasting 5 peaks, 2,908 skiable acres, 187 trails, four terrain parks and the tallest chairlift in North America, Breckenridge Ski Resort offers unforgettable skiing and riding for all ability levels. Breckenridge has a ton of options to choose from- beginners will love peaks 8 and 9, while intermediate riders can find something spread across peaks 6, 7, 8 and 9.
Which Breckenridge Peak is best?
While all Breckenridge peaks are great, here are some tips to choose the best peaks for you or your group:
Peak 6 is the first peak on the northern side of the valley. Added in 2013, Peak 6 boasts some of the steepest, hike-to chutes and terrain for experts, as well as intermediate above-treeline bowl skiing and snowboarding.
Peak 7, easily accessed by the in-town gondola, is a playground for intermediate skiers and snowboarders with wide, open cruisers.
Peak 8 is the heart and soul of Breck. It's where it all began. From almost anywhere in town, you can look up and see Peak 8's iconic Horseshoe Bowl, topped by the highest chairlift in North America—the Imperial Express SuperChair.
Peak 9 is a beginner's paradise, but don't let that fool you. Look up into the trees for some of Breck's hidden gems for experts.
Peak 10 is the proving ground for black diamond rippers with some of the best groomed expert terrain around, as well as The Burn, some of the best tree skiing.
If you're looking to take a few breaks throughout the day to relax on the patio or are with a group, your best bet is to stay on 7, 8 and 9. These peaks have the most dining options, plus they are the easiest to access. The free gondola drops off at peaks 7 and 8, and if you're staying on the south end of town, peak 9 is an easy starting point.
For more skiing and snowboarding FAQs, visit our Breckenridge Ski Resort page. 
More on Breckenridge Ski Resort
Spring Skiing
Psst, we have a secret. There's no better time to ski Breckenridge than in the spring. While spring is known for its abundant sunshine, March and April are two of the snowiest months of the year. This perfect combination is where the term "blue bird days" originated from and why you see goggle tans and smiles throughout town. Now that the resort is open through mid-May, that means even more time on the snow this spring.
How should I prepare for my Spring Trip?
We recommend avoiding spring break and moving your trip to late March or April.  Learn more on why you need to switch your spring skiing to April.  If you are coming during spring break, our Spring Break Guide will give you tips for a great trip.  We've even created a Family Spring Break Guide just for our guests with kiddos in tow.
Spring Weather in Breckenridge
March and April are some of the snowiest months of the year in Breckenridge. While we're best known for spring skiing conditions that have plenty of sunshine and blue skies, be prepared for powder days in-between. In the spring, layering is a necessity. Mornings and evenings can get chilly, but during the day it's usually sunny and warm. Remove or add layers as needed, and don't forget the sunscreen!
Spring Events
Spring is the best time to vist Breckenridge. Find not-to-miss spring events at Breckenridge Ski Resort.
Find More Reasons To Love Spring
Breckenridge Lodging
There are a variety of lodging options in Breckenridge that all offer unique, yet different experiences. With free buses and Main Street Trolley, free lodging shuttles and gondola to and from Breckenridge Ski Resort, not to mention a walkable historic downtown, Breckenridge is even easier to explore once you're here. Make new friends and meet fellow travelers at a historic B&B, bring the whole family for a getaway in a large private home, or settle in close to the slopes in a condo or a hotel with all the amenities. If you've got kids, choose a place with a pool or an arcade. If you're looking to relax, choose a hotel with a spa or steamy hot tubs. If you're looking for ski-in-ski-out, we've got that too! Whatever your flavor, Breckenridge lodging options have something for everyone.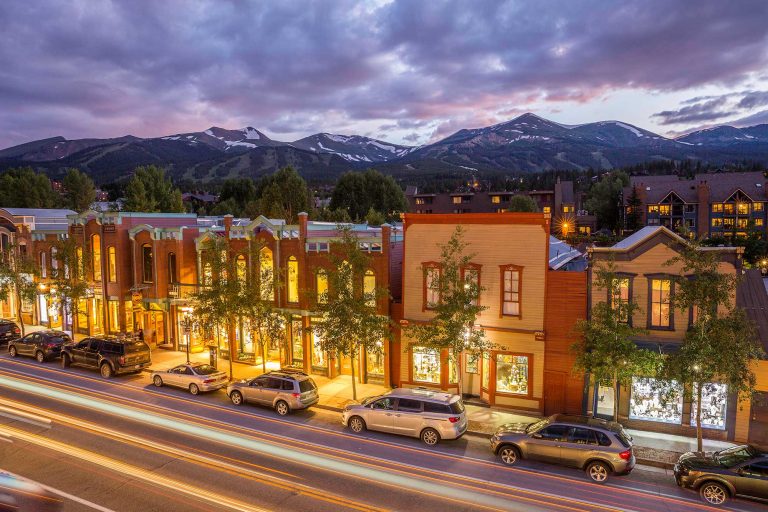 Embrace The Spirit
BLike Breckenridge™️ is a movement born of the spirit of our historic mountain town for those who call it home—whether for a weekend or a lifetime—to live by. It is a cause that connects us to each other, that we can all be a part of.