There are endless amounts of outdoor activities, special events and daily apres that happen each week in Breckenridge, Colorado. So how do you decide what activities are a must-do on your vacation? Of course, with hundreds of things to do in Breckenridge in the Winter, you'll have to come back once a year until you've tried them all! The next best thing? Our Ultimate Breckenridge Winter Trip Itinerary filled with tips to save time, money and stress.
Day 1: Take it easy and stroll down Main Street
Your first day in Breckenridge should be a laid back one. Take the time to acclimate to the high altitude and explore the town. Main Street Breckenridge is known for it's incredible shopping and dining scene but it also serves as the central hub for everything including events, festivals, music, an abundance of activities for all ages and interests happening all year long. Don't forget to visit our resourceful information center for various maps and fantastic information when you get here!
Day 2: Ski/Snowboard
No ski vacation is complete without a day or more of skiing or snowboarding. Breckenridge Ski Resort spans over five peaks of the Tenmile Range (Peaks 6-10) across 2,908 acres, offering a variety of terrain. Three of the peaks have base areas (7,8,9) and two are home to Breckenridge Ski and Snowboard School (8,9).  If you're a beginner, we recommend booking a lift and lesson package on Peak 9, which has some of the best teaching terrain in the world. Arrange your rental equipment with the ski school itself or at one of the many spots in town specializing in rental equipment and clothing. Regardless of ability level, save time and money by purchasing your lift tickets, lessons and rentals online at least 7 days in advance!
Finish off your day with a little Après (that's French for post skiing entertainment) at one of the restaurant in town.  There're never a shortage of bar stools to pull up to share some (mostly true) skiing stories.
Don't want to hit the hill? Check out these 16 snowy things to do if you don't ski.
Day 3: Explore Breckenridge's hiking trails
Hiking may seem like a summer activity, but add some snowshoes, Nordic or touring skis, and you've got winter hiking at its finest. Make your way up some of the most beautiful terrain in Colorado on a guided hike with the Breckenridge Heritage Alliance, snowshoes provided, to learn about the natural environment and the history of Breckenridge. Want to embark on your own? Rent equipment at one of many local shops specializing in ski and snowshoe rentals, or stop by one of the Nordic centers and explore the town's extensive network of multi-use trails. Whatever you choose, dress in layers, stay hydrated and apply sunscreen so you won't have to back out early and miss those spectacular views and occasional wildlife sightings!  Remember, to follow Leave No Trace principles while outdoors.

Day 4: Check out a Local Event
Breckenridge is a celebrate everything kinda town, which means there's always something fun going on. From joining hundreds of Santas in a race down Main Street to lively parades and world record-breaking attempts, this town knows how to have a good time. Mark your calendar and start making plans to join us for our favorite signature winter events like The Lighting of Breckenridge, Ullr Fest, the International Snow Sculpture Championships and Mardi Gras.
Day 5: Try something new
Boasting over 300+ days of sunshine, Breckenridge winters are hard to beat. Head outdoors to enjoy your favorite activity or try something new. Lessons and guided tours are available to help you get outdoors and enjoy each new adventure. Dog-sledding, snowmobiling, ice skating and historic tours are a few of our favorite options.
Find the top 100 winter activities in Breckenridge
Day 6: Relax
Moving beyond its claim to fame as a historic ski town known for its world-class skiing, Breckenridge is rapidly becoming a wellness and cultural mecca for a variety of palettes. With everything from day spas, yoga and Pilates studios, chiropractors, acupuncturists, nutritionists, energy healers, oxygen bars, escape rooms and cooking classes, Breckenridge is sure to help you unwind from your fun-filled adventure in any way you could think of. Not to mention a newly renovated Recreation Center, complete with a gymnasium, racquetball court, indoor rock-climbing wall, indoor track, aerobic/dance studios, and an aquatics area featuring lap and leisure pools, the Summit Plummit water slide, coed sauna, steam room, and indoor and outdoor hot tubs is available to visitors for a small daily fee.
Tips for planning your Ultimate Winter Itinerary
Book Your Bucket List
You may have booked your lodging but you shouldn't stop there. To make sure you get to do everything on your bucket list, we recommend making reservations for any activities you would like to do (outside of skiing and snowboarding). Many of the most popular activities will sell out and booking early ensures your spot.
Know What To Pack
Breckenridge prides itself in its laid-back, casual mountain atmosphere. You can dress casually (jeans or cotton pants, sweater or fleece jacket are the norm) for any occasion. Layering is always stylish in the mountains and will easily transition from keeping you warm on your afternoon hike to keeping you cozy at happy hour. Pack or rent snow gear for those outdoor activities, and don't forget some sunscreen, a water bottle and a reusable shopping bag too!
Go Carless
You won't need a car while you're in Breckenridge. Many lodging properties are within walking distance to Historic Main Street and the mountain so you can easily walk to and around town.

Many lodges also offer a free guest shuttle that will pick up and drop off at popular destinations. The Town of Breckenridge offers a free bus transportation system throughout the town and picks up riders at each stop every 20 minutes to an hour depending on location.  You can also get around Breckenridge using local taxi services, Uber and Lyft. If you are looking to catch a ride to one of our neighboring towns, The Summit Stage offers a free transit system that's convenient and easy to use. Some off-the-beaten-path spots like Broken Compass Brewing and the Breckenridge Distillery even offer their own free transportation to town.
The Breckenridge Tourism Office works to enhance and promote the unique character and experience of Breckenridge as a world-renowned destination resort and to represent, serve and perpetuate the common interest and character of its membership and community.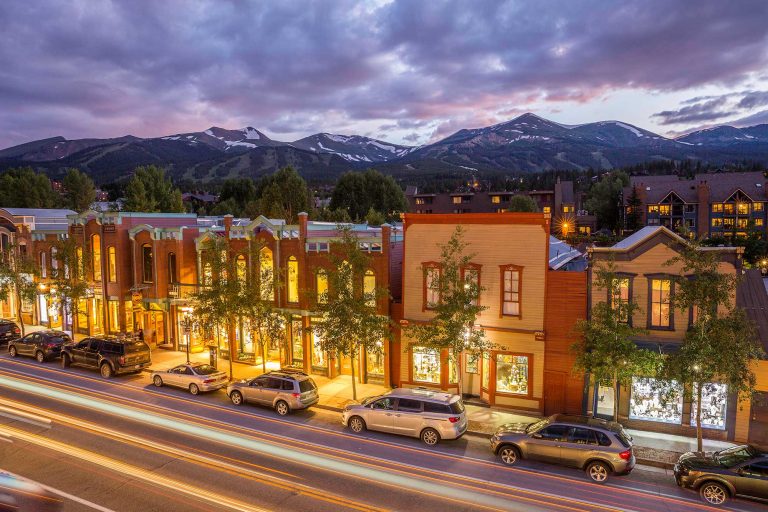 Embrace The Spirit
BLike Breckenridge™️ is a movement born of the spirit of our historic mountain town for those who call it home—whether for a weekend or a lifetime—to live by. It is a cause that connects us to each other, that we can all be a part of.