Gone are the days when ski towns were home to only burger and pizza joints. With a world-class destination comes a world-class eating experience. Breckenridge is no exception to this. Over the past couple of years, this town has transformed into a culinary hot spot featuring worldly inspired cuisines and fresh takes on culinary classics. The new restaurants in Breckenridge are a direct reflection of this transformation.  Discover the new and trending restaurants Breckenridge has to offer!
New Restaurants in Breckenridge:
Mount Golian Grill
Mount Golian Grill is Breckenridge's newest addition to Main St! This family-owned restaurant brings a taste of Mongolia to Colorado's Rocky Mountains, featuring fresh and flavorful dishes sure to satisfy any taste. Mongolian cuisine consists of an array of extraordinary ingredients that are cooked to perfection on a meng gu kao rou, a.k.a Mongolian grill. Stop in for the local's lunch special or happy hour, complete with both appetizer and drink deals.
The Carlin
Surrounded by the attraction of Breckenridge, this luxury inn offers a restaurant, tavern, and guest rooms – designed for an unforgettable hospitality experience. The main level of The Carlin hosts an all-new open kitchen concept – a perfectly posh dining affair fit for fine diners and families alike. The lower tavern level introduces a tastefully designed, modern-meets-casual take on classic American tavern culture.
Tin Plate
Housed within a restored mining cabin that was originally built in 1883, Tin Plate pizza is Breckenridge's newest upscale pizza restaurant specializing in quality ingredients, elevated spirits, and local beers. Believe it or not, this was also the home for the town's gold assayer and the historic property where Tom's Baby was kept overnight before its train transfer to a bank in Denver. It's been carefully restored and brought to modern day, perfect for a cozy date or fun with friends on the patio. If there's room for dessert, head next door for fresh baked cookies!
Mimo Fancy Tapas
Head downstairs to Mimo Fancy Tapas (in the old Ridge Street Kitchen location) for authentic Spanish small plates, Spanish wines and signature cocktails. Whether you're looking for your new go-to Happy Hour joint or want to feel sophisticated for date night, Mimo is sure to impress with a fun menu that let's you share, sample and explore new curations.
Ski Town Chicken Joint
Breckenridge's new Ski Town Chicken Joint is the place for all your fried chicken needs. Stop in for a full bar, beers on tap, big screen TVs and game sound.
La Francaise Bistrot
At La Française Bistrot, they bring Family back to the Family ski town, by being one of the only family-operated businesses in Summit County. From father, mother, daughter and son-in-law, La Francaise shares the best of what our family loves and cherishes: good food, good wine and a good time.
Oaxacan Bites
Pick up quick and easy Mexican bites at Breckenridge's newest food stand, right on North Main Street. Perfect for a stroll along Main Street or a quick place to soak up some sun.
Semplice Cafe
This new eatery, formerly Kava Cafe, is a small and cozy shop with a rustic vibe. Swing in to grab a hot panini, breakfast burrito or local Breckenridge coffee from their full service espresso bar nestled in a certified historic building before hitting the slopes. Our go-to? The Appeleen, complete with apples, Havarti cheese, bacon and apple butter.
Bird and Cow
Come for the food, stay for the view. Bird and Cow on Ridge Street is from the boys who brought you Robbie's Tavern and The Canteen. True to their name, they've got everything you can dream of from cheesesteaks or the seven spice rubbed wings.
Rootstalk
Rootstalk is a new American restaurant, where Doma 1898 once lived, serving Chef Matt Vawter's take on elevated everyday dining. Focusing on lunch and dinner services, they serve up approachable seasonal food, thoughtfully curated wine and beverage lists, and creative and fun libations.
Mimi & Pin
Located in a historic building and tucked right off of Main Street, this perfectly decorated shop is your go-to for an afternoon pick-me-up. They specialize in steamy hot Spanish churros, waffles and coffee, because is there any better combo? Better yet, it's right at the base of the gondola.
Cabin Juice
Cabin Juice at Gravity Haus is the place where you come to swap tales and plan your next adventure. They serve fresh ingredients made awesome – finely crafted cocktails and family-style dishes. Located at the Base of Peak 9, Cabin Juice offers both dine-in and grab-and-go options for breakfast, lunch, dinner and apres. With a nod to the high alpine environment and utilizing ingredients from close to home, cocktails range from barrel-aged old fashioneds to carefully crafted sours and bubbly patio pounders.
Ollie's Pub & Grub at the Dredge
Ollie's Pub and Grub, a local favorite, is now open at their new location on the water. Formerly home of The Dredge, the new restaurant features late-night options in this mining relic dredge boat that sits in the middle of historic downtown. Come for happy hour from 3-6, or late-night eats until midnight.
Yo Mommas! Tacos y Burritos
The newest addition to Breckenridge's "fast food" scene is Yo Mommas Tacos y Burritos. Swing by this colorful food stand for on-the-go breakfast and lunch burritos, tacos and tasty margs, or sit down at their new location on Airport Road! It's quickly becoming a local favorite.
The Pour House
This new Breckenridge restaurant and bustling hot spot on the North end of town is your go to for draft and craft beer. With 64 taps and an innovative self-pour electronic tab system, this may just be the hot new trend. Pour yourself a brew, grab a burger, and relax on their sun-soaked patio overlooking Main Street.
Little Breck Coffee Cart
If you're in need of an on-the-go pick-me-up, swing by the Little Breck Coffee Cart on Airport road. Sip on local brews from Breck Coffee Roasters, founded by a few friends with a passion for sustainability and a love of incredible coffee. They are proud to present delicious, authentic mountain coffee with 100% compostable packaging and minimal waste generation.
BreckFAST – New Location in La Cima Mall
At BreckFAST, their top priority is serving customers the freshest quality breakfast and lunch in the fastest time possible and at a good price. Previously on Airport Road, BreckFAST is now  conveniently located on Main Street just steps away from the Quicksilver Superchair on Breckenridge Ski Resort's historic peak 9. Grab late night eats from BreckFast's Breck at Night and deliver food straight to the new Broken Compass brewery location upstairs!
The Boot Saloon
You've heard the expression, "every picture tells a story." Well, the owners of the new restaurant at Grand Timber Lodge believe every boot has a story – one of adventure, challenge, or even championship. Such endeavors require hours and hours of perseverance, hence, the name The Stinky Boot.
Located in the space formerly occupied by the Lodgepole Bar and Grill, "the Boot" channels the laid-back ski lodge vibe that was in Colorado in the days of yore. Part of this ambiance is reflected in a growing collection of mountain-related memorabilia, evolving on the walls and shelves that evoke the spirit of the '70s, '80s and '90s.
Castaways Cove
Castaways features Hawaiian cuisine with a focus on clean, high protein ingredients. In the former location of Tiki Mana Island Grille, the tropical vibe remains the same. They'll be open for lunch, happy hour and dinner.
The Blue Fish Sushi
From grilled entrees and sushi to cocktails, everything The Blue Fish creates is a piece of art that is made by skilled hands from the best of ingredients. This brand new Japanese and sushi restaurant is on the north end of town next to Salt Creek Saloon. Join them for happy hour, 3-5 pm.
Whiskey Star Smokehouse
Located at the former CB & Potts location, Whiskey Star Smokehouse serves up Colorado's best low n' slow barbecue. Best yet, they can handle large parties with over 230 seats. Marketplace service gets your food and your family together quickly in town's newest BBQ joint. Try the Jack & Coke slushies paired with their fall off the bone ribs- it's one of our favorites!
Breckenridge Ale House
If you're a fan of Man vs. Food, you'll love the new Breckenridge Ale House. Featuring thin crust N.J. style pizza, 24″ super slices, local Colorado craft beers and 120oz beer/drink towers- put yourself to the test!
The Breckenridge Tourism Office works to enhance and promote the unique character and experience of Breckenridge as a world-renowned destination resort and to represent, serve and perpetuate the common interest and character of its membership and community.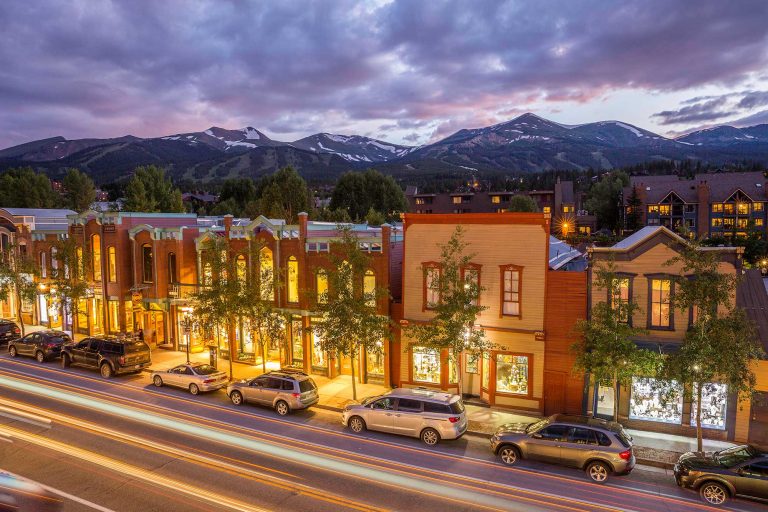 Embrace The Spirit
BLike Breckenridge™️ is a movement born of the spirit of our historic mountain town for those who call it home—whether for a weekend or a lifetime—to live by. It is a cause that connects us to each other, that we can all be a part of.