Breckenridge was built for fun.  It's an up for anything kinda town and traveling with kids doesn't change that. The list of what to do is long, but we've consulted the experts and had some serious fun ourselves to compile our ten best activities for families in Breckenridge – guaranteed to leave the whole family grinning from ear-to-ear.
10 best winter activities for families in Breckenridge:
1. Sledding at Carter Park
Breckenridge's sledding hill is located just a few blocks from the heart of town and offers thrills for kids of all ages.  The park offers old-fashioned sledding which means participants walk-up the hill before sledding down. The views at the top are stunning, making it a top spot for an Insta-worthy photo.  You'll have to bring your own sled so either check your rental for a freebie or pick one up at one of the local grocery stores.
Local's Tip: Little hands enjoy warming up with hot chocolate. Find some of the best Hot Chocolate spots in town.
2. Dog Sledding
Good Times Adventure Tours is one of the most respected 'working dog' kennels in the country. The team operates a stunning 6-mile relay tour along an idyllic winding trail just a few miles north of town. Dog Sledding is one  of a kind experience and is a must-do for any family winter trip to Breckenridge. The best part- you get to be the musher!  Children as young as five can take the helm of the sled or ride along as mom or dad "drive."
These huskies love to work and play, and the guides are very informative (and super cool too). Don't forget to book early; these tours fill up quickly!
Local's Tip: There is no cell service at Good Times and the cold can quickly zap a phone battery – so if you have a 'real' camera, bring it!  Otherwise, come with a charged phone and use a handwarmer to help the battery along.
3. Scenic Cat Tour
Enjoy Breckenridge's breathtaking scenery from the warmth of a heated snowcat at the Breckenridge Nordic Center.  You'll meet at the lodge of the Breckenridge Nordic Center where you can enjoy a beverage by the fireplace before being whisked away in a state of the art Prinoth Snowcat designed by Pinifarina in Italy.  As you leave the warmth of the nordic center, you'll love the heated, all-glass cabin that provides big views of the forest, trail system, and ten-mile range.  Your guide will share antidotes about local history and wildlife as you head down the trail. If you look closely, you might even spot wildlife during your trip.   One of the highlights of the tour includes a stop at an old mining cabin for hot chocolate and smores by the wood-burning fireplace.  The tour offers sweeping views of the Breckenridge Ski Resort and is a great way for non-skiers/snowboards to enjoy the snow.
4. Family Private Lesson at Breckenridge Ski Resort
Did you know you don't have to split the family up while taking lessons at the ski area?  A family private lesson is a fun way to witness your kids' first turns, while working on your own technique and skills.  Because it's private, you can customize the day for your family's needs, watch your kids learn and get a few pointers of your own. Bonus – you can skip the lines all day for more time on the slopes or a nice chat on the chairlift with your teen while their phone is tucked away in their jacket (if you really want long talk with them, jump on the C-Chair – it's a 13 minute ride!).
Local's Tip: Get the best price and experience by booking lessons and lift tickets in advance on Breckenridge.com. You'll save time and money by getting this done before you arrive. Half-day privates are also an option.
5. Free BreckConnect Gondola Ride

Even if some or all your family doesn't ski or snowboard (although we suggest everyone try at least once) a ride in the Free BreckConnect Gondola from town to the ski area's Peak 8 base is still a must for any family winter trip to Breckenridge. Access the gondola from town near Breck's transit center for a 20+ minute round trip over Cucumber Gulch, a high-alpine wetland preserve (keep your eyes out for Moose – they love to hang out here). Take in stunning views of the town and the entire valley. You can get off at the Peak 7 or 8 base areas for hot chocolate and people watching.
Local's Tip: The cabins aren't heated, so be sure to dress warm!
6. Free Main Street Trolley
Main Street Breckenridge is just shy of a mile long, perfect for a light stroll through the hub of town. But if you're looking for a different view or have youngsters, the free Main Street Trolley is the perfect free activity, day or night. With many stops along the main vein of Breckenridge, the trolley is easy to catch, an entertaining ride for wide-eyed toddlers, and a sneaky way for parents and grandparents to save their legs for skiing. This is a must for any family winter trip to Breckenridge!
7. Ice Skating
No proper ski town is complete without an ice rink, and Breckenridge has a great facility at the Steven C West Ice Arena. With a variety of fun programs and public ice skating (you can even try Curling!), you're sure to please everyone in the group.   Public skate times are an affordable way to spend an afternoon or evening.
8. Breckenridge Vipers Game
The Breckenridge Vipers is a semi-professional men's hockey team based out of the Stephen C. West Ice Arena in Breckenridge, CO, the Vipers offer a fun and entertaining environment for hockey fans both local and those visiting.   The Vipers play in the Mountain West Hockey League in which the team earned Championship Finals appearances in 2 seasons including the 2018/19 season. Most games will be held on Friday and/or Saturday nights, please check the schedule for date and times.
9. Sleigh Rides
are a gentle, cozy way to travel through the scenic White River National Forest Breckenridge calls home. Choose from scenic sleigh rides with hot cocoa, dinner sleigh rides under the stars or even rides that feature dinner and a show.  Kids will love admiring the large horses, and adults can take it easy and enjoy the views snuggled under a warm blanket.
Local's Tip: A clear night under the stars in the mountains is not to be missed, but they usually bring colder temperatures.  Make sure everyone has hats, gloves and warm boots to go along with winter coats.  
10. Historic Gold Mine Tour
Founded in 1877 Country Boy Mine is one of the oldest and most famous mines located in Summit County. Early in its 100-year history, the County Boy Mine was known for gold and silver production and later earned national fame by producing large amounts of high-grade lead and zinc for use in World War I and World War II. Today, the mine offers daily tours, gold panning, and interactive ways to experience history.
Local's Tip: Country Boy Mine is 1,000 ft underground where the mine tunnels are a chilly 45 degrees year-round.  Dress warmly and wear sturdy walking shoes.
Indoor Activities
Sometimes you just need an inside day. For anyone wanting a break from the wintery weather we love here in town, discover the best indoor options to keep your clan cozy.
Discover more fun activities for your pint-sized adventurers in our Breckenridge Winter Family Guide.
Family friendly Breckenridge
The Breckenridge Tourism Office works to enhance and promote the unique character and experience of Breckenridge as a world-renowned destination resort and to represent, serve and perpetuate the common interest and character of its membership and community.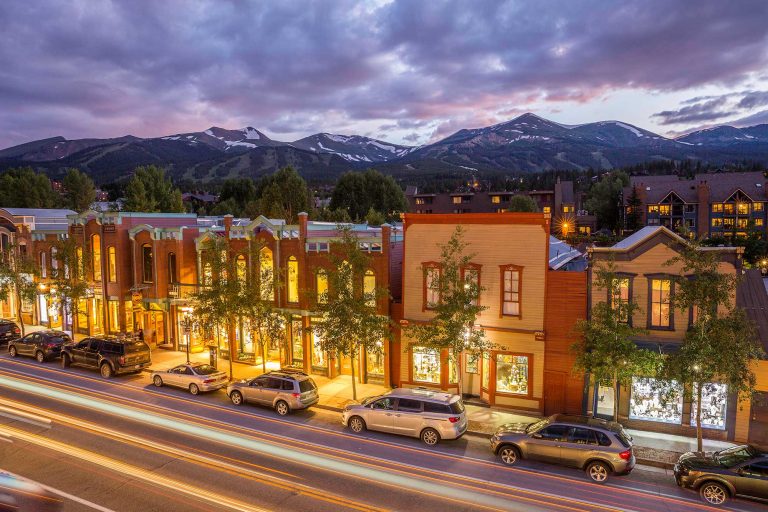 Embrace The Spirit
BLike Breckenridge™️ is a movement born of the spirit of our historic mountain town for those who call it home—whether for a weekend or a lifetime—to live by. It is a cause that connects us to each other, that we can all be a part of.