Winter hiking on Breckenridge's hundreds of miles of trails is like wandering through a winter wonderland. Whether you're using snowshoes, Nordic skis or just winter boots, there's nothing like getting out into nature and experiencing the crisp, clean air and pillowy snow that makes winter so magical. If you're looking to get out and find some peace and quiet, we've got the top winter trails for solitude, just for you! Here's where to go to hear the snowflakes fall.
Top Winter Trails for Solitude:
Gold Hill
When you want: A quick mind-clearing reset.
Get there: Four miles north of Breckenridge on Highway 9.
Park: An ample parking lot sits at the trailhead, visible from the highway.
Hike: Gold Hill is an easy access, out and back six-mile trail that links up with the Peaks Trail connecting Breckenridge to Frisco. Packed-down and stunning in the winter, this easy uphill is a family go-to. The first segment of Gold Hill gradually climbs up and away from the hum of the highway, opening to incredible head-swiveling views of the Ten Mile Range. Waterproof hiking or snow boots easily maneuver through hills of baby pine, clear cuts and open meadows with rewarding views of Breckenridge and far-off Lake Dillon. Gold Hill is also a part of the famous Colorado Trail, which travels 500 miles from Denver to Durango.
Spruce Creek
When you want: Wide trails, deep snow and bottomless views.
Get there: Four miles south of Breckenridge on Highway 9. Turn right on Spruce Creek Road at "The Crown" sign and keep following trailhead signs.
Park: The large parking area can get busy on weekends. Arrive early or later in the afternoon to avoid crowds.
Hike: This four-mile loop offers loads of options for extended hikes and branch-offs. Perfect for groups with plenty of endurance and lung-power, the trail begins at 10,164 feet along a packed-down, locally loved service road and steadily climbs through old pine and spruce flanked by deep winter snow. You may want to pack along snowshoes for some sections. Trek through lodgepole pine and aspen stands, soaking in long-range mountain views, including Mount Helen to the north, eventually intersecting with the Mayflower Lakes, Upper Spruce Creek and Lower Mohawk trails. At points, you'll have this snowy sanctuary all to yourself. And then, you'll meet neighbors, dogs and backcountry skiers making their way back to the parking area.
Pennsylvania Gulch
When you want: Away-from-it-all serenity.
Get there: Five miles south of Breckenridge off of Highway 9 in Blue River.
Park: Trailhead parking is limited; you'll want to carpool if possible.
Hike: Head to this less-traveled trail for peaceful snow-globe hiking and a solid workout in the woods. Locals favor the tucked-away dog-friendly hike for its abundant snow and postcard valley views of Peak 10, Pacific Peak and Crystal Peak. The six-mile out-and-back path winds along Pennsylvania Creek, beginning with a gradual incline in the trees and opening up to a wide snow-loaded meadow with brush and red rocks poking out. Elevations range from 10,400 to 11,105 feet and snowshoes come in handy in some of the deeper sections.
Nightmare on Baldy/ Sallie Barber Mine 
When you want to: Get your heart rate up and snap some stunning pics.
Get there: Four miles east of Breckenridge on French Gulch Road.
Park: The trailhead rests on a dead-end road with an ample parking lot.
Hike: Don't let the name intimidate you. Once the flakes start to fall, this challenging seven-mile stretch of summer singletrack becomes a wonderfully quiet winter trail twisting up an iconic Breckenridge peak. Begin at the Sallie Barber trailhead and climb steadily along the snow-packed old mining road to the Sallie Barber Mine where gold rush relics and expansive 10,000-foot Ten Mile Range views await. Begin your ascent up Nightmare and earn a quick 1,300-foot elevation gain through the snow-cloaked trees. Pack snowshoes or cross-country skis for the steeper powdery segments and don't miss True Romance Mine as you traverse the intertwined True Romance and Weber Gulch trails circling back to Sallie Barber.
Before heading out on any winter hike, be sure you have the proper gear and layers for a comfortable and safe trek, and know the winter trail use guidelines.
The Breckenridge Tourism Office works to enhance and promote the unique character and experience of Breckenridge as a world-renowned destination resort and to represent, serve and perpetuate the common interest and character of its membership and community. Lisa Blake is a regular contributor. The Breckenridge-based freelance writer, editor and mom enjoys researching and sharing stories on health, wellness, dining and the outdoors. Find her work in Breckenridge Magazine, The Purist, 5280.com, and at lisablakecreative.com.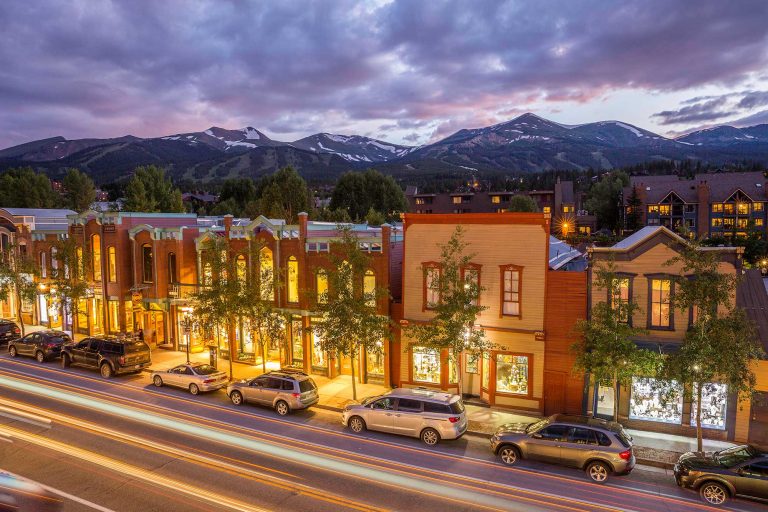 Embrace The Spirit
BLike Breckenridge™️ is a movement born of the spirit of our historic mountain town for those who call it home—whether for a weekend or a lifetime—to live by. It is a cause that connects us to each other, that we can all be a part of.