16 Must-Eat Dishes in Breckenridge
Our little mountain town is chock full of burger and pizza joints, global cuisine, seafood and steakhouses, family favorites, breakfast gems and much more. If you're craving it, there's likely a Breckenridge chef serving it up. Here are the dishes that regulars order again and again.
Hearthstone Restaurant
Hearthstone welcomes celebration and special occasions from its warmly designed romantic Victorian home. Order the garlic granola crusted blackberry elk for a tender, perfectly cooked treat-yourself meal.
Michael's Italian Restaurant
If you swoon for old world Italian, family-run Michael's is a sweet, authentic option complete with red and white checkered table cloths, great wine and mouthwatering garlic bread. Tuck into a bubbling dish of baked stuffed jumbo shells with ricotta and spinach in a homemade red sauce.
Cool River Coffee House
Even carnivores love the veggie breakfast burrito from Cool River. It's loaded with sweet potatoes, eggs, spinach, black beans, queso fresco, avocado and salsa and is best enjoyed with a newspaper and cup of coffee on the riverside patio.
Empire Burger
There's no shortage of juicy cheeseburgers in town. When you want the real deal that's consistently voted "Best Burger in Summit County," you head to Empire Burger and dig into The Classic with an order of cheddar fries for the table.
Downstairs at Eric's
Downstairs at Eric's has notched its spot as a family go-to with an arcade, wall-to-wall TVs and a ginormous pizza, wings, salads and sandwiches menu. The garbage pizza pleases with pepperoni, sausage, tomatoes, green peppers, mushrooms, onion and black olives.
Crepes a la Cart
Sweet, savory or build-your-own, there's a reason why there's always a line winding down Main Street from Crepes a la Cart. The thin pancake-like French handheld delights are a hit any time of day. Try the Monte Cristo for a savory spin or the caramel nut brownie for a treat.
Burke and Riley's Irish Pub
The beer-battered fish and housemade chips at Burke and Riley's Irish Pub are a trip to the Emerald Isle that's best served with a smooth pint of Guinness.
Clint's Bakery and Coffee House
For a hearty handmade breakfast, head downstairs at Clint's Bakery and order a hefty hot and melty Boreas (sausage, egg, cheddar) everything bagel sandwich.
Amazing Grace Natural Eatery
Community gathering hub and health-focused eatery Amazing Grace bakes the best scones around. Flavors change daily and with seasonal ingredients. The peach and blueberry are favorites.
South Ridge Seafood Grill
Kick off happy hour at South Ridge Seafood with the house-smoked trout dip and toasted pita chips. The Thai red curry coconut Bang Island mussels are a close runner-up.
Briar Rose Chophouse and Saloon
Bring your appetite and order the super gooey, richer than rich five-cheese mac and cheese at Briar Rose Chophouse for the ultimate comfort food indulgence.
Breckenridge Distillery Restaurant
Backed by a two-time James Beard-award-winning chef, the Breckenridge Distillery impresses with big, bold dishes. The crispy pork rinds with house made hot sauce are a popular nosh. Throw in the smoked pork belly buns and the harissa fried chicken for a playful gourmet sampling.
Canteen Tap House
Après ski or post summer hike, a zippy margarita on the sunny deck at the Canteen goes best with a plate of pork green chili fries smothered in queso.
Mountain Flying Fish
Freshly flown-in fish, a chef-owner that trained under the masters in Japan and the highest quality ingredients make Mountain Flying Fish a coveted reservation. The Mt. Baldy Daily Dragon roll is special with its fish of the day fried and wrapped with cucumber, avocado and jalapeno in a lemon butter sauce.
Yo Mommas Cantina
Yo Mommas Cantina is turning heads with its authentic Tex-Mex carne asada and pork al pastor tacos. Meats are slowly marinated and roasted and the homemade salsa verde and mole sauce are to die for.
Downstairs Deli
Step up to the counter at the Downstairs Deli (formerly Duggan's Deli) and order your new favorite sub sandwich. Do as the locals do and get the Dooley with ham, capicola, swiss and honey Dijon on delicious fresh baked French bread.
The Breckenridge Tourism Office works to enhance and promote the unique character and experience of Breckenridge as a world-renowned destination resort and to represent, serve and perpetuate the common interest and character of its membership and community. Lisa Blake is a regular contributor. The Breckenridge-based freelance writer, editor and mom enjoys researching and sharing stories on health, wellness, dining and the outdoors. Find her work in Breckenridge Magazine, The Purist, 5280.com, and at lisablakecreative.com.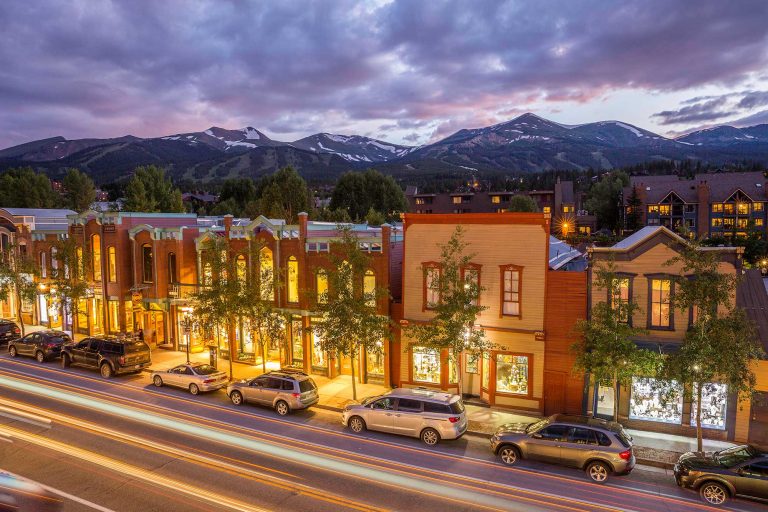 Embrace The Spirit
BLike Breckenridge™️ is a movement born of the spirit of our historic mountain town for those who call it home—whether for a weekend or a lifetime—to live by. It is a cause that connects us to each other, that we can all be a part of.