Grab and Go Dining Options in Breckenridge
Looking to stay in by the fire? Or maybe you're eager to create the perfect mid-hike picnic? These grab-and-go, take-out and delivery options are the perfect way to skip the wait-times and hassle of traditional dine-in restaurants. So keep your PJs on and let your meal come to you with Breckenridge delivery options, or keep exploring with our grab and go eats so you don't have to slow down.
Grab-and-Go Eats
The Cheese Shop of Breckenridge
If you're looking for gourmet, you've gone to the right place.  The Cheese Shop serves up Parisian style sandwiches complete with fancy olive oil, local jams and of course, specialty meats and cheeses! Order one to-go and sit by the Maggie Pond or throw it in your bag for a mid-hike picnic. If you just want to snack, they also offer up to-go meat and cheese plates, perfect for a romantic evening with a view.
Soupz On 
A local favorite, and for good reason! Soupz On creates homemade soups, fresh salads, sandwiches and bread, all prepared daily. Look for their rotating menu each day and order to-go to eat by the river or bring home for the whole family to enjoy. Vegetarians and vegans will love their daily options too!
Above the Blue
Walk up to no-frills food stand Reddz Above the Blue and order a signature gyro, meatball sub or coney dog to enjoy by the river. Night-lifers will love this open late joint for post-party eats.
Yo Mommas Tacos y Burritos
The newest addition to Breckenridge's "fast food" scene is Yo Mommas Tacos y Burritos. Swing by this colorful food stand for on-the-go breakfast and lunch burritos, tacos and more, or sit down at their new location on Airport Road! It's quickly becoming a local favorite.
Lolo Juice 
Stay fueled with a fresh squeezed juice, a healthy snack or meal from Lolo Juice on Main Street. Their meals and snacks are always made in-house, from the highest quality, all-natural and organic ingredients. Using only eco-friendly products, Lolos aims to keep their footprint small and your smiles big!
Pho Real 
Vietnamese fast-casual Pho Real brings authentic pho rice noodle soups to town. The hefty servings are built around slow-simmered beef or vegetarian broths that sing with exotic toasted spices.
H.D. Tavern
Quick and affordable dogs and sausages, loads of regulars and flowing drink specials complete the scene at HD Tavern. Don't miss deeply discounted cheesesteak and burger nights during football season and be sure to try the loaded Chicago Dog.
Crepes a la Carte
Look for the line of eager customers winding down Main Street from Crepes A La Cart's cheerful yellow food stand. Walk up to the window and design your own crepe with sweet and savory fixings spanning Nutella and toasted coconut to baby spinach and brie. Or select tried-and-true recipes from the menu. The Cheese Cake crepe is divine with brown sugar and Chantilly cream.
Trolley Crepes
Grab a crepe at Breckenridge's second (and less crowded) crepe stand, Trolley Crepes– they even have grilled cheeses, sandwiches and more! Take in views of the Maggie Pond and Peak 8 in the Main Street Station Plaza. Meet the crew before heading to the Quicksilver lift or just relax and recharge.
Coffee Shops & Breakfast Fare
BreckFast
Locally owned BreckFast prides itself on being swift and affordable. Visit the small counter-service cafe on Main Street for handheld American breakfasts served all day. Try the Local, a simple and delicious biscuit-egg-cheese-choice-of-meat sandwich.
Cuppa Joe
The $5 quick grab menu at Cuppa Joe is a hit offering a variety of breakfast burritos stuffed with bacon, sausage, eggs or green chili. Try the Summit CBD coffee for a soothing treat.
Clint's Bakery
Casual favorite Clint's draws guests in with oven-fresh baked goodies and bagels. The latte and mocha list is impressive and the croissant breakfast sandwiches are flaky and divine.
Semplice Cafe 
One of Breckenridge's newest eats, Semplice Cafe offers clean, local, healthy food in the heart of Breckenridge. Non-meat eaters will love their Vegan and vegetarian menu items, alongside some carnivore options for you meatheads out there. Grab a panini to-go and and top it off with a steamy cup of local joe from Breck Coffee Roasters.
Cabin Coffee Company 
Pop into Cabin Coffee for cinnamon rolls and coffee cake. The hot ham and cheesy mini sandwich is a savory budget eat breakfast. Memorable coffee is brewed with small batch beans roasted in house.
Daylight Donuts
Bring cash and find your spot in the line winding down the block at Daylight Donuts. The apple fritters, bear claws and sausage rolls are popular picks.
Coffee Depot
An easy walk to the chairlift on Peak 9, Coffee Depot is ideal for snag-n-ski breakfast burritos or toasted bagels with veggie cream cheese. Feel free to grab one of the few tables and read the paper over a chai tea latte or caramel apple cider.
Sweet Treats
Mountain Top Cookie Shop
The door is typically open at Mountain Top Cookie Shop, luring Main Street Breckenridge guests with a consistent waft of fresh-baked goodness. Baking perfect cookies at high altitude is no easy feat. Sample the talent with a two-fisted cookie dough delight sandwich made with edible cookie dough piled between two yummy cookies.
Higgles Ice Cream 
Higgles Ice Cream cone queen Anna Higgins sources only fresh, natural and organic ingredients for her ever-changing menu. No artificial anything here—even the rainbow sprinkles are naturally colored. Sample as many flavors as you'd like, but don't miss seasonal favorites like the Palisade peach and ginger.
Mimi and Pin
Mimi and Pin offer delicious, authentic churros & chocolate and delightful, quaint atmosphere.
Check out more sweet treats in Breckenridge
Delivery in Breckenridge
Get meals delivered to your door with third party delivery from Warrior Xpress, offering restaurants like Empire Burger, Giampietro, Asobi Tepanyaki, Piante Pizzeria and more! Door Dash is available in Breckenridge, including restaurants like Gold Pan Saloon, Breckenridge Tap House and Pho Real. Download the apps or simply place your order online. If you're looking for traditional delivery, try Northside Pizza.
Looking for more dining options? Check out these casual & family-friendly restaurants, as well as Breckenridge's best Farm to Table Dining.
The Breckenridge Tourism Office works to enhance and promote the unique character and experience of Breckenridge as a world-renowned destination resort and to represent, serve and perpetuate the common interest and character of its membership and community.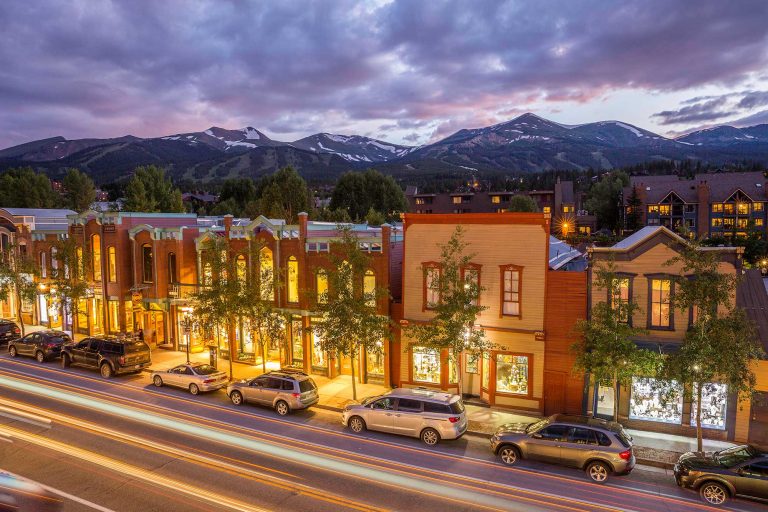 Embrace The Spirit
BLike Breckenridge™️ is a movement born of the spirit of our historic mountain town for those who call it home—whether for a weekend or a lifetime—to live by. It is a cause that connects us to each other, that we can all be a part of.