Make some Breckenridge winter vacation memories with the entire family, toddlers to nanas. Holiday getaways, family reunions, weddings and beyond, our lovely mountain hamlet is a welcoming home to all generations. Choose your snowy outside or cozy inside activities based on your crew's energy level and physical abilities. Take breaks to hydrate (always carry a water bottle), eat wholesome foods, get plenty of rest and maybe even make a stop by The O2 Lounge or The Elite IV Lounge for hydration and oxygen therapy sessions.
Ride the Gondola
Hop on the free BreckConnect Gondola from town to the base of Peak 8 at the Breckenridge Ski Resort. The swift-moving gondola carries up to 8 passengers and crosses over pristine Cucumber Gulch Wildlife Preserve where moose and other animals tend to hangout. Once you arrive at the ski resort base, visit one of the restaurants or coffee shops for a beverage and a snack and enjoy together while watching the skiers and riders carve down the mountain. There's also an ice skating rink steps from the gondola unloading station at the base of Peak 8.
Attend a Winter Event
Breckenridge throws one heck of a party and we love to celebrate all things winter. Check the events calendar for a long list of family-friendly happenings. Don't miss the Race of the Santas in December, the International Snow Sculpture Championships in January, and Mardi Gras in February.
Take in a Riverwalk Performance
Local orchestras, visiting big-name bands, multimedia events and more take the stage at the Riverwalk Center in the middle of town. The laid-back modern 750-seat venue is ideal for film festival screenings, intimate concerts and local talent shows.
Create Together
Take a class as a family at the BreckCreate Arts District. Wander the studios, galleries and historic landmarks that comprise Breckenridge's vibrant cultural hub and choose from workshops that include metalsmithing, glasswork, painting, writing and woodwork.
Enjoy a History Lesson
Learn about Breckenridge's mining and old west roots with a guided tour. With one of the largest historic districts in the state, there's a lot of ground to cover. Choose from ghost tours, strange-but-true tours, mine tours and saloon tours.
Sleigh the Powder
Embark on a memorable winter outing with a dinner sleigh ride. Families enjoy hot cocoa and adult toddies, layer up with cozy blankets and climb aboard a beautiful classic sleigh drawn by Belgian draft horses. Shush through the woods to an 1800s mining camp where a multi-course homecooked meal and entertaining theatrics unfold.
Hop in a Cat
The Breckenridge Nordic Center's Scenic Snowcat Tour offers a relaxing ride through the snow-loaded forest beneath the expansive Ten Mile Range. Sit back and enjoy the tour inside a luxury heated snowcat and sip hot chocolate by the fireplace in the lodge after.
Go Dog Sledding
Mushing through the trees and flying down snowpacked trails behind a team of smiling huskies is nothing short of exhilarating. Get the whole family into the backcountry, taking turns leading, riding in the dog sled and sitting in a passenger sleigh snapping pics as the dogs tow your crew through the peaceful winter landscape.
Prowl Around
Sign on for a guided ATV tour and explore old mining roads and camps along forested trails from inside a safe, comfortable all-terrain machine. Experienced guides lead the way, pointing out stunning Rocky Mountain landscape and historic features along the way.
Hit the Spa
Massages, facials, hot stone treatments, pedicures, acupuncture and sound healing are just the tip of the wellness iceberg in Breckenridge. Call on the many spas in town for customized treatments that will have you melting into vacation mode. For relax time with the kiddos, visit the Breckenridge Recreation Center and sit in the hot tubs while the kids play in the pool or go rock climbing.
Shop and Stroll
_BTO_Cohen_Family_1364.jpg
Main Street Breckenridge is a treasure trove of gift shops, coffee houses, bakeries, gear outfitters, galleries and welcoming local hospitality. Take some time to make your way from one end to the other (hop on and off the free trolley if your legs tire), snagging up souvenirs for family and taking plenty of breaks for sips and snacks.
Reserve a Table
Breckenridge's dining scene plates up good old fashioned nachos and pizza, global cuisine from every corner of the map, family favorites and special occasion meals that you'll remember for years to come. Come to the table for an extraordinary meal at a chef-driven restaurant and experience next-level dining. Or go casual at one of the many kid-friendly restaurants in town.
Watch Hockey
The Breckenridge Vipers Senior "A" hockey team takes to the ice all winter for exciting stick and puck action. Catch a game at the Stephen C. West Ice Arena on the south end of town.
Say Cheers
Like true Coloradans, we love our craft beer and spirits. Sample the finest handcrafted brews at the Broken Compass and Breckenridge Brewery. Take a tour at the Breckenridge Distillery followed by a sipping session in their tasting room. Stop into the Continental Divide Winery to blend your own wine or sample flights of reds and whites.
Play Games
A handful of Breckenridge coffee shops and restaurants invite guests to stay awhile, offering up comfortable seating and shelves of cards and board games. Grab a specialty coffee, ice cream cone or a pint at the Crown Coffee, Après Handcrafted Libations or Mom's Baking Co. and play Jenga at Gravity Haus. For a hands-on all-in family experience, visit one of the local themed escape rooms, the virtual reality arcade, or axe throwing.
Find more winter activity ideas in Breckenridge.
The Breckenridge Tourism Office works to enhance and promote the unique character and experience of Breckenridge as a world-renowned destination resort and to represent, serve and perpetuate the common interest and character of its membership and community.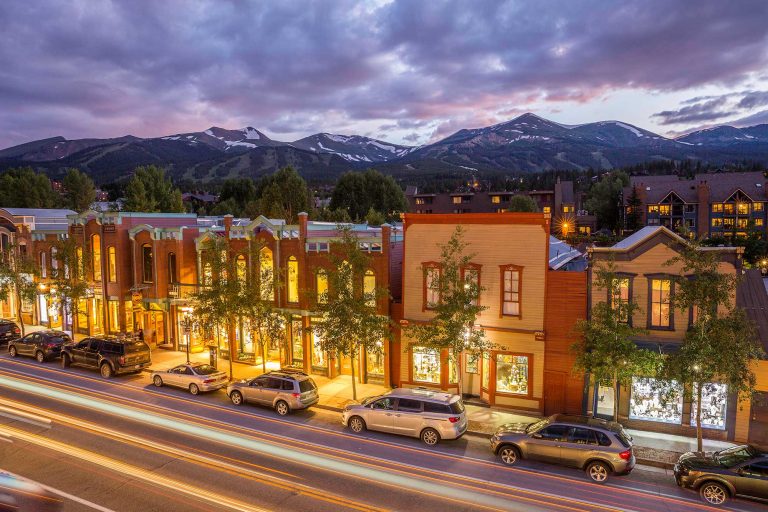 Embrace The Spirit
BLike Breckenridge™️ is a movement born of the spirit of our historic mountain town for those who call it home—whether for a weekend or a lifetime—to live by. It is a cause that connects us to each other, that we can all be a part of.