In Colorado, adventure lurks around every corner. Around here, you can throw a rock blindfolded and hit something worth venturing into. Whether that's a cliff, river, lake or trail, there is always something you can do to enjoy the landscape around you. In Breckenridge, your rock can hit restaurants, biking/hiking trails, slopes, and scenic waterways. Just a stones throw away, you can find even more unique areas and activities to create the perfect adventure!
ACTIVITIES FOR ADVENTURE LOVERS IN COLORADO
1. ZIPLINING
Picture yourself hundreds of feet above ground flying through trees and over rivers at 30 to 40 miles per hour. In some cases, you can find zipline courses that will get you soaring through the air at speeds up to 50 miles per hour. To put that into perspective, the fastest human in the world can run at nearly 28 miles per hour; the rest of us don't even come close to that. And to make everything that much more exciting, you can go ziplining mountain or cliff-side in the Rocky Mountains. You can even go for a full moon zipline adventure.
You don't have to be an adrenaline junkie to go soar through the air either. Many zipline courses allow children ages 6 and up, with weight minimums of 40 lbs. While a typical kid can make it through a course with "flying" colors, not all are brave enough to take on the extra features. Some courses include experiences like a hanging jungle bridge, or 50-foot Cliffside free fall. If zipping through the air at 50 miles per hour or free falling 50 feet don't get your adrenaline pumping, try ziplining backwards, or spinning on your way across!
2. VIA FERRATA
If your idea of an adventure includes some height and fighting off gravity, then this is another great activity for you. This time you'll traverse across and up cliff-faces using only iron bars, a rope, and a harness. Of course, you'll have a helmet and a guide too. This adventure takes you hundreds of feet up a cliff face and includes some incredible mountain views. Age and weight minimums vary by location, but they'll typically allow kids ages 12 and up and most have a weight maximum of 250 lbs.
Via Ferrata started back in back in World War I, where the Austro-Hungarians and the Italians found their frontlines in the Dolomite mountains. Here, they fixed iron rungs, ladders, and cables into the mountain side so they can get around easier. Now we get to enjoy Via Ferrata in the Colorado Rocky Mountains as an adventure unlike any other.
3. WHITEWATER RAFTING
Whitewater rafting has become a staple in many Colorado mountain towns. If you stop by Idaho Springs or Buena Vista, each about an hour from Breckenridge, you'll likely see a dozen or so busses shuttling rafts. Next time you're in one of these towns, see how many you can count and from how many different rafting companies.
If you're staying in Breckenridge, you are surrounded by rafting opportunities. In Buena Vista, you can go whitewater rafting down the Arkansas river and famous sections like Browns Canyon, the Numbers and Pine Creek. If you decide to head East on I-70, you can raft the Clear Creek tributary and its sections like the Gold Rush and Lower Canyon. Further North you can raft the headwaters of the great Colorado River near Kremmling. If you want to have a local adventure in Breckenridge, try the Blue River at select times of year.
This is a great way to cool off in the summer heat and get your blood pumping. It's also the best way to see miles of natural landscapes and wildlife. Some rafting companies will even stop at hot springs or cliffs you can jump from before continuing downstream. Don't worry about missing out on some sweet photos either, many have professional photographers waiting at key rapids to snap your group's photo as you float down. And if you're really lucky, you might even get a free lunch included with your trip.
4. STAND UP PADDLEBOARDING
15 minutes North of Breckenridge you'll find the Frisco Marina. This is a local favorite for Stand-up Paddleboarding or "SUPing," kayaking and boating. Aside from enjoying the beautiful views and calm water, you can also paddle from island to island discovering interesting birds and plant life. If you're looking for something more fast-paced, you can always take your paddle board to the river and try some easy rapids.
If you're a first timer or didn't bring your paddleboard with you, rentals are widely available in and around Breckenridge.  You can also find river rentals along most of the major rivers like the Upper Colorado. Make sure you have a helmet and floatation device handy on the faster water. Guided trips are a great option too!
5. FLY FISHING
Fly fishing in Colorado has always been a unique experience. Our trout fisheries are award winning for their ability to raise various fish species in amazing quantities and in great health. Match this invaluable resource with pristine waters like the South Platte River Drainage and the Colorado River's headwaters and you've got year-round gold medal fishing. Not to mention the trophy sized salmonids you can find in numerous lakes and reservoirs.
Being in Summit County sure has it's perks- it's one of the best places to access countless bodies of water and wild rivers. Probably the best way to access the fishing holes of the great rivers in Colorado is by float fishing. There are many guides in and around Breckenridge who are more than happy to take you out for a day on the water, whether it's a walk and wade or float fishing trip.
6. UTV RENTALS
One of the most freeing feelings comes from driving with a group of your friends and family into the depths of the Rocky Mountains with an off-road vehicle. Hearing the engine rumbling, the dirt cracking under your tires and the laughter from your passengers, then stopping at the top of a hill and looking out with almost complete silence, that's a hard feeling to find anywhere else.
In Summit County and nearby Grand County, you'll find plenty of public off-road trails to venture into. Many UTV rental companies are located near large areas of public lands that you can drive to directly from the shop. You will still need a valid drivers license to take one out for a spin, and in most cases the primary driver has to be 25 years old (additional drivers must be at least 18 years old). Passengers have a height requirement of 5 feet tall. This is a great way to have fun together and most companies will provide helmets and goggles to ensure you enjoy your trip.
Looking for more summer adventures? Check out the best 100 Things to do in Breckenridge this Summer!
By ARKANSAS VALLEY ADVENTURES
At AVA, we specialize in creating unforgettable outdoor experiences in Colorado. In addition to world-class whitewater rafting on eight different rivers across Colorado, we also provide zip line and via ferrata tours at two locations, rock climbing, fly fishing, horseback riding, off-road tours, train rides, hot air balloon rides, cabins and camping.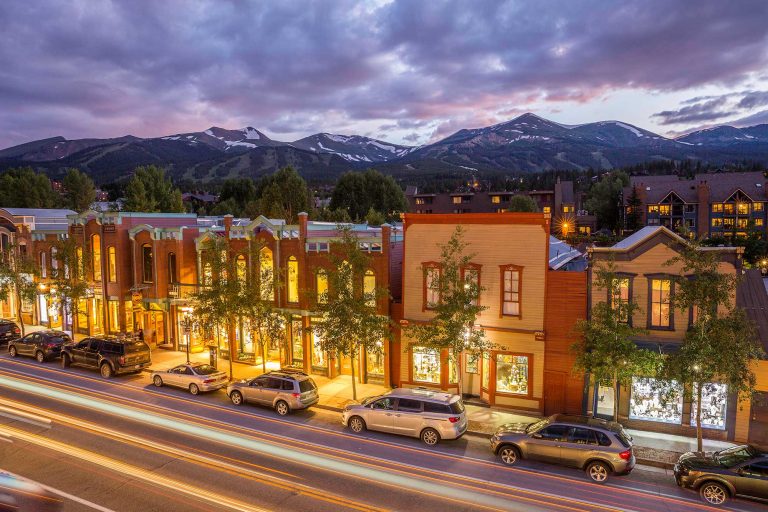 Embrace The Spirit
BLike Breckenridge™️ is a movement born of the spirit of our historic mountain town for those who call it home—whether for a weekend or a lifetime—to live by. It is a cause that connects us to each other, that we can all be a part of.