If you're looking for that perfect place to get all the girls together, whether it be for a bachelorette party, family girls trip, or just to sight-see with the crew, Breckenridge has it all. From yoga to hiking to sunset wine tastings, here's an inspired list of top-ranked Breckenridge summer activities for that dream vacation with your tribe. Cheers to an ultimate girls getaway!
Sweat & Bond
Craft a beautiful balance of action, relaxation and indulgence. Begin the morning with a cool, sun-drenched road or mountain bike ride. Biking in Breckenridge is a way of life and a welcoming sport to anyone with the motivation to see more and stay fit. Rent cruiser bikes and breeze along the riverside rec path or grab the latest lightweight mountain bike models and tackle a wooded intermediate trail. Take a guided fat bike tour with Breck-based outfitter Ridden or skip the ride and explore Broken Compass Brewery and Breckenridge Distillery on Airport Road.
Cherry-pick from hundreds of local trails and set out on a special waterfall or wildflower hike. Popular scenic hikes include Mohawk Lakes, McCullough Gulch and the Wheeler Trail. Have an adrenaline-thirsty crew? Go whitewater rafting or hit the ziplines and rock-climbing walls at Breckenridge Resort's Epic Discovery.
For something a little more laid back, immerse yourselves in the incredible summer landscape with a fly fishing lesson or spend a morning playing the world-renowned Breckenridge Golf Course. Tip: Balls fly farther at 9,000 feet!
Reboot & Restore
Let go of any lingering stress and bring your gals together for a
rejuvenating yoga session
. Breckenridge is host to two studios, offering everything from mellow, melting restorative classes to challenging, heart-pumping advanced sessions. Bhava Yoga is set up to host wedding parties and groups for private yoga and mindfulness experiences. Choose from bonding classes that include Private Yoga + Meditation Classes, Hiking Meditation (Summer Months Only),
Stand-up Paddleboard
Yoga (Summer Months Only) and more.
Book a well-deserved, slow-moving spa afternoon at one of Breck's luxurious wellness centers. Favorites for massage, skincare and facials include Blue Sage Spa, Soothe Spa on Peak 7 and The Spa at Breckenridge. Harmony Health Massage incorporates reiki, an oxygen bar and harmonic sound healing.
Art & Shopping
Walking Main Street and popping in and out of upscale boutiques, art galleries, toy and candy shops, T-shirt and book stores is a Breckenridge pastime that deserves an entire afternoon or evening. There are more than 200 stores to explore. See what grabs your eye and be sure to take an ice cream or coffee break to sit by the river in the middle of town and soak up million-dollar views.
Shop locally crafted gear and goods and head over to the Breckenridge Arts District for the latest artist-made jewelry, ceramics and more. Sign your group up for an oil painting, woodworking or metalsmithing workshop.
Wine & Dine
Ease into the evening with a wine tasting at Carboy Winery, Ridge Street Wine or Continental Divide Winery where you can create your own blend and bottle and label it for a memorable keepsake. Discover some of Breck's famous patios and decks where jaw-dropping vistas meet insanely good happy hours.
When it's time for a multicourse splurge-worthy dinner, Breckenridge's dining scene is better than ever. A recent culinary renaissance has brought upscale steakhouses, contemporary American and Mexican, Colorado comfort food and high-end sushi next level. And on the nights when all you want is nachos, pizza and beer, we have that dialed in, too.
Nightlife is always buzzing around Breck. Bounce from brewery and distillery scenes to pubs and old-time saloons. See live music, play trivia and pool, sip absinthe or catch a show at the Backstage Theatre.
Rowdier ambiances await at the Gold Pan, Motherloaded, Burke and Riley's, Napper Tandy's and Rita's. Bachelorette parties: End the night playing pool at Brooklyn's or dance the night away on Breckenridge's largest dance floor (don't miss the infamous dance pole) at Cecelia's.
Looking for more action-packed settings for a ladies' night out? We have some ideas.
Explore More of Breckenridge
Build your own itinerary:
The Breckenridge Tourism Office works to enhance and promote the unique character and experience of Breckenridge as a world-renowned destination resort and to represent, serve and perpetuate the common interest and character of its membership and community. Lisa Blake is a regular contributor. The Breckenridge-based freelance writer, editor and mom enjoys researching and sharing stories on health, wellness, dining and the outdoors. Find her work in Breckenridge Magazine, The Purist, 5280.com, and at lisablakecreative.com.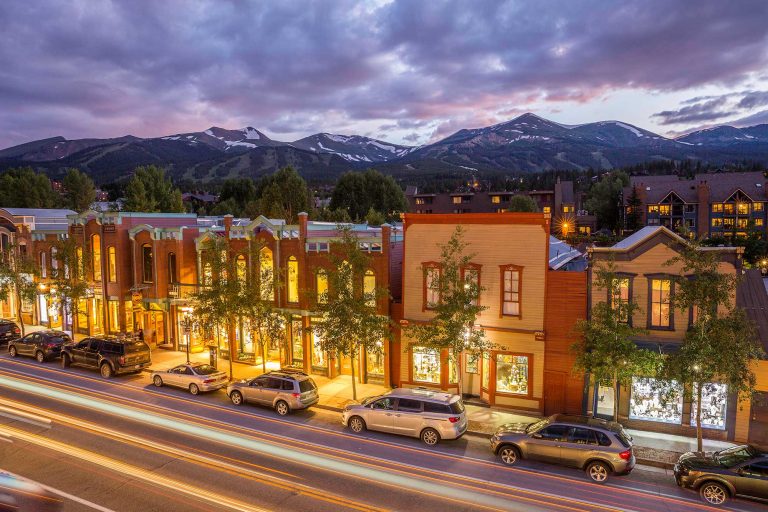 Embrace The Spirit
BLike Breckenridge™️ is a movement born of the spirit of our historic mountain town for those who call it home—whether for a weekend or a lifetime—to live by. It is a cause that connects us to each other, that we can all be a part of.