10 Best Things to Do in Breckenridge
Breckenridge is home to world-class skiing and snowboarding, as well as amazing hiking and biking trails. But our quaint mountain town is more than just an outdoor paradise. Breckenridge is a bustling town filled with history, a lively arts and culture scene and great shopping and dining. So if you're planning a mountain vacation here, you definitely won't get bored. But you may be asking yourself, "where do I start?" To ensure you don't miss a thing during your trip, we've compiled a list of the top 10 things to do in Breckenridge that cover the full range of beauty, activities, history and culture that make Breckenridge so special.
1. Stroll Historic Main Street
There's a reason Breckenridge is often listed as one of the prettiest towns in America. Main Street is the heart of the historic district where over 200 buildings from the mining era are preserved and loved. Today they are boutiques, coffee shops, restaurants and stores. Victorian architecture was the inspiration for the miners 150 years ago and continues to define the image of Breckenridge. Stop by the Welcome Center for a self-guided walking tour, or sign up for one of the many historic tours offered by Breckenridge History. Be sure not to miss our great festivals and events marking the calendar all year long!
2. Ski or Snowboard at Breckenridge Ski Resort
Like the Matterhorn, Breckenridge's Peak 8 is immediately recognizable as the signature mountain of Breckenridge Ski Area. Take the free gondola to visit Peak 8, the original ski area base village. Since its founding in 1961, the Breckenridge Ski Area has expanded to include Peaks 6 through 10 along the Ten Mile Range and is consistently one of the most popular ski resorts in the U.S.  Activities at the Peak 8 base area include the Alpine Slide and Zipline Tours in the summer and skiing and snowboarding in the winter.
3. Take in the Views
Breckenridge is home to views like no other. Head up Boreas Pass Road, a historic rail line now converted into a road for automobile traffic. Today it offers an easy drive to the top of the Continental Divide, stunning views of the valley and interesting historic stops along the way. On your way up to the summit, take a minute to check out Bakers Tank, which provided water for the steam engine back in the day. Once you get to the top, stop at the restored Section House, which is a ski hut in the winter. The top of Boreas Pass is the Continental Divide, the parting of the waters for the nation. This is a great fall loop drive for leaf peepers, and makes for some great snowshoeing and skinning in the winter.
Note: Boreas Pass Road closes to vehicles in the winter months.
If you're looking to take in the views from another angle, drive or walk up to the Town Overlook just a short way up Ski Hill Road. This spot offers scenic views in the opposite direction, including much of the town and Mt. Baldy. Stop at Lomax Gulch along the way for gold panning in the summer.
4. Take A Tour
Did you know that Breckenridge was a bustling town before it was a ski resort? So how did Breckenridge come to be in the first place? Gold mining! There's no better place to begin your understanding of the early days of Breckenridge than with a mine, ghost or historic tour. Gold fever drove men and their families to travel thousands of miles through the wilderness in hopes of hitting the motherlode in the Blue River Diggings.
Travel underground to see what it was like to work in the depths of the earth with tours at the Country Boy Mine and the Washington Gold and Silver Mine. Try panning for gold in a running creek at Lomax Gulch, or embark on a historic hike or snowshoe up Iowa Hill or Sallie Barber Mine trail. If you're looking to explore historic Breckenridge by night, try a ghost or cemetery tour through town.
5. Say Hi to Isak Heartstone, the Breckenridge Troll
Isak Heartstone (the Breckenridge Troll) just may be modern Breckenridge's most famous resident. Isak's smiling face greets many visitors to his new home along Illinois Creek off of Boreas Pass Road. He must be happy to be there in his permanent spot; he's holding on tightly to a nearby Lodgepole Pine Tree. Created by Danish artist Thomas Dambo, Isak is a 15' tall Troll cleverly made of scrap wood and recycled materials to remind us all to be kind to nature. Take the easy Trollstigen trail to say hello to this gentle giant.
6. Visit Breckenridge's Museums
From a rough and tumble mining camp, to a civilized Victorian town, to a hippie haven, and now an international resort destination, there's history on every corner of Breckenridge. Immerse yourself in Breckenridge's history by taking a guided tour, exploring an interactive museum or taking a mine tour.
7. Hike or Bike Breckenridge's Trails
If you truly want to experience Breckenridge's breathtaking beauty, hit the trails! There are hundreds of hiking and biking trails in and around Breckenridge which makes it easy to take part in of one of the most popular summer and winter activities. From gentle dirt roads to challenging summits, there are a wide variety of options for all types of hikers. Breckenridge hiking is an experience for every visitor to enjoy.  Be sure to review and follow Leave No Trace principles before heading out and be prepared for your adventure.
8. Explore The Arts District
The Breckenridge arts and culture scene is the heartbeat to our town. Our mountain community is packed with artists who find passion in their surroundings – of course, it's not hard to be inspired here. Breckenridge Creative Arts (BreckCreate) was developed by the town to support and promote arts, culture, and creative experiences throughout Breckenridge.  From quality performances, visual arts, workshops and classes, interactive festivals, historic tours and more, Breckenridge Creative Arts is a transformative force with a full lineup of opportunities to tap into any day of the week.
9. Attend one of Breckenridge's Signature Events
We don't just call ourselves the most social mountain town. We are. Our calendar is filled with not-to-miss events—aka excuses to celebrate our rich history, dynamic community, endless creativity, local libations and so much more. Praise the Norse god of snow at Ullr Fest, take in the fall colors at Breckenridge Wine Classic, or watch as 20-ton blocks of snow are transformed into enormous, intricate works of art at the International Snow Sculpture Championships.
10. Try Something New
While skiing, hiking and biking are some of our favorite activities in Breckenridge, this is the perfect place to step out of your comfort zone and try something new. Thanks to Breckenridge's fun and unique winter and summer activities, the choices are endless. Cover new ground in the winter on snowshoes, Nordic skis, dog-sled or fat-tire bike. Or maybe try zipping through the trees at Epic Discovery or hitting the water to fly-fish or whitewater raft down the Blue River. Whatever it is, you're sure to have a blast! Here are some ideas to get you started:
The Breckenridge Tourism Office works to enhance and promote the unique character and experience of Breckenridge as a world-renowned destination resort and to represent, serve and perpetuate the common interest and character of its membership and community.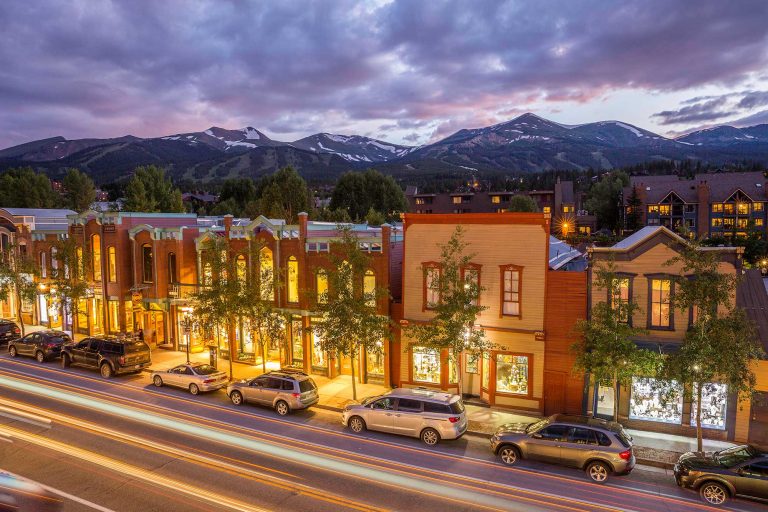 Embrace The Spirit
BLike Breckenridge™️ is a movement born of the spirit of our historic mountain town for those who call it home—whether for a weekend or a lifetime—to live by. It is a cause that connects us to each other, that we can all be a part of.