Hidden Breckenridge Bars, Lodges and Lounges
Breckenridge is host to a variety of lively watering holes and restaurants. When you're craving a quieter corner, head to these new, lesser-known or secret-stash spots perfect for a mellow date night, girlfriends' weekend or post-hike happy hour. Tuck away to one of these off-the-path nooks for a side of solitude- here are the local's favorite hidden Breckenridge bars, lodges and lounges.
The Boot Saloon
Grand Timber Lodge's new hangout delivers ski lodge vibes with mountain memorabilia and classic American pub food. Honoring the hard-working adventurer, The Boot is gaining a fan following for its delicious takes on comfort food—think pretzel knots with house made queso, saucy wings, creative pizzas and high-piled tater tots with pulled pork. The modern restaurant and bar is situated in the Grand Timber Lodge. Watch old ski films inside or sip Colorado craft brews outside by the fire pits.
Traverse
An approachable and upscale hideaway, The Lodge at Breckenridge's famed restaurant is perched high above town and comes with exquisite postcard views of the Ten Mile Range. Request a window seat and linger over a chef-driven menu of pork belly steam buns, artisan Colorado sausages, and house-smoked ruby red trout. This is the place to splurge on a juicy steak and take a glass of wine out to the deck to watch the sun retreat behind the peaks.
Ridge Street Wine
A true date-night treat, find the wine bar and accompanying Breckenridge Cheese & Chocolate down the quiet Ridge Street Alley. The cozy loft features wine flights, artisanal cheeses, meats, olives and chocolates. Sip and snuggle to live acoustic music Friday and Saturday evenings and hit the famous $10 wine rack on your way out. Bottles are hand-selected by buyer/owner and certified sommelier Anne Dowling, so you know they're top notch.
Ski Town Chicken Joint
Small but mighty, the Chicken Joint is located just off Main Street on Adams Avenue (where Le Petit Paris operated for years) and serves a full indulgent menu filled with, you guessed it, chicken galore! Settle in for wings, sandwiches and local beers on tap, or go all out with the fried chicken and Belgian waffle with siracha maple syrup.
The Cheese Shop of Breckenridge
If you're looking for gourmet, you've gone to the right place.  The Cheese Shop serves up Parisian style sandwiches complete with fancy olive oil, local jams and of course, specialty meats and cheeses! Order one to-go and sit by the Maggie Pond or throw it in your bag for a mid-hike picnic. If you just want to snack, they also offer up to-go meat and cheese plates, perfect for a romantic evening with a view.
Soupz On 
A local favorite, and for good reason! Soupz On creates homemade soups, fresh salads, sandwiches and bread, all prepared daily. Look for their rotating menu each day and order to-go to eat by the river or bring home for the whole family to enjoy. Vegetarians and vegans will love their daily options too!
Semplice Cafe
One of Breckenridge's newest eats, Semplice Cafe offers clean, local, healthy food in the heart of Breckenridge. Non-meat eaters will love their Vegan and vegetarian menu items, alongside some carnivore options for you meatheads out there. Grab a panini to-go and and top it off with a steamy cup of local joe from Breck Coffee Roasters.
Above the Blue
Walk up to no-frills food stand Reddz Above the Blue and order a signature gyro, meatball sub or coney dog to enjoy by the river. Night-lifers will love this open late joint for post-party eats.
Yo Mommas Tacos y Burritos
The newest addition to Breckenridge's "fast food" scene is Yo Mommas Tacos y Burritos. Swing by this colorful food stand for on-the-go breakfast and lunch burritos, tacos and more, or sit down at their new location on Airport Road! It's quickly becoming a local favorite.
Lolo Juice 
Stay fueled with a fresh squeezed juice, a healthy snack or meal from Lolo Juice on Main Street. Their meals and snacks are always made in-house, from the highest quality, all-natural and organic ingredients. Using only eco-friendly products, Lolos aims to keep their footprint small and your smiles big!
Myla Rose Saloon
Five miles south of Breckenridge in the tiny hamlet of Blue River lies an old-time lodge with a relaxed, kid-friendly restaurant and saloon. Locals love to steal away to the Myla inside the Lodge by The Blue and catch up on fireside couches over Broken Compass beer while the kids dig into the cache of board games. Hike 14,265-foot Quandary Peak across the street and then stop into the Myla to refuel. Don't miss the tender bison short-rib poutine, zippy buffalo cauliflower and crisp roasted Brussels sprouts. Tip: The award-winning lobster chowder recipe hails from the Myla's Florida sister restaurant.
Pho Real 
Vietnamese fast-casual Pho Real brings authentic pho rice noodle soups to town. The hefty servings are built around slow-simmered beef or vegetarian broths that sing with exotic toasted spices.
Castaways Cove
This little tiki bar nestled alongside the Blue River gives you a slice of island life without having to leave the mountains. Serving scratch made food and drinks, Castaways Cove offers up tropical favorites like Mai Tais and Pina Coladas, and Hawaiian specialties like poke bowls, Mochiko chicken skewers and more! Soak up some sun on the patio or dine in.
Fiesta Jalisco
This authentic Mexican restaurant is a hidden gem on Main Street.  Fiesta Jalisco is slightly set back from the storefronts of Main Street making it easy to walk past (it's right behind the donkey statues).   It's known for it's margaritas, quick service and authentic Mexican cuisine.
Article originally written by Lisa Blake, and later edited in 2022. More by Lisa Blake at: lisablakecreative.com.
The Breckenridge Tourism Office works to enhance and promote the unique character and experience of Breckenridge as a world-renowned destination resort and to represent, serve and perpetuate the common interest and character of its membership and community. Lisa Blake is a regular contributor. The Breckenridge-based freelance writer, editor and mom enjoys researching and sharing stories on health, wellness, dining and the outdoors. Find her work in Breckenridge Magazine, The Purist, 5280.com, and at lisablakecreative.com.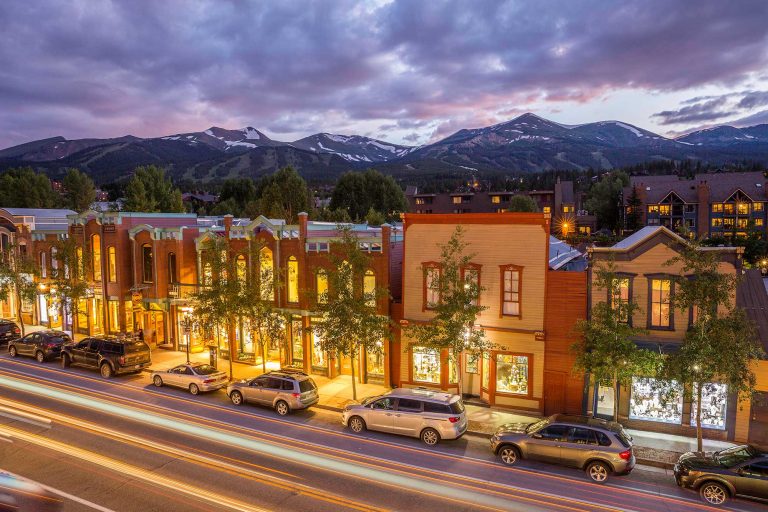 Embrace The Spirit
BLike Breckenridge™️ is a movement born of the spirit of our historic mountain town for those who call it home—whether for a weekend or a lifetime—to live by. It is a cause that connects us to each other, that we can all be a part of.