One of the marvelous things about vacations and traveling is experiencing things you don't get at home, like all the amenities available at a hotel or vacation rental. But we're not just talking about fancy shampoo and fluffy towels- we mean everything from courtesy cruiser bikes, complimentary chocolate chip cookies to more extravagant amenities like a full spa in your rental house and media rooms equipped with the latest gaming systems.  On a longer trip, these can enhance your vacation from fun and memorable to once-in-a-lifetime. As a year-round vacation destination, Breckenridge hotels and vacation rentals have a strong amenity game. Here are some of our favorite and unique lodging amenities in Breckenridge.
Hotels
One Ski Hill Place, A RockResort
When One Ski Hill Place opened in 2010, it came with all the necessary amenities you would expect to find at a luxury, ski in/ski out hotel at the base of a world-class mountain. But it's the in-house bowling alley that put it on our amazing amenity list. The two-lane Mine Shaft Bowling Alley is state-of-the-art and designed to make you feel like you are bowling right into the heart of an old-mine shaft.  This amenity is only for guests of One Ski Hill Place and its sister resorts in town, and guests can order from the room-service menu or order full catering for a bigger group. The bonus – it's included in your stay, so no extra charge!
Residence Inn by Marriott
One of the newest hotels in Breckenridge is the Residence Inn by Marriott. In addition to its ideal location on Main Street and walking distance (or short free shuttle ride) to Peak 9 of Breckenridge Ski Resort, its amenities are what you'd expect from a company like Marriott: free breakfast, free wifi and spacious hotel suites. But their outdoor pool and hot tub are what sets them apart from the rest. This luxury pool area has some of the best, unobstructed views of the Tenmile Range during the day and stunning stargazing views at night – perfect for couples and families. Best of all, it's heated year-round! Learn more about the best pools in Breckenridge.
The Lodge at Breckenridge
Nestled on a forested cliff at 10,200 ft., the newly renovated, 45-room Lodge at Breckenridge serves up rustic Colorado charm with spectacular million-dollar views. They offer a full-service spa and an upscale restaurant and bar with incredible views, but where they really step up their game is with their canine services. Upon arrival, your best friend will get their own doggie bowl and place-mat to use during your stay (and of course some treats)! Discover more fun ways to visit Breckenridge with your furry friend.
Vacation Rentals
There is no shortage of vacation rentals in Breckenridge with incredible amenities. Here are some of the most extreme!
Alpine Villa Lodge
Alpine Villa Lodge is an executive retreat house, just a short distance from the Breckenridge Golf Course and adjacent to U.S. Forest Service land. This location is perfect for easy access to some of the best hiking, biking and cross-country skiing trails in the area. The 9-bedroom, 11-bath luxury retreat has many resort-type amenities including a fully audio/video enabled private meeting room, home theater, dining hall, fitness health center, racquetball court, billiards room, steam room, Roman bath hot tub and get this – a 35' tall natural rock climbing wall built into the exterior of the house. Really- what more could you need?
The Chateau of Breckenridge
The Chateau of Breckenridge is as magnificent as it sounds. This five-bedroom, ski-in/ski-out Italian-style home has a multitude of amenities you'd expect from luxury rental home – but it's the rooftop experience that puts it on the list. Set high on Peak 8 above town and connected to 4 O'Clock Run at Breckenridge Ski Resort, this vacation rental has town and mountain views that transform this rooftop patio in to a true "Patio Sul Tetto" any Tuscan villa (or Bachelor/Bachelorette producer) would envy.  Stunning 360-degree views set a dramatic scene for a patio that includes a gas barbecue, outdoor bar, outdoor fireplace, hot tub and plenty of seating for a truly exclusive, VIP experience.
Unique Breckenridge Amenities
The Mine Shaft
This luxury vacation home makes this part of our unique Breckenridge amenities list because of its homage to Breck's rich mining history. The aptly named Mine Shaft house is a custom built, six-bedroom vacation home located on Peak 8. With a nostalgic mining theme throughout the house, it features refurbished mine shaft pieces and real mining track (sorry, it's for decoration only). The best part? It also has a semi-private trail leading directly to Breckenridge Ski Resort for winter and summer use.
Francie's Cabin
While luxury is the name of the game for many of these houses, a rustic one makes the list because of a highly sought-after amenity many are looking for in a trip to Colorado – solitude. You can't get much more secluded than at Francie's Cabin, located at 11,360 ft. in the White River National Forest about five miles southwest of town. Built in 1994, this large cabin is part of a "hut-system" dedicated to developing and maintaining backcountry cabins accessed by non-motorized trails. Managed by the Summit Huts Association, Francie's is popular with families and beginners due to the relatively easy access (approx. 1.7-mile hike in/out) and offers an immersive experience of our national forest in a more rustic setting. But rustic doesn't mean light on amenities – Francie's sleeps 20 people, has a fully equipped kitchen complete with a two-burner propane cook top (propane supplied), solar powered lights, wood stove and firewood, games and a wood-burning, outdoor sauna! Summit Huts offers easy, online booking and a great overview of how to plan a successful hut trip and hut etiquette. Don't forget your camera!  Learn more about hut trips in Breckenridge.
Rubywood
All of these lodging options have the one thing everyone wants looking for a place to stay in Breckenridge – a view.  The views in Breckenridge are some of the most iconic in Colorado, with several peaks of the Tenmile Range soaring near or above 13,000 ft.  This is the ultimate Breckenridge amenity, and it can be found in spades throughout town's lodging options. With that, we leave you with one last vacation home that has a picture-perfect view of Breckenridge- literally!  Rubywood has been used as the backdrop for many TV and photo shoots because of its dramatic, panoramic Colorado views. Of course, it also comes with the hot tub, media room, gourmet kitchen and western décor that you would expect, and that view is something everyone should experience.
Ready to book your trip? Search Breckenridge Lodging or find tips to plan your vacation in the heart of the Rocky Mountains.
The Breckenridge Tourism Office works to enhance and promote the unique character and experience of Breckenridge as a world-renowned destination resort and to represent, serve and perpetuate the common interest and character of its membership and community.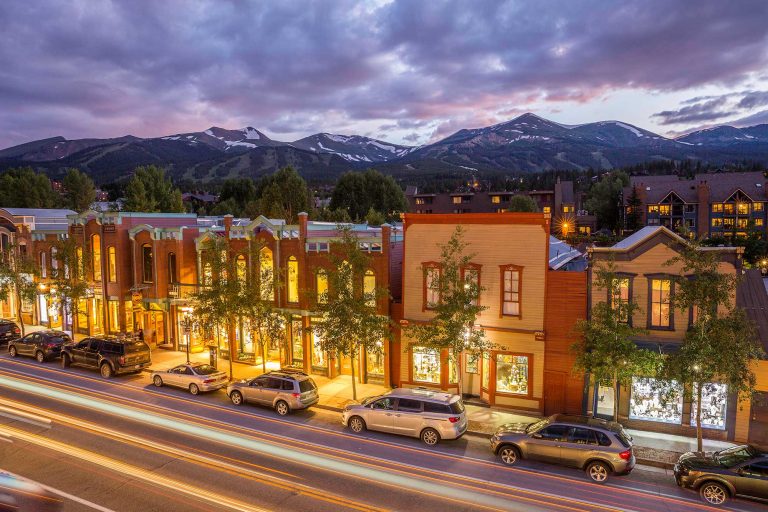 Embrace The Spirit
BLike Breckenridge™️ is a movement born of the spirit of our historic mountain town for those who call it home—whether for a weekend or a lifetime—to live by. It is a cause that connects us to each other, that we can all be a part of.