Summer Activities to get you Outdoors in Breckenridge
Breckenridge boasts over 100 miles of trails in and around town, dozens of mountain streams and rivers, outdoor patios galore and endless summer activities the whole family will love. So if you've been craving some time outside, whether it's pedaling through sun-kissed forests or spreading out on historic Main Street, head to the mountains where its easy to have plenty of space while enjoying the outdoors. Here are our top 7 activities to get you outside this summer in Breckenridge.
1. Hiking
If you truly want to experience Breckenridge's breathtaking beauty and get away from the crowds, hit the trails! With hundreds of miles of hiking trails in and around Breckenridge, it's easy to get outside and soak up some endless Colorado sunshine. From gentle dirt roads to challenging summits, there are a wide variety of options for all types of hikers looking for a little bit of solitude.
Local's Tip: Be sure to review and follow Leave No Trace  principles before heading out!
2. Road & Mountain Biking
Breckenridge transforms into a biking mecca during the summer. Mountain and road cyclists from all around the world converge onto our beautiful mountain town to experience some of the best riding available in the Rocky Mountains. You don't have to ride singletrack to enjoy the Breckenridge biking scene, but there's 100s of miles of it if you do. From technical trails to family-friendly paths, you'll love taking in the views on two wheels and getting in some distanced time away from town.
3. Whitewater Rafting
Whitewater rafting is the perfect way to get the whole family outdoors this summer in Breckenridge! While you can't actually raft right in Breckenridge, Colorado, it's the perfect basecamp to kick-off any whitewater rafting trip. Adventures can be customized by age, ability level and sense of adventure. From adrenaline junkies looking for huge waves and pounding hearts to those looking for a relaxing float trip that showcases scenery, solitude, wildlife and history; there's a rafting experience that's perfect for your group.
Local's Tip: Be sure brush up on each town's current physical distancing and safety guidelines while you're visiting. They may be different from Breckenridge's or other neighboring areas.
4. Summer Dog Sledding
Have you ever wondered what sled dogs do in the summer? Head outside and over to Good Times Adventures kennel and enjoy a summer dog sledding adventure, complete with endless wet kisses from adorable huskies! Located just a 10 minute drive outside of town, this is the perfect way to enjoy some solitude out on the trails in Breckenridge's backcountry. Experienced mushers will walk you through the 4 acre property, introduce you to the dogs, and take you behind the scenes of a typical day at the dog yard. Learn how Good Times cares for their athletes and trains them during the summer months to get ready for winter dog sledding, and then take part in all of the fun!
5. Fly-Fishing
Fly-fishing is one of the best summer activities to connect with nature and take in the views. The good news is, Breckenridge is home to some of the best fly-fishing waters in the state of Colorado. With numerous rivers, streams, alpine lakes and reservoirs in and around town, there's a destination to match nearly all interests and skill levels. Whether you're a first-timer looking for some tips, are opting for a guided tour for the whole family or are an experienced angler seeking out new places to find some solitude, we've got you covered.
Local's Tip: Dress in layers and don't forget a re-usable water bottle and sun protection!
6. Kayaking & Paddle Boarding
Find your zen and cool off on the water this summer in Breckenridge. With rental locations throughout town, stand-up paddle boarders and kayakers flock to the water to feed their need for floating freely among the mountains. Test your balance and try a SUP yoga class through a local studio or head to nearby Lake Dillon to rent paddle boards, kayaks, canoes, fishing equipment and more!
7. Golfing
The Breckenridge Golf Course is situated in the breathtaking, glacier-sculpted Upper Blue River Valley with spectacular views of the surrounding mountains. Breckenridge is only town in the world to maintain a Jack Nicklaus-designed 27-hole golf course, which sits at an elevation of 9,324 feet. Visiting golfers get an immediate confidence boost as the golf ball flies farther and straighter than at lower elevations due to less air resistance. Ready to head outdoors in Breckenridge and tee up?
The Breckenridge Tourism Office works to enhance and promote the unique character and experience of Breckenridge as a world-renowned destination resort and to represent, serve and perpetuate the common interest and character of its membership and community.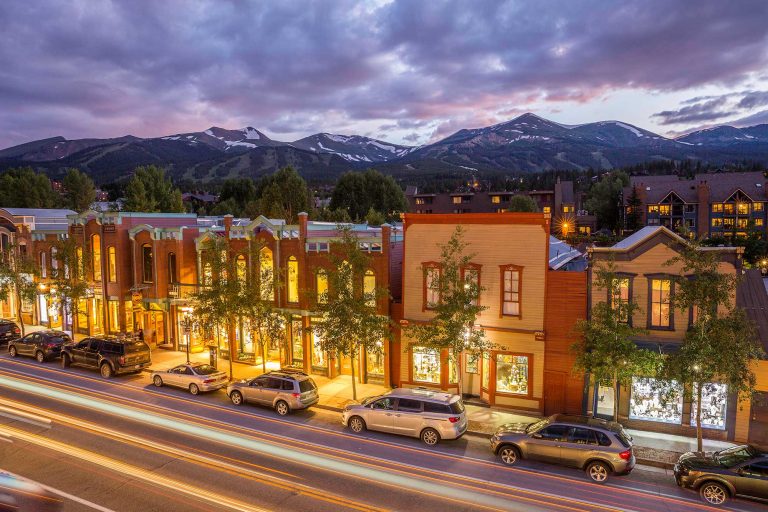 Embrace The Spirit
BLike Breckenridge™️ is a movement born of the spirit of our historic mountain town for those who call it home—whether for a weekend or a lifetime—to live by. It is a cause that connects us to each other, that we can all be a part of.