The Breckenridge dining scene explodes with flavor. Expect to find worldly inspired cuisines, fresh take on culinary classics and plenty of craft beer and cocktails made from our local brewers. Shops in Breckenridge include local boutiques, gear stores, art galleries, children shops and everything in between. Our specialty? Providing the latest styles and greatest gear for any outdoor outing and adventure.
Dining
Breckenridge's culinary scene has exploded in the past few years and dozens of new restaurants are claiming local status. Whether you're in the mood for Italian, Asian, Mediterranean, French, Indian, or just some good ol' fashion American BBQ, Breckenridge has the restaurant(s) to cater to your taste buds. Bringing the family to Breckenridge? Have no fear! Breckenridge is chalk full of family-friendly restaurants.
What to know before heading out:
Reservations – Most restaurants in town do not take advanced reservations.  The exception, fine dining establishments. Many fine dining restaurants will take reservations over the phone or on OpenTable.  You can always call ahead and ask if the restaurant takes reservations.
Arrive before you're starving – There's not a lot of variation on what time most people would like to eat, so we recommend giving yourself a buffer in case you encounter a wait.  Looking to beat the wait?  Try a restaurant off of our hidden bars, lodges and lounges list.
Come together – Call us old-fashion but in Breckenridge, most restaurants won't seat you until your whole party is present.  Make sure your group is together and accounted for.
What to wear – Don't worry about dressing up in Breckenridge.  It's usual to see locals and visitors head out straight from a hike, mountain bike ride or day of skiing. We call anything from base-layers to jeans mountain casual and the style is appropriate anywhere in town.
Drinking
Breckenridge might not have invented après-ski but we sure have perfected it. From slopeside cocktails to cozy Breckenridge bars for a drink, our town offers an unforgettable happy hour scene. And the fun doesn't end with happy hour. Breckenridge offers late night options for any reveler.  Whether you're looking for live music, club scenes, local game nights or just a welcoming seat at the bar, you'll find it each night on Main Street.
What to know before heading out:
When is après – hours vary, but apres is traditionally celebrated between 3:00PM and 6:00PM during the week. A few places in-town offer late-night happy hour and a mix will offer happy hour deals on the weekend. Grab the free local newspaper around town to see what specials are going on.
1 to 3 rule – There's a saying – one drink up here is like three at sea level. We're not saying it's true, but at 9,600 feet alcohol may hit you a little differently here than at home. We encourage moderation, plenty of water, and taking the bus back to the condo.
Shopping
History has made Main Street a colorful place to stroll & the perfect place to shop! With more than 200 stores to choose from, enjoy the quaint storefronts, featuring bookstores, chic boutiques, jewelry, antiques, housewares & home furnishings to art galleries, sporting goods & clothing.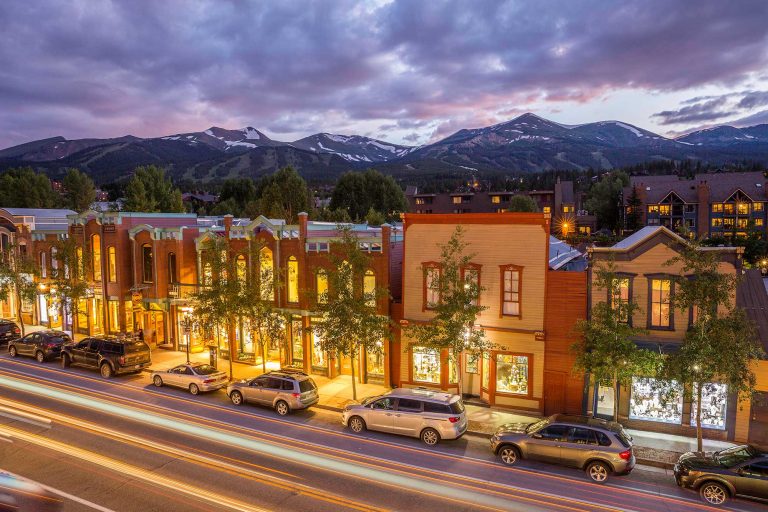 Embrace The Spirit
BLike Breckenridge™️ is a movement born of the spirit of our historic mountain town for those who call it home—whether for a weekend or a lifetime—to live by. It is a cause that connects us to each other, that we can all be a part of.