Nothing beats a family vacation, and what's better than visiting a place that has something for everyone? Whether it's a family reunion, wedding or just a chance to make memories, the whole crew will be there in tow. While there are plenty of grandparents hiking 14ers, crushing it on the bike trail or kayaking before happy hour, it's important to plan some activities that don't require a lot of physical exertion for those who aren't as active or may be affected by the altitude once they're here. Thankfully, with so many things to do in Breckenridge, you can tailor your trip to the pace and energy level of any grandparent or family member. Here are a few of our favorites ideas for bringing you grandparents to Breckenridge!
Soak in the Scenery
Sightseeing is one of the best ways to take in the mountain scenery and explore the outdoors. Whether you've got grandparents or kids in your group, there are lots of less strenuous ways to take in the breathtaking views without having to feel out of breath.
Scenic Drives
There are three easy drives to the top of the Continental Divide from Breckenridge with stunning views and history along the way: Boreas Pass, Hoosier Pass and Georgia Pass.
Boreas Pass will take you from Breckenridge to Como in about an hour – though you can turn around at any point before then.  The drive is filled with high alpine meadows, historical sights and mountain views. Hop out to take photos and stroll along the easy, relatively flat dirt road as far as you'd like.
Hoosier Pass takes you south past Breckenridge through Blue River to Alma and Fairplay. Stop at the top of the pass to see the Continental Divide sign, and maybe even take a short hike from the trailhead. Hoosier Pass is paved and doesn't require a 4-wheel drive vehicle in the Summer.
Georgia Pass serves as a backcountry road through the White River National Forest from Breckenridge to Jefferson. Take Tiger Road past the Breckenridge Golf Course and on. This unpaved road gets a little rough in some areas, so a 4-wheel drive car is best.
Gondola Ride
Take the free Gondola from town, over Cucumber Gulch Wildlife Preserve, and up to the Base of Peak 8 at the Breckenridge Ski Area. You'll soar over the beautiful Cucumber Creek wetlands and may even see a moose or other wildlife along the way! In the winter, grandparents or those who don't ski can enjoy watching skiers and riders come down the mountain and meet at the TBar or Robbies for lunch.  In the summer, the Peak 8 Base Area is home to Epic Discovery and is the perfect place for the whole family to explore interpretive trails, play mini golf, coast down the Alpine Slide and enjoy lunch on the patio.
Easy Hikes
Get some fresh air on some of our favorite easy hikes around Breckenridge, perfect for grandparents or the kiddos:
Iowa Hill Mine Trail has interpretive trail signs, unique mining history and cabins, close parking and benches along the trail.
Sapphire Point is a 1.6 mile loop that is relatively flat and free of debris.  A few minutes into the hike you'll find jaw-dropping views of Lake Dillon and Breckenridge Ski Resort. Try to get there early or for sunset, as this hike is very popular. There're picnic tables at the halfway point- perfect for lunch, a quick snack, or just relax and take in the views.
Blue River Bike Trail is Breckenridge's paved bike path that follows the Blue River and offers tranquil river sounds, mountain views and easy walking. Stop and set up some chairs or blankets for a picnic by the river, or book a guided fly-fishing tour for the whole family.
Discover more easy hikes in Breckenridge.
Horseback Riding
You're never too old to fulfill your wild west dreams! Trail rides are a perfect opportunity for your grandparents to hit the trails without having to actually climb them. Guided trail rides are also a great opportunity to learn about the area's mining history and local wildlife.
Take a Bike Ride
Did you know it's pretty much all downhill from Breckenridge to Frisco on the Blue River Rec Path? This scenic, paved path follows the Blue River and offers big scenery and plenty of rest stops along the way. On your way to Frisco, make a pit stop at Broken Compass Brewery and the World's Highest Distillery to sample some Breckenridge Bourbon and craft brews. We recommend renting bikes from a company that offers pick-up, and taking the Summit Stage (they have bike racks) back to town or using your Uber app to find bike-friendly transportation back to Breckenridge.
UTV Tour
If your grandparents are looking for big views and higher speeds, send them on a UTV or ATV tour.  These tours will allow them to explore Colorado's trails without the physical exertion, while ramping up the excitement and adventure. UTV tours are a great way to enjoy the views, learn about local history and try something new. Our favorite tour includes a wine tasting at sunset.
Take a Stroll through Historic Main Street
Breckenridge's historic Main Street is about as flat as it gets around here, so strolling from boutique to restaurant to coffee shop is easy and fun for everyone in your group. And to make it even easier, the free Breckenridge Trolley rolls up and down Main Street all day long if your legs are a little too tired after a big day. Grab some hot chocolate from one of the many coffee shops in town, window shop for souvenirs, and find the perfect spot for a big family dinner.
While you're in town, swing by the Breckenridge Welcome Center on Main Street and take a tour of their free mini-museum of Breckenridge's mining history. The staff can direct you to other historic sites and tours in town, like the Summit Ski Museum just down the street.
Learn About Breckenridge's Mining Past
After you've walked through the Welcome Center's museum and the Summit Ski Museum, check out the Breckenridge Heritage Alliance to go a little deeper into our history. They offer year-round hiking and walking tours like snowshoeing to miner's cabins on Iowa Hill Trail, and offer free museum visits throughout town.
Immerse Yourself in Arts and Culture
Music, theater, dance, art galleries, workshops, classes, and visual and performing arts are available in Breckenridge year round. Check out the Breckenridge Arts District (BreckCreate) on Washington Street to take a hands-on class in ceramics, woodworking or metalsmithing, or join them for one of their concerts or events throughout the year like WAVE: Light + Water + Sound.
Learn more about Arts and Culture in Breckenridge.
Get Pampered
Everyone loves a little pampering! What better way to end the vacation than with a massage, facial or wellness treatment. With everything from hot stone, acupuncture, Reiki, chiropractors and yoga, Breckenridge is sure to meet all of your spa needs.
If you want to relax together as a family, head to the newly renovated Breckenridge Recreation Center. Adults can utilize the indoor and outdoor hot tubs, lap pool, steam room and sauna, while the kids can splash in the kid's pool and plummit down the water slide.
Learn more about Health and Wellness in Breckenridge.
The Breckenridge Tourism Office works to enhance and promote the unique character and experience of Breckenridge as a world-renowned destination resort and to represent, serve and perpetuate the common interest and character of its membership and community.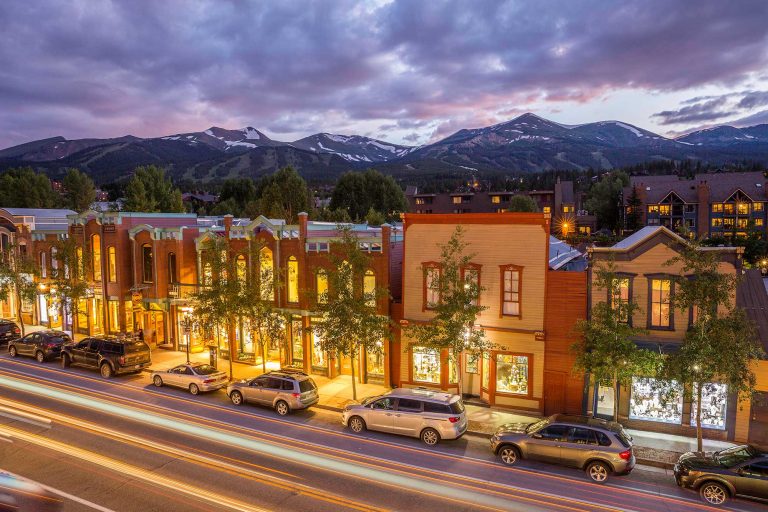 Embrace The Spirit
BLike Breckenridge™️ is a movement born of the spirit of our historic mountain town for those who call it home—whether for a weekend or a lifetime—to live by. It is a cause that connects us to each other, that we can all be a part of.