Spring's longer days and warmer temps will give you plenty of time to head outside which means more time to try new activities, take part in an event or enjoy a little downtime in the sun. Spring Break is one of the busiest times to visit Breckenridge, however,  so you'll want to do a little prep work to ensure your trip goes as smoothly and stress-free as possible. Our family spring break guide gives you local tips to make sure you know all the ins-and-outs of enjoying Spring Break in Breckenridge.
3 THINGS TO DO BEFORE YOUR SPRING BREAK TRIP
Before Your Trip
Tip #1: Make activity + dining reservations before you arrive
To ensure you your family gets to do all the activities on their bucket list (did we hear dogsledding?) start making activity reservations as soon as possible. While you'll want to reserve any guided activities, you can keep other parts of your schedule flexible by planning to try activities that don't require a reservation. Our list of 100 things to do this winter will give you plenty of ideas but our favorite reservation free activities include snowshoe hikes, visiting museums, going skiing, sledding or riding the trolley.   Restaurant reservations partially fall on our reserve ahead list.  Many of our nicer restaurants take reservations ahead of time by phone or on OpenTable but the bulk of our restaurants do not take reservations (dining tips below).  Be sure to head to dinner before anyone is hungry incase you encounter a wait.  If you are planning a date night or heading to the slopes without the kiddos, be sure to hire a babysitter ahead of time.  ResortSitters, Care.com and Breckenridge Ski Resort Ski School will ensure your little ones are having just as much fun as you are.
Tip #2:  Book A Shuttle & Plan To Ditch The Car
Direct shuttles from nearby airports to your vacation rental make it easy to get to Breckenridge without renting a car.  Once you are here, the best way to explore Breckenridge's quaint historic streets is on foot. Breckenridge is remarkably walkable, even with kids in tow.  Most of our lodging is in walking distance to town or a Breck Free Ride bus stop which will take you to town after a short drive.  Many lodges also offer free hotel shuttle transportation around town.  Regardless of where you booked, your lodging company should be able to assist you in figuring out easy transportation from your rental.    Learn more about going car-free in Breckenridge.
Tip #3:  Pack For Changing Weather Conditions
While March and April are famous for sunny days, warm temps and blue skies, they are also two of the snowiest months of the year.  When your top goals are to stay warm, stay dry and be comfortable, the key element is a strong layer game.  Use our Guide To Winter Layering and Winter Packing List to ensure you pack spring's must-have essentials for a trip to the mountains.
3 Tips to Pack as much fun as possible into each day
On Your Trip
Tip #1: Take advantage of spring's extra hours of sunshine
One of the reasons locals love spring in Breckenridge is because of the longer days and extra sunshine. In January, we will see about 9.5 hours of daylight, but in mid-March, it is closer to 12 hours. That's nearly three hours of extra sunlight, which means there is time to go back to your hotel or condo after skiing, rest, and still have daylight for other activities around town. There is so much to explore, you will need it! Our favorite wasy to use that extra sunshine are sledding at Carter Park or the NEW sledding hill on Airport Road, sleigh rides with Clydesdales, ice skating on the outdoor rink at the Stephen C West Ice Arena, and outdoor hot-tubbing (pack your swimsuits!). If your condo doesn't have an outdoor hot-tub, head over to Breckenridge Recreation Center to enjoy their aquatic area.
Tip # 2: Don't Forget PM Plans
The fun doesn't end in Breckenridge once the sun goes down. There are plenty of evening activities to entertain the kids.  Try an escape room or ghost tour, and if dinner is on the agenda for the evening, remember to plan ahead.  Many restaurants will have an hour wait this time of year.  We recommend putting your name on the list and taking a lap down Main Street until your table is ready.  Pick one of the best family restaurants in Breckenridge or off the beaten path locations for a great night out.
Tip #3:  Share the experience
Shutdowns and quarantines have enhanced Americans' desire to be outside in nature.  You should expect to encounter more people than usual while you're out enjoying nature or hanging out in town.  Anticipate this before heading out and make dining and activity reservations whenever possible.  Remember, kindness can move mountains.
2 Tips To Follow For A Better Ski Day
On the mountain
Tip #1:  Get Ready to ski the night before
Ensure your first day on the mountain goes a little smoother by picking up rental gear, lift ticket or season pass cards, and anything you forgot the night before.  Lines will be significantly smaller in the evening and you won't be on a rush to hit the slopes.  You'll also want to make sure you pack your sunscreen, have everyone's gear in one place and know what time the bus picks up near your lodging.
Tip #2:  Book a lesson to skip the lines
One of our favorite tips is that booking a ski or ride school lesson is the only way to bypass the lift line.  It's also a great way to perfect your skills if you are looking to ride a larger variety of terrain. If you want to ski with the kids,  a family private lesson is a fun way to witness your kids' first turns or just spend the day together improving your skills and learning the best way to navigate the resort together.
7 Family Activities Off the Mountain
In Town
No trip to Breckenridge is complete without a day to explore Main Street. It's just shy of a mile long, perfect for a light afternoon or evening stroll through the hub of town.  Here are some key stops on Main Street for families.
Prospector or High Line Railroad Park Breckenridge offers a handful of playgrounds around town but Prospector and High Line Railroad Park are located just off Main Street.  Swing by for a little playtime while waiting for your restaurant reservation.
Fuzzywigs Candy Factory – With more than 400 varieties of candy from store-made fudge to nostalgic hard-to-find sweets, you and your kiddos will love this little candy store tucked away on Main Street, just across from the Breckenridge Welcome Center. And since you are burning so many calories with all the outdoor adventures you are having, go ahead and splurge!
Nature's Own – Explore fossils, minerals and crystals at Breckenridge's very own rock shop.
Peak-A-Boo Toys – This locally owned toy store is filled with puzzles, games, snow tools and toys to give your kids something new to play with.
Museums – Make an appointment to visit one of Breckenridge Heritage Alliance's conveniently located and kid-friendly museums.
Escape Rooms – Solve riddles, uncover clues and crack codes as a family with Escape Room Breckenridge or Mountain Time Escape Room.   Themes include searching for sasquatch, surviving an avalanche, paranormal mysteries, wizard school, secret agent training, and high sea adventures.
Breckenridge Recreation Center – For off-mountain activities for the whole family or non-skiers in your group, Breckenridge Recreation has something memorable to round out your visit. Try guided tours, ice skating, drop-in curling and more!
Local's Tip:  Get off Main Street and explore the Arts District
If you have set aside a day to explore Main Street, this is also a great day to check out the Breckenridge Creative Arts District (BreckCreate for short) for afternoon crafts, music, and more. There is programming for kids and families, and many classes are free or at a reduced price. I especially love the Second Saturday arts and crafts workshops for families. Learn more at BreckCreate's website.
3 Tips For Dining During Spring Break
Dining Out
Tip#1:  Eat dinner earlier
The best way to navigate dining out during spring break is to go for an early dinner. Places like Fatty's Pizzeria, Downstairs at Eric's and Mi Casa are family-friendly staples in town with large enough tables for a party of six or more. If you can make a 6 p.m. dinner, you will increase your chances for a shorter wait time.  Another tip: If your family is bigger than six, think about splitting up into two tables; that will help the restaurant seat you faster as well.  Other strategies include, hitting up happy hour for pre-dinner snacks, arriving at least an hour earlier than you'd normally eat or visiting one of the off-the-beaten-path restaurants on our family restaurant guide.
Tip#2:  Plan ahead before heading to the grocery store
One of the great things about Breckenridge for families is the abundance of condos and vacation home rentals. This provides a nice home-away-from-home base for your family and the opportunity to eat in for some of your meals. To stock your rental, a trip to the local grocery store is necessary and during the height of spring break, it can also feel like a chapter from "The Hunger Games." In this scenario, pick one person to represent your family at the grocery store. Sending only one family member keeps you from adding to the congestion, saves you time and money (because your family isn't there to pick up random items), and provides the reason that your family members back at the condo should unload the groceries when you get back.  It's also possible to avoid the grocery store all-together thanks to local grocery pick-up services At Your Breck and Call, Breckenridge Grocery Delivery and instacart.  If your looking for a memorable meal at home, a quick google search will help you connect you with a private chef.  Just be sure to reserve your prepared meal in advance.
Tip#3:  BYOB To Go Green
You don't need to buy copious amounts of bottled water. Our local tap water is as close to the source as you can get, plus if it's good enough for some of the country's best bourbon, it's good enough for you! Bring water bottles for everyone to refill as needed, saving more money and plastic bottles from littering our beautiful Breckenridge. Finally, bring your own shopping bags because Breckenridge has a bag fee at the grocery store and at any retail shop on Main Street.  Many lodging properties will have one you can get upon check-in, and many are sold around town and at the grocery stores.
So many of us locals learned to ski and snowboard with our families during spring break, fostering a passion and love for the outdoors that brought us back to live here. We hope your family discovers a similar love for Breckenridge and you keep you coming back for generations!  If you have any additional planning questions call or stop by our Breckenridge Welcome Center or send us a message on social media.
The Breckenridge Tourism Office works to enhance and promote the unique character and experience of Breckenridge as a world-renowned destination resort and to represent, serve and perpetuate the common interest and character of its membership and community.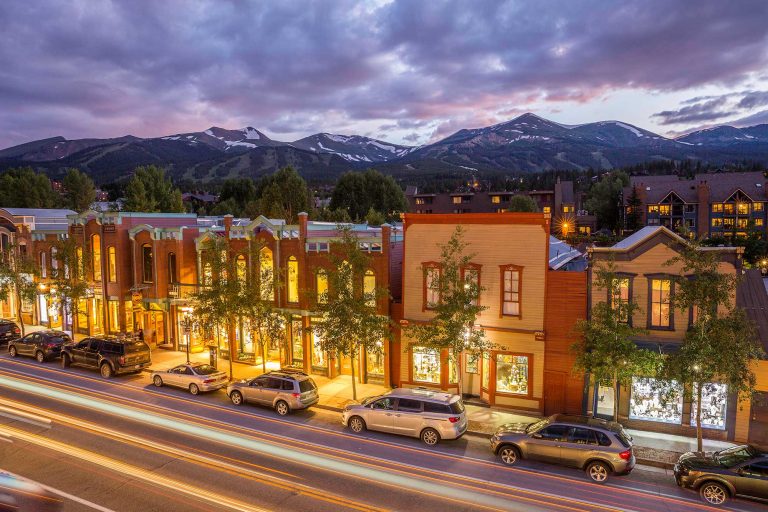 Embrace The Spirit
BLike Breckenridge™️ is a movement born of the spirit of our historic mountain town for those who call it home—whether for a weekend or a lifetime—to live by. It is a cause that connects us to each other, that we can all be a part of.