Our Colorado mountain town is graced with 300+ days of glorious mood-boosting sunshine a year, and if there's anything locals love more than playing hard, it's logging solid lounge time on sun-soaked patios and decks in Breckenridge. We're here to give you the inside scoop on what our locals love and visitors come back for.
Best Patios and Decks in Breckenridge:
Kenosha Steakhouse
The 31 rotating beers on tap (of which 20 are Colorado craft brews), saucy smoky barbecue and the daily 3 to 6 p.m. happy hour draw folks in to this laid-back Main Street spot. But it's the spacious back patio, horseshoes in summer and its wide-eyed views of Breckenridge Ski Resort that make it impossible not to stay for "just one more." Snag a table early afternoon—the patio fills up fast!
Twist
Head to this Ridge Street cottage and cozy up among fresh flowers, strung bistro lights and shade trees hugging a picket fence. Sounds like postcard-perfect mountain dining, right? The seasonal menu is built around Colorado comfort food with upscale spins (or twists, if you will). A daily 4 to 6 p.m. happy hour reveals wine and cocktail deals, along with sharable plates of poutine, street tacos and a raved-about mac-n-cheese mini skillet.
Quandary Tequila Bistro
Voted one of the best après ski bars, this off the beaten path bistro has 12 beers on tap, cornhole and happy hour specials from 3-5 pm daily. Their huge sunny deck overlooking Peak 9, Peak 10, and the Maggie pond makes for a great place to warm up after a day on the slopes. In the summer, hit the farmers market, try SUP yoga on the Maggie and finish out with lunch and a view.
Fatty's Pizzeria
Part sports bar, part family pizza joint, Fatty's is casual, fun and famous for generous portions and a mean house-made pizza crust. The owner is a Chicago native with a passion for Chi-Town sports and an impressive green thumb. Their over-sized flower baskets dress up the former 19th-century boardinghouse and line the garden-like side patio and the upstairs deck.
Blue Stag Saloon
While not wholly new to Breckenridge, the Blue Stag Saloon's remodel of the Whale's Tail has rapidly become a local favorite. This boutique bar features recycled beatle kill wood ceilings and barn wood walls, making for a rustic, cozy atmosphere. Warm up by one of their fireplaces (indoor or out) with some hot cocktails after a big day on the mountain, or soak up the sun and people-watch along Main Street in the summer.
Southridge Seafood
Perched above Main Street and facing the ski resort mountains, Southridge Seafood's new and improved second-level location in La Cima Mall is prime for sipping and sunning. Try their oysters on a half shell, seared sea scallops and the legendary house smoked trout dip. Not into fish? That's alright. They offer an incredible American Kobe burger and Colorado lamb meatball with grilled cheese polenta.
The T-Bar
Enjoy four seasons of fabulous people-watching at the T-Bar. Ride the free gondola from town to Peak 8 and join the party on this 150-seat slope-side patio. When the snow falls, bundle up and sip hot cocktails while watching skiers and boarders rip down the front side of the ski resort. During warmer months, flip-flops and Colorado beers are in play and snow sports swap out for mini golf and an alpine slide.
Rocky Mountain Underground
Enjoy one of many craft beers on draft while sitting right in the heart of Main Street at Breckenridge's only ski manufacturer, Rocky Mountain Underground. Not only does RMU carry some award-winning skis and gear, they also tout one of the best decks in all of Breckenridge. And if you're counting their backyard beer garden as a patio (which we are), they're on the top list for that too. Get ready to play some corn-hole and listen to live music, plus, the pooch can come too! Ask any local and they'll probably send you here.
Traverse
Wedding planners swoon, locals escape and hotel guests can't get enough. The all-weather, breathtaking 10,200-foot deck wraps around the Traverse restaurant, nestled on a forested cliff at the rustic mountain-luxe Lodge at Breckenridge. A quick drive or bus ride up Boreas Pass Road aligns you with panoramic views of Baldy Mountain, town, Breckenridge Ski Resort and the Ten Mile Range. Take in golden fall foliage with a glass of pinot or sip a Moscow Mule under summer skies.
The Motherloaded Tavern
Home of the locally loved porch party, the Motherloaded is a spirited, funky, come-as-you-are charmer. The tavern specializes in indulgent home cookin' (think chicken and buttermilk waffles with candied pecans and homemade vanilla bourbon syrup). Grab a table on the back porch for happy hour drink specials, live music and a game of corn-hole.
The Canteen
The Canteen Tap House and Tavern specializes in modern comfort food, Colorado beer, handcrafted cocktails, world-class wines and superior guest experience. Their front deck is perfect for people watching on Main St. and soaking up some rays. Order a fresh-squeezed cocktail in their large signature Canteen Cup; you'll only need one- trust us!
Relish
What better setting to savor fresh, Colorado-inspired flavors than riverside al fresco? The slim balcony deck at Relish overlooks the Riverwalk Center in the middle of town. The river flows, acoustic guitar players strum, kids play, and dogs and babies walk their parents. It's an all-around Breckenridge happy place. Relish's menu is updated with the seasons, calling on Colorado-grown whenever possible. Ask about the day's baked escargot and salad selections, or go big with the grass-fed Wagyu ribeye.
Broken Compass Brewing
It didn't take long for the locals' secret to get out; Broken Compass has a laid-back scene, really good beer, and a tucked-away location that takes some effort to find. But find it they did, and now Broken Compass's award-winning libations are found at bars and restaurants all around the county. Bring your own food, the kids and the dog to enjoy creative craft beers on the porch. This spot is perfect for the Après ski enthusiast in Breckenridge.
Hearthstone
Warmly decorated in Victorian period style, this romantic home has great views across town to the Breckenridge ski resort and the majestic ten mile range. Check out their drink specials and five-dollar small plates for happy hour on the patio!
Bird and Cow
Bird and Cow is one of Breckenridge's newest additions (in the old Angel's Hollow location) and is locally owned and operated by three ski bums on a mission to provide delicious food and fantastic experiences. Soak up some sunshine and views with libations at the ready.
The Crown
The Crown Cafe and Tavern looks out over the Riverwalk Center and Blue River, so it's a perfect pit stop for the whole family to refuel and recharge. They've got a full espresso bar, soup, sandwiches, ice cream and even boozy drinks! Try their cold brew made in house or their BBQ flatbread pizza to share… or just keep it all for yourself.
Want more? Check out these Breckenridge après hotspots and devilishly creative cocktails.
The Breckenridge Tourism Office works to enhance and promote the unique character and experience of Breckenridge as a world-renowned destination resort and to represent, serve and perpetuate the common interest and character of its membership and community.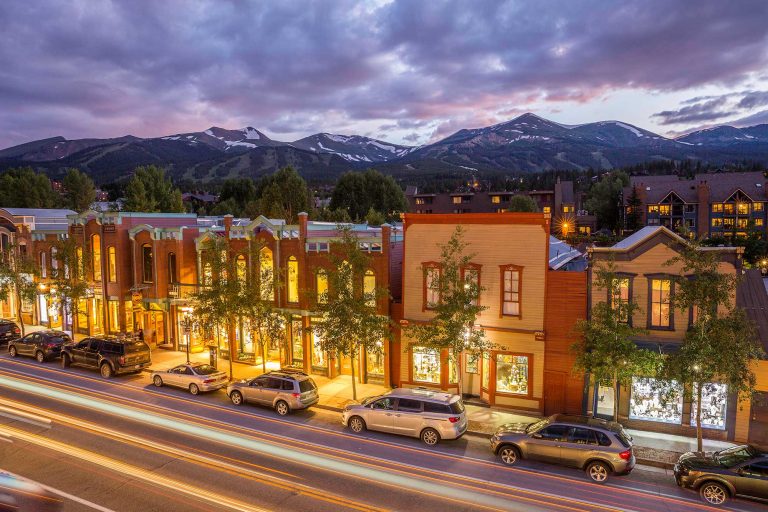 Embrace The Spirit
BLike Breckenridge™️ is a movement born of the spirit of our historic mountain town for those who call it home—whether for a weekend or a lifetime—to live by. It is a cause that connects us to each other, that we can all be a part of.