Mountain cultures cater to dogs, and dog friendly Breckenridge is no exception. The open spaces, rivers, trails, pet friendly shops and hotels make this town perfect for both you and your pup. In Breckenridge you'll find that plenty of places and outdoor spaces welcome dogs, but here are a few in particular to sniff out.
Complete Guide to Dog Friendly Breckenridge
Dog Friendly Trails
A great way to exercise for you and your dog is to explore any of Breckenridge's many trailsThere's no better reason to bring your four-legged adventure partner with you to Breckenridge than the amazing trail network.  Breckenridge is surrounded by miles and miles of hiking & biking trails that offer a fantastic variety of different terrain, elevation and of course difficulty levels.
While the trail choices are pretty much endless, we've picked some favorites with dogs in mind.
Southside Trail, off of Boreas Pass Road
Moonstone and Sunbeam trails, accessible from Carter Park
Sawmill Trail, off Four O'Clock Road
Trail Forest, near Shock Hill
Peaks Trail, off the parking lot for the trail, located near the edge of Cucumber Gulch.
Dogs can also join you on the bike path, which parallels the blue river for a while, but they must be leashed, even when the paved path leaves the town limits.
Local Tips: 
Keep your dogs on leash when enjoying dog friendly trails, and pack out their waste. Help us by taking waste all the way to a trashcan.
Breckenridge has hundreds of miles of trails throughout town and nearby National Forest. By staying on the trails you're helping natural areas stay natural.
Even though shortcuts can be tempting, please don't take them. A few extra strides on the path will protect native plants and the homes of the true furry locals.
Gold Run Nordic Center
Gold Run Nordic Center offers 30K of impeccably groomed classic and skate ski trails as well as over 13K of snowshoe trails.  With a fun mix of beginner (green), intermediate (blue), and advanced (black) terrain, the trail system winds up and across the historic Delaware Flats and Gold Run Valley areas at the mouth of the Swan River. Trails offer great views of the Ten Mile Range, tree skiing and rolling terrain. View the map for a list of dog-friendly trails.
Complete Guide to Dog Friendly Breckenridge
Dog Friendly Activities
Take a Gondola Ride
Not many people know that Breckenridge Ski Resort's gondola is pet-friendly — and free.
The gondola glides over Cucumber Gulch, a designated wildlife preserve, which provides a habitat for the Boreal Toad (which is state-endangered), moose, deer, elk, beavers, and even mountain lions. As a result, off-leash dogs are one of the greatest threats; by swimming in the ponds or chasing smaller wildlife, they have disturbed wildlife in the past, and so, while they can enjoy the ride over the preserve, they can't actually go in the 77 acres of wetlands.  The gondola runs throughout the ski season and during the summer when Epic Discovery is open.
The good news: Dogs are allowed on every other town trail, so there are plenty of places to hike. Once you reach the top of the gondola ride, dogs are welcome to wander around the Base of Peaks 7 and 8, or even explore up the mountain!
Visit Carter Park
If your furry friend doesn't get their fill of the outdoors exploring trails, head to the dog park for a meetup with other local owners. There's plenty of room to run and play at this free, off-leash space. The Dog Park is located at the south end of High Street, next to the Carter Park Pavilion, and offers almost one full acre of fenced-in space for your dog to frolic in. Find a full run-down on dog regulations within the Town of Breckenridge.
Explore Main Street
Within town limits, dogs must be leashed, but they're allowed to walk pretty much anywhere.
Most stores along Main Street allow well-behaved dogs inside, just be sure to duck your head inside and ask. Your dog will love stopping inside Peak A Boo Toys thanks to their large selection of treats, squeaky toys and chuck its.  Many stores even have their own dog-in-residence. If you're strolling Main Street, stop in For Pets Sake Thrift Store, on 203 N. Main St. They offer everything from clothing and housewares, to books and art. The best part is all purchases benefit homeless pets in need, through Animal Rescue of the Rockies.
Local's Tip – Many coffee shops, like Cool River Coffee House and Clint's make their own homemade dog treats. Stop in to get the pups a few treats, and for the humans, try their incredible homemade granola and baked goodies. In the summer, kick back by the river with your pooch and cool off with a smoothie.
Enjoy Patios & Decks
There's no better way to end the day than happy hour on a deck with a view! Here are a few of our favorite dog-friendly patios in Breckenridge.
Broken Compass Brewing Company – A community-based taproom located directly next to the Brewery, boasting 12 Taps filled with original Broken Compass brews. With large communal tables and a shelf full of games, get ready to meet your neighbors and share good laughs and great beer. This dog-friendly establishment allows pawed pals inside and on their patio space and welcomes you to bring your own human snacks.
Kenosha Steakhouse – Throw horseshoes and soak up some sun outside with your pooch. Incredible views and great draft beer makes this a popular deck in spring and summer. Human must try: sweet potato fries and rotating local craft brews.
Motherloaded Tavern – Meet the locals and play a few patio games with your furry friend in tow. Human must try: fried okra, cheese curds, and a bar boasting 19 house made infusions!
Breckenridge Distillery – Hand Crafted Cocktails, indoor/outdoor bar and expansive outdoor patio area with lawn games make this spot a must on your list. While the distillery may be known for creating award winning spirits, it's the resident four-legged characters that often steal the show at this watering hole.
RMU – People watch with your pup up front, enjoy the intimate bar scene and ski gear inside or head to RMU's expansive beer garden for live music and laid back atmosphere.
Après Handcrafted Libations – Après offers award-winning handcrafted cocktails made from scratch, house-made syrups and bitters and plenty of board games to keep your group entertained.
Local's Tip:  If a restaurant isn't on this list, simply ask an employee if your dog can join you on the patio.
Complete Guide to Dog Friendly Breckenridge
Dog Friendly Events
Lighting of Breckenridge & Race of the SantasDogs who've made Santa's nice list are welcomed to parade down Main Street in Breckenridge's Holiday Dog Parade as a party of the Lighting of Breckenridge. Costumes for two and four-legged participants are always encouraged!  Anyone is welcome to join with their pet, as long as all dogs are in the holiday spirit and friendly with others. No Scrooges, please.
Other dog friendly events:
You and your dog are welcomed at many of Breckenridge's year-round calendar filled with exciting festivals and events.  We ask that you check individual event pages for rules, restrictions and tips for brining your furry friend.   Owners should also keep in mind that many of our events fall on the very popular side and might not be the best experience for your best friend.
Complete Guide to Dog Friendly Breckenridge
Dog Friendly Lodging in Breckenridge
While Breckenridge is extremely dog friendly that's not always the case with lodging. Be sure to check pet policies and fees before booking a room.  Pet-friendly accommodations are often limited so we recommend booking early to ensure availability.
The Lodge at Breckenridge – Ranked as one of the world's highest-altitude hotels, the Lodge at Breckenridge has one of the best dog packages of any lodging company.  While some properties welcome any kind of pet, others have limited offerings. Check with the individual property for policies, and be sure to request pet rooms when booking.
Beaver Run –  This ski-in/ski-out property allows most dog breeds for a fee of $40 per night/per room for the first dog, and an additional $20 per night/per room for the second dog. Advance reservations are required as not all units are pet-friendly. In summer, head over to the nearby Burro Trail, where your pooch can cool off in the creek. Dogs are allowed on the property shuttle, so it's easy to get to the dog park and beyond.
DoubleTree by Hilton – Just across the street from the slopes, the DoubleTree's location makes it easy for skiers to get back to their pets several times during a ski day. Pets up to 75 pounds are allowed for a $50 non-refundable deposit. This property is also within easy walking distance of the Burro Trail.
The Lodge at Breckenridge – Located on Boreas Pass Road, The Lodge has incredible views and nearby hiking trails that are perfect for getting pets the exercise they need. The dog fee is $30 per night ($50 per night at the Summit House) for up to two dogs; each additional dog will be charged $10 per night. Dogs are not allowed on furniture or bed spreads.
The Village Hotel – Allows dogs in rooms only (not in condominiums) for a nightly $35 fee per dog, plus a $150 refundable damage deposit. Advance reservations for a pet room are required.
Residence Inn – Conveniently located right in downtown, this inn allows pets with a $100 non-refundable deposit, but has no other restrictions on size or amount.
Complete Guide to Dog Friendly Breckenridge
Boarding, Pet Supply Shops & Grooming Services
The Dog House offers dog boarding services including a standard kennel, hotel kennel, condo, or the mellow room, a large living room-like experience (including television!) for chill dogs. Daycare, training and grooming services are also available, so they'll be nice and clean when you come back to pick them up!
Animal Lover's Pet Supply has all your pet supply needs and much more. They offer expert grooming available by appointment, as well as two self service dog wash stations available 7 days a week. In addition to the high quality pet foods, they offer unique pet toys and a diverse selection of pet treats. 
Complete Guide to Dog Friendly Breckenridge
Where Dogs Can't Go
About the only places dogs can't hang out is at Cucumber Gulch Wildlife Preserve (below the gondola), the Breckenridge Golf Course, the fields at Kingdom Park (near the recreation center), and the Riverwalk Center Lawn.
Otherwise, Breckenridge is just waiting to be discovered with four paws, so take your dog for a walk through the nooks and crannies of dog-friendly Breckenridge.
Leash Regulations
Within Town limits, dogs are required to be leashed. Outside of Town limits dogs may be under voice command, with the exception of the Rec Path, where dogs are required to be leashed at all times.
Dog Waste
Wherever you enjoy the company of your dog please be responsible and dispose of its waste properly.  Learn why the Town of Breckenridge is concerned about all the dog poop not being picked up by dog owners.
The Breckenridge Tourism Office works to enhance and promote the unique character and experience of Breckenridge as a world-renowned destination resort and to represent, serve and perpetuate the common interest and character of its membership and community.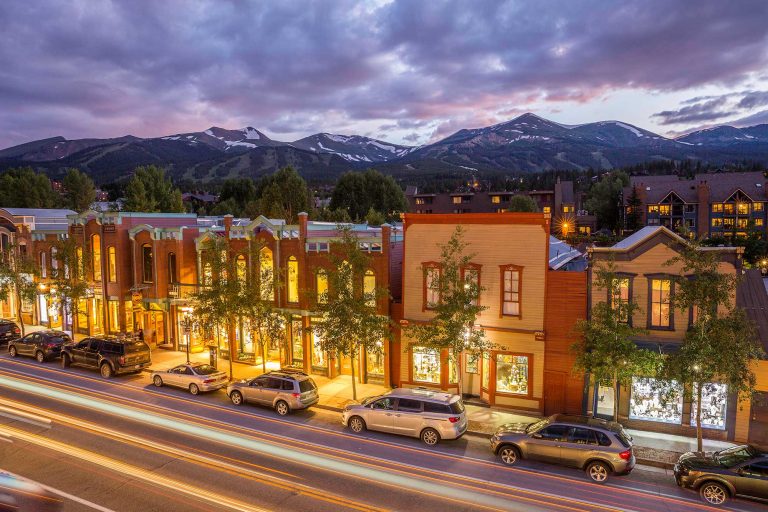 Embrace The Spirit
BLike Breckenridge™️ is a movement born of the spirit of our historic mountain town for those who call it home—whether for a weekend or a lifetime—to live by. It is a cause that connects us to each other, that we can all be a part of.