One of the most common tips you'll hear when planning a trip to Breckenridge is plan in advance.  If you want to take a guided tour – make reservations before your trip.  If you want to go out to dinner – book a reservation or plan to arrive well before you get hungry.  It's a lot to think about and if you're planning for more than two people, factoring in all the wishes and whens of your group can get overwhelming fast.  Thankfully, Breckenridge offers plenty of impromptu ways to enjoy your vacation.  Explore our summer guide to Breckenridge's last minute and drop-in activities for non-planners.
Explore Main Street
Main Street offers a vibrant collection of boutiques, gear shops, artisan goods and local restaurants to explore. Plus, with Breckenridge being so easy to get around, that means you can
Local's Tip: Swing by the Breckenridge Welcome Center in the heart of town for local info, trip planning advice and what's happening in Breckenridge today!
Hiking & Biking
If you truly want to experience Breckenridge's breathtaking beauty, hit the trails! There are hundreds of hiking and binking trails in and around Breckenridge, from gentle dirt roads to challenging summits. Rent road bikes to leisurely cruise through town or explore the backcountry via Mountain Bike.
Local's Tip: Be sure to review and follow Leave No Trace  principles before heading out and always be prepared for your adventure!
Wildflower Peeping
Wildflowers bloom in Breckenridge from late-April through early-October, which means if it isn't ski season, it's wildflower season. The first spring blossoms peer out from under a late dusting of snow, and the last compete to spread their seeds before winter's snowy inundation. No matter the summer month you visit Breckenridge, you'll find a variety of nature's blossoms to delight you.
Stand-Up Paddle Boarding
Once the ice has melted in the Breckenridge high-country, it's hard to find a still body of water without witnessing stand up paddle boarding in Breckenridge, also know as SUPing. With rental locations throughout Breckenridge, SUPers flock to areas like Maggie Pond or nearby Lake Dillon to feed their need for floating freely among the mountains. If you really want to test your balance, opt for a SUP yoga class to soak up some sunshine and get your blood pumping.
Art Classes & Workshops
The creative pulse of downtown Breckenridge and a crucial point of community pride, the Breckenridge Arts District is a buzzing hub for workshops and festivals. Thanks to the nonprofit BreckCreate, a full lineup of artistic opportunities are on tap any day of the week. Step into woodworking, get your hands dirty, take a walking tour and dive into Breck's famous interactive festivals.
DIY Art Tours
Breckenridge boasts an impressive open-air art collection with dozens of public art displays strategically placed around town.  You can tour the collection anytime through a self-guided public art tour on your smartphone.  If you're in the market for new decor, we encourage you to tour a few of the art galleries around town.
Free Museums & Parks
Breckenridge is rooted in its past and boasts one of the largest historic districts in Colorado. Visit a few of the free, family-friendly museums operated by the Breckenridge Heritage Alliance.
Local's Tip: If you're interested in booking a guided historic tour, you'll want to call 48 hours ahead.
If you've got the kiddos in tow, Breckenridge offers playgrounds throughout the town, each easily accessible from lodging and recreational locations. Breckenridge playgrounds have unique offerings and themes, with elements suitable for kids of all ages.
Recreation Center
Spend an afternoon exploring the Breckenridge Recreation Center to find something everyone will love. For the ambitious athlete in the family, you will find an indoor running track, a newly renovated and expanded free weight room, circuit weights, cardiovascular equipment and two fitness studios. After a full day on the mountain, the steam room, hot tubs, sauna and a lap pool with a hydraulic lift, will aid in well-deserved relaxation. The kids love the leisure pool with water slide, vortex and kiddie fountain. Childcare programs are also available. If you want to soak up some summer sun, head outside to the tennis courts or skatepark.
Brewery & Distillery Tours & Tastings
Catching up with friends over pints and craft spirits is a ski town pastime that never gets old. Visit the pup-friendly Broken Compass for a chocolate coffee stout and some pinball or the Breckenridge Brewery for the latest seasonal taps and a cheesy plate of nachos. Take a tour at the Breckenridge Distillery and then settle in for a multi-course culinary treat in the stylish restaurant space. Swirl award-winning wines at the Continental Divide tasting room and sign up for a custom wine blending experience.
Find more ideas on where to sip wine, linger over happy hours and discover grown-up nightlife scenes.
Pool Day
While Breckenridge is known for its mild summer temperatures, it's still warm enough to soak up some mountain rays by the pool, and perfect for a dip after a long day on the trails. And what's better than tiring out the kiddos while you get to work on your tan? Take in views of the Tenmile Range during the day, then come back by night to experience stunning stargazing via hot tub.
Gondola & Epic Discovery
Breckenridge Ski Resort's Epic Discovery offers family-friendly summer activities located at the base of Peak 8 and easily accessed by the free scenic BreckConnect Gondola from town. As soon as you exit the gondola you will be entering Peak 8 Base Camp — home to tons of summer activities and fun for the whole family including alpine slides, the Gold Runner Roller Coaster, the Lil' Climber Ropes course, miniature golf, trampolines, mazes, zip lines and more.
Country Boy Mine
Dig into a real Breckenridge gold mining experience at Country Boy Mine, where you'll have the chance to head underground and tour a historic gold mine. After your done, pan for gold, take an award-winning scavenger hunt and meet the local burros!
Local's Tip: You'll want to call or make a reservation before heading over, but they tend to have last minute availability.
Live Music
Seated and acoustic or live, loud and out of your seat, music is the universal language that brings us all together. Breckenridge's bars, restaurants and event venues feature weekly bands and DJs-
Escape Rooms
Reservations are needed, but with multiple options around town, an escape room could be the perfect indoor entertainment for your group. Choose from three family-friendly themes at Mountain Time Escape Rooms (add on holograms or computer-generated imagery). Escape Room Breckenridge gives you an opportunity to pool your wits to solve riddles and uncover clues in a race against time.
Indoor Ice Skating
The Stephen C. West Ice Arena offers ice skating, freestyle (competitive figure skating), hockey and games for the whole family all year round in their indoor skating rink. Public skating and hockey sessions are generally offered daily.
Axe Throwing
Embrace the flannel-wearing mountain man (or woman) in you with a trip to MTN Axe! You'll be shocked how good it feels to chuck an axe across the room then perfect your aim to bullseye.
Local's Tip: You'll want to reserve ahead, but axe throwing is a great last minute activity to book.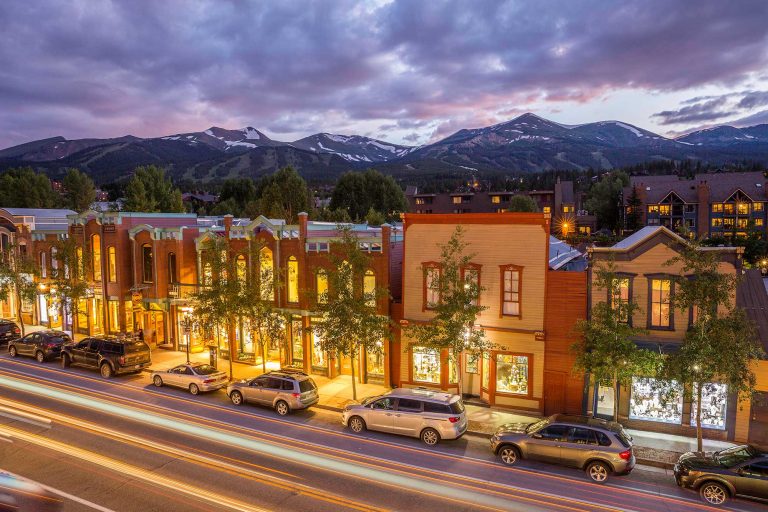 Embrace The Spirit
BLike Breckenridge™️ is a movement born of the spirit of our historic mountain town for those who call it home—whether for a weekend or a lifetime—to live by. It is a cause that connects us to each other, that we can all be a part of.