Breckenridge has built a reputation for its adrenaline-pumping adventures, from snowboard parks to wild mountain bike rides. But it's also a laid-back mountain town filled with ways to indulge in self-care, wellness, and relaxing activities.  Here's a guide to relaxing activities in Breckenridge for retired guests and residents — or those who want to take it easy, or not, in the sunshine-drenched Victorian town.
Top Leisure Activities in Breckenridge:
1. Head Outdoors
Many of the top outdoor activities in Breckenridge are able to be amped up or scaled back depending on what you are looking for that day.   Head outdoors to rejuvenate, soak up the sunshine and enjoy Breckenridge's mountain views.  Breckenridge offers plenty of laid-back — yet awe-inspiring — outdoor recreation opportunities, including summer options like biking along the Blue River, fly fishing on the Blue and hiking.
Top Outdoor Activities To Relax & Rejuvenate
Hike – Pick an easy or moderate trail and focus on enjoying the views and taking in the sights and sounds of nature.
Fly Fish – Cast, relax and listen to the river.  Fly fishing services like Breckenridge Outfitters and Mountain Angler offer expert guides year-round; they'll tell you what and where the fish are biting and teach you how to cast if you need tips.
Bike – The secret to a relaxing bike ride?  Making sure it's all downhill! We recommend renting a bike in-town and cruising to nearby towns on the Summit County Rec Path.  Another option is signing up for a Vail Pass Bike Shuttle for a smooth downhill experience. Local bike shops will shuttle you and the bikes to the top of Vail Pass and let you bike down 14 miles of a smooth, paved bike path surrounded by forests, fields and rivers. It's one of the best ways to experience the high elevation adventure, without getting out of breath.
Golf – Breckenridge's Jack Nicklaus designed 27-hole golf course offers plenty of challenge as it rolls through the valley. Bonus: The Club House deck offers sweeping views of the course and a great selection of apps and drink specials.
Free Gondola Ride – During the peak of summer (mid-June through mid-September), you can take a free gondola ride up to the base of Peak 7 or 8, and perhaps enjoy a stone hearth pizza or drink at Sevens Restaurant (Peak 7).  This ride offers 10 minutes of uninterrupted views that include Cucumber Gulch Wildlife Preserve and the Ten Mile Range.
Yoga – Sign up for an outdoor, indoor or SUP yoga class to enjoy an hour of relaxation and mindful movement.
2.  Explore New Hobbies & Interests
If you're a history buff, an art aficionado, or have an affinity for the performing arts, you've come to the right place. Breckenridge's arts and culture scene is thriving with daily opportunities to learn a new skill, experience history or take in live music or theatrical performances.
Top Ways to Experience History, Art & Culture
Historic Walking Tours – Several tours will tickle your imagination of what life used to be like in the rough-and-tumble land of Breckenridge. Behind Swinging Doors Saloon Tour takes you both into historic bars like the Gold Pan, as well as new sites like the Breckenridge Distillery. The Haunted Tour brings to life female apparitions spotted hanging out on second floors, and more. Or check out the Tombstone Tales Tour in Breckenridge's historic cemetery. Gold panning and miner's hikes abound, with dredge hikes, ghost town tours and gold and silver mine tours.
Explore a Gold Mine – Head to Country Boy Mine to explore one of Breckenridge's most popular gold mines. This 1,000-foot expedition into the mine includes mining history, stories of a miner's life and finishes the experience with gold panning outside the mine.
Free Public Art Tour – Public art around the Riverwalk Center and Sculpture on the Blue feature realistic and abstract sculptures using a broad range of subject matter and materials. The sculptures invite public interaction, so don't be afraid to touch.  As you walk around town, you'll see a variety of public art.  You can event take a free self-guide tour of the art and scultpures around town.
Art Classes & Workshops –  Learn a new skill or technique at one of BreckCreate's art workshops or drop-in classes. Rotating offerings include jewelry making, glass blowing, woodworking and ceramic classes.
Art Galleries – Colorado artists heighten the state's exquisite, natural beauty through their creative perspectives, and there's no better place to explore Colorado art than at Breckenridge galleries.
Live Music – Breckenridge Music and the National Repertory Orchestra both present grand orchestral and chamber music. Renowned and up-and-coming musicians spend their summer weeks filling Breckenridge with rousing music — and making it fun and accessible to people who otherwise would not find themselves in a concert hall.
Theatre Productions – Breckenridge's Backstage Theatre offers a wide variety of theatre productions throughout the year with summer programming for children.
3. Eat, Drink, Shop
Connect with friends and family over worldly inspired cuisines, fresh takes on culinary classics and plenty of craft beer and cocktails made from our local brewers. Shops in Breckenridge include local boutiques, gear stores, art galleries, children shops and everything in between.
Pack your dining experiences with foodie favorites, top patios, locally-crafted cocktails or high-end dining for an evening filled with well-deserved indulgence and the ones you love.  Don't forget to stroll Main Street to find local art, small boutiques, gear specialist and wellness shops.
No matter where your interest lies — be it historical or architectural, nature-oriented, arts and culture, or shopping and dining — Breckenridge provide plenty of activities for those who want to kick back.
The Breckenridge Tourism Office works to enhance and promote the unique character and experience of Breckenridge as a world-renowned destination resort and to represent, serve and perpetuate the common interest and character of its membership and community.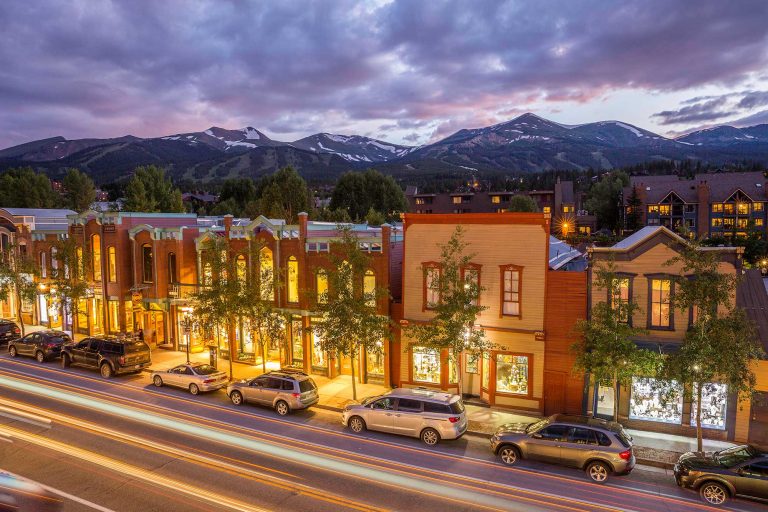 Embrace The Spirit
BLike Breckenridge™️ is a movement born of the spirit of our historic mountain town for those who call it home—whether for a weekend or a lifetime—to live by. It is a cause that connects us to each other, that we can all be a part of.