Summer in Breckenridge, Colorado, brings longer and brighter days, adventures and exciting events. This year-round destination has something for everyone and is perfect for couples, adrenaline junkies and families. There are so many things to see and do, from admiring Breck's clear blue skies, luscious green forests & snow-capped mountains to white-water rafting and other action-packed activities. If you'd like to know more about our unique mountain town, here are 5 reasons why you should visit Breckenridge from the UK this summer:
Hiking and Cycling Trails
During the summer, Breckenridge's trails open up endless possibilities. With the choice of easy, moderate & difficult hiking trails, its scenic beauty and endless mountain views can be enjoyed by all.
If biking is more your thing, experience our mountain town on two wheels! Head on a family bike or for more of an adventure, grab a mountain bike and take a ride on one of trails – which are suitable from kids and novices to experienced riders.
Fun fact: the base elevation of Breckenridge is 9,603 feet/2,927 metres
Fly fishing
For a relaxing day trip, take a stroll to a local mountain lake for incomparable views, and some fish. If you aren't an expert, don't let this put you off – fly-fishing in Breckenridge is also great fun for beginners and children. By mid-June the mountain lakes have normally shed their ice and the hungry fish start to appear!
To get started, all you need to do is ask in a local fly shop, get a map, and bring your packed-lunch. If you have little ones, they'll also enjoy fishing in Breckenridge's Maggie Pond.
Fun fact: Breckenridge's average temperature during the summer is 22 degrees Celsius!
Water Activities
So when you think about a mountain town, you might not think about Breckenridge's incredible rivers, waterfalls and nearby lakes. Over 300 inches of snow falls during winter, which later melts into crystal-clear water.
Our favorite summer water activities include relaxing rafting trips perfect for families, white-water rafting, kayaking and the increasingly popular, paddleboarding – which is known locally as "SUPing".
Fun fact: on average, there are 300 days of sunshine each year in Breckenridge.
Breckenridge events
Breckenridge sure knows how to party! The town really comes to life in the warmer months which is why it's the ideal time of year for a visit. Highlights include summer cycling events, art festivals and installations, Breckenridge Summer Beer Fest and of course, the 4th July celebrations!
Celebrate Independence Day with the locals over an action-packed weekend full of exciting events. Activities include a scenic 10k trail run, mountain bike race, Fourth of July garden party, Main Street parade and a live performance by the National Repertory Orchestra!
Fun fact: Breckenridge was settled during the Pike's Peak Gold Rush in 1859, miners and those looking to get rich came to Breckenridge seeking out the "Blue River Diggins".
Summer dog-sledding
If you've been on a dog-sled before, it's unlikely you've ever experienced anything like this! People have been using dog-powered sleds for more than a thousand years and Breckenridge offers some of the best dog sledding in Colorado. In the summer we swap the winter sleds with carts and scooters, and let these highly trained furry Siberian Huskies lead the way!
Suitable for both kids and adults, this is an once-in-a-lifetime experience.
Fun fact: Today, the town's population is 3,535.
This is just a small fraction of what you can experience in Breckenridge during the summer.
Want to visit us?
How to get to Breckenridge from the UK
Travelling to Breckenridge from the UK is easy. Catch an international flight to Denver International Airport which is just 1 and a ½ hours from Breckenridge. There are numerous airlines offering indirect flights but you can also fly directly from London Heathrow to Denver with British Airways.
Once you've arrived in Denver, you can either opt for an airport transfer to Breckenridge or head on your own mountain road trip. We recommend hiring a car so you can take in the beautiful scenery and wildlife, en route!
Remember, you will need to apply for travel authorisation under ESTA before you travel. UK citizens must also have an electronic passport to be eligible for visa-free travel to the US.
We hope you enjoyed reading about Breckenridge in the summer, we look forward to meeting you soon!
If you want to find out more about what you can get up to while traveling to Breckenridge from the UK during the summer, contact the Breckenridge Welcome Center.
The Breckenridge Tourism Office works to enhance and promote the unique character and experience of Breckenridge as a world-renowned destination resort and to represent, serve and perpetuate the common interest and character of its membership and community.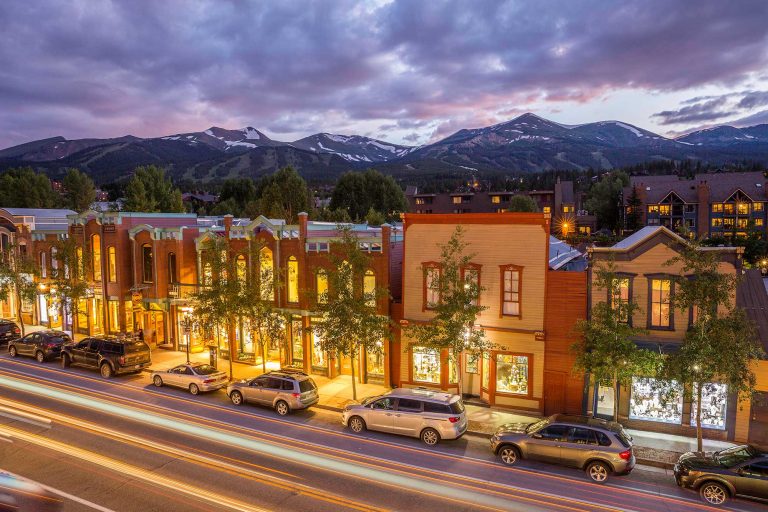 Embrace The Spirit
BLike Breckenridge™️ is a movement born of the spirit of our historic mountain town for those who call it home—whether for a weekend or a lifetime—to live by. It is a cause that connects us to each other, that we can all be a part of.