Regardless of the season, there are a few must-do items that are integral to the ultimate Breckenridge experience.
Take In The Views
The beauty of Breckenridge never ceases to amaze!  Nearly every spot in town has a gorgeous mountain view.  And while you can enjoy the view while doing an everyday task – buying groceries, or filling up the gas tank – it's definitely recommended to dedicate a part of your vacation towards taking in the best views. In the winter, the view from the ski area delivers a winter wonderland of snow, mountains and the town.  On a clear day, you can even see Lake Dillon to the north.  From the Summit of Peak 8 above the Imperial SuperChair, (12,998 ft. after you've hiked with ski gear in tow!) you can see Pikes Peak to the south and see why that famous fourteener was the inspiration for "America the Beautiful."
During the summer, the mountains are bursting with wildflowers, plants and wildlife.  Enjoy the tranquility of the Blue River from the bike path or head hit the hiking trails for an up-close experience with nature.
Fall is perfect to take a scenic hike, bike or drive on Boreas Pass for incredible views of the ski resort and town.  In September and you'll see fall colors you never thought possible. We recommend cranking up John Denver on the playlist for a nice sing-along as you go.
And while your focus might be on the leafs above you, don't forget to look down and around while town and keep your camera ready – Breckenridge's famous red foxes are plentiful, moose are known to walk down Main Street, and the historic, colorful buildings offer many Instagram worthy moments.
Other good spots:
The deck at the Lodge at Breckenridge for more southern views
The scenic overlook on Ski Hill Rd headed up toward Peak 8
Epic Discovery zipline or scenic overlook spots at the top of Colorado SuperChair at Breckenridge Ski Resort (summer access only)
Get Outside
It's Colorado after all! You've come for the views and the mountains – now it's time to explore them!   In Breckenridge, we're pretty lucky to have amazing weather year-round.  Boasting over 300 days of sunshine a year, it's always easy to find an excuse to get outside (just don't forget your sunscreen and sunglasses!). Winter are filled with a mix of sunshine and powder days but very few truly cold days.  Summers are magical.  Most days are in the 70s but feel warmer in the sunshine.  Regardless of the season, getting outside is easy when there is so much to do! From the wild to the mild there's an activity for every type of adventurer throughout the year.  Here for the summer?  Enjoy the fresh mountain air on a hike, bike ride, raft, zipline, fishing trip, scenic drive or stroll down Main Street.   If you're a child of winter, don't miss a chance to get outside while snowshoeing, cross-country, downhill skiing or snowboarding or simply taking in the winter views with a walk throughout the town.
Craft Your Own Ultimate Breckenridge Experience
There has always been an innovative and adventurous spirit in Breckenridge – from the original residents searching for gold, to the first skiers to the area, and now 'young ski bum' business owners keeping Breckenridge's independent vibe strong.  And craft plays king in many of these places, from craft beer to craft spirits, hand-crafted skis and hand-make kids clothing.  Breckenridge has a "shop local" experience worth your time and money – and you will meet some amazing people along the way. A few places to consider: RMU Ski Shop and Tavern for skis and a pint, the Breckenridge Distillery for a swig and lesson in craft spirits, Magical Scraps for one-of-a-kind children's clothing and the Breckenridge Soap Company for specialty Breckenridge soaps.
Explore the Arts District
Breckenridge Creative Arts District – or BreckCreate for short – has been developed by the Town of Breckenridge to support and promote arts, culture and creative experiences throughout Breckenridge.
BreckCreate is a unique town amenity offering visual and performing arts, heritage and museum activities, craft education, culinary and healing arts, design, film and literature to facilitate the exploration of our ourselves, culture and community thorough the creative process.  The BreckCreate campus, with workshop spaces, public art displays and more, is located near the corner of Main Street and Washington Ave., anchored by the Old Masonic Lodge gallery and event space on the west end and the Breckenridge Theatre on the east.  State-of-the-art events and performances include that include WAVE: Light + Water + Sound art festival in June, the Breckenridge International Festival of Arts in August and many musical performances from nationally recognized artists, the National Repertory Orchestra and the Breckenridge Music Festival.
There is plenty of programming for kids and families, and many classes are free or at a reduced price.  I especially love the free family concerts and performances in the summer at the Riverwalk Center; learn more at http://www.breckcreate.org/kids-families/.
Tip – many of the free classes are first come, first served, so check out the schedule in advance so you know what is on your must-do list, and plan around it!
Fuel Up Or Cheers The Day
Breckenridge is home to many locally-owned, independent restaurants.   A trip to Breckenridge isn't complete without a shared meal at one of our many eateries.  We have offerings from fine dining (Hearthstone, Briar Rose, The Traverse) to the classic mountain town burger joint (Empire Burger, Flip Side, Blue Stag) and everything in between.  For one of the best Colorado-inspired meals I've ever had, try Relish with their fresh take on Colorado game, fish, fresh produce and desserts (Palisade peach preserves anyone?), or grab a ski town slice at local favorite Giampietros Pizzeria (it's worth the wait – I promise).  And if pub food and fare is more your style, Breckenridge has some of the classic Colorado offerings in our namesake Breckenridge Brewery, Downstairs at Eric's and Fatty's Pizzeria. Make sure to also check out one of the newer dining additions to Breckenridge.
More of a breakfast person? The Crown, Mom's Baking Company, Cuppa Joe and Amazing Grace offer so many great breakfast goodies, it's hard to pick just one.  Looking for a great happy hour scene?  There's almost too many to list!
With so much going on, there's something everyone can enjoy during a summer trip to Breckenridge.
The Breckenridge Tourism Office works to enhance and promote the unique character and experience of Breckenridge as a world-renowned destination resort and to represent, serve and perpetuate the common interest and character of its membership and community.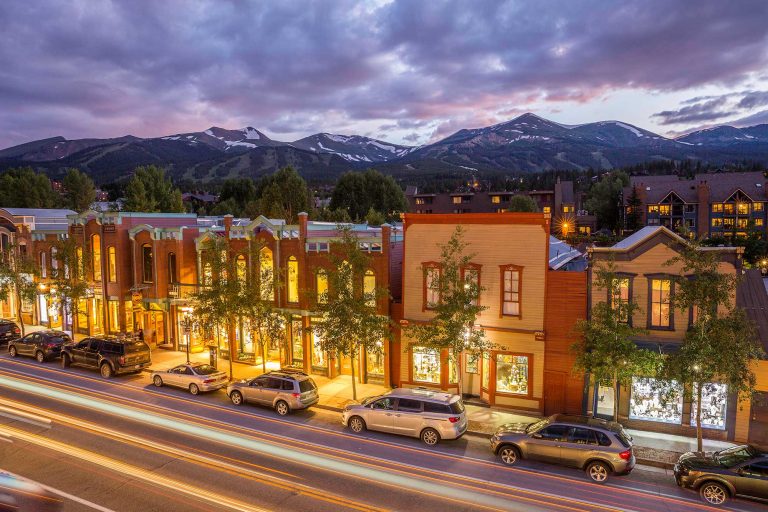 Embrace The Spirit
BLike Breckenridge™️ is a movement born of the spirit of our historic mountain town for those who call it home—whether for a weekend or a lifetime—to live by. It is a cause that connects us to each other, that we can all be a part of.