Let's be real, when you're over the age of 40, the type of nightlife you want often differs from the nightlife you sought out in your twenties and thirties. And getting older doesn't mean the fun has to stop! So, where do you go in Breckenridge by night to find the action when you're 40+? This is a complete guide to evening outings for those looking for more than a club.
Breck Create
Breckenridge has a great commitment to increasing the access to arts for Summit County residents and visitors alike, so take advantage of the incredibly diverse, high-quality music the folks at Breck Create are bringing to our small mountain town! See live shows year-round, and don't miss their annual Breckenridge Music Festival featuring concerts, community events and more! Don't forget to secure your seats, their intimate venue located in the heart of Breckenridge fills up fast!
Breckenridge AirStage
Let the good times roll! Breck Create takes concerts outside, on the road and into your neighborhood with its new mobile stage, the Breck Music AirStage (a retrofitted 1975 Airstream Ambassador Travel Trailer) to accommodate a 14.5-foot wide by 9-foot deep stage. Performances at the AirStage will include neighborhood concerts, family-friendly pop-ups, artist residencies and special donor events as well as programming that supports Breckenridge Music Festival.
Check out more places to see live music in Breckenridge.
Blue River Bistro
This lively, eclectic-American restaurant delivers some of the best hand-crafted cocktails and artisanal wines in town. Their food and drinks feature fresh ingredients, inspired by seasonal progression, and are always delivered with style. But they don't stop there. This stellar spot has live jazz and blues music throughout the week, as well as a local's favorite late night happy hour featuring 2 for 1 martinis and appetizers from 9pm to midnight.
View their menu and make reservations, and check out their live music schedule.
Continental Divide Winery
The world's highest winery is a spot you don't want to miss! Not only can you sip wines in this cute Main Street Station location, you can also take advantage of their wine blending class, perfect for ladies' nights out, bachelor/bachelorette parties or just a fun happy hour after work. Craft your own custom wine based on your personal flavor preferences with delicious varietals. These classes are limited to 14 guests, so hold your spot!
The Breckenridge Backstage Theatre
The Backstage Theatre is the oldest theatre company on Colorado's Western Slope! This resident performing-arts theatre is newly renovated and sits in the beautiful historic district in downtown Breckenridge. Featuring an array of performances year-round, this is the perfect idea for a night out.
View upcoming performances and buy tickets.
The Gold Pan Saloon and Carboy Winery
The famous Gold Pan Saloon adds another chapter with the addition of Carboy Winery, a unique Colorado winery offering a selection of select Carboy wines in bottle and on TAP! Locals and visitors alike come for the camaraderie, music, great food and libations.
Carboy sources their grapes from the classic wine regions of California, including Lodi, Alexander Valley, Sonoma, and Russian River, as well as from Washington State and Colorado. The juice is vinted, blended and aged at their wineries in Littleton, Colorado, and in the basement of the Gold Pan right here in Breckenridge. Their unique serving system is a tap, like for beer, which prevents aging as oxygen never meets the wine until it hits your glass. Try a variety of their wines in three- and four-glass flights, or fill your growler from their tap. Pair that with a cheese board or head next door to the Gold Pan for a bite in the oldest bar west of the Mississippi. If you like what you try, buy a bottle to take home. They make great gifts too!
Traverse Restaurant and Bar
If you choose this beautiful dining establishment, you'll be surrounded by breathtaking mountain views and spectacular romantic sunsets. This quiet, peaceful retreat from the bustling of Main Street offers an innovative variety of expertly prepared delicacies that feature local and sustainable ingredients. Happy hour is daily from 4-6, and dinner goes from 5-9.
Breckenridge Brewery
Colorado has some of the best beer around, so why not check out this town favorite? This famous brewery was the first in Breckenridge to open, and remains an icon of our quaint mountain town. This bar and restaurant offers breathtaking views and a wide selection of beers, ranging from traditional ales and lagers to sours, saisons, and barrel-aged beer, as well as yummy grub to pair with any pint. Want to learn more about the brewing process? All of the excitement sits right behind the bar, so belly up, watch the action, and talk to the bar and brewery staff!
Ghost Tours & Historic Tours
Ready to get spooked? Explore the darker side of our wild west past with chilling tales of the ghosts that remain here on a ghost or cemetery walking tour. Check out Breckenridge Tours' Ghostly Tales tour with ghost hunting equipment provided, or the Voices from the Grave tour which starts at the site of the original cemetery of Breckenridge. Join Breckenridge Heritage Alliance on a historic tour around town, a ghost town or historic mine.
The Breckenridge Tourism Office works to enhance and promote the unique character and experience of Breckenridge as a world-renowned destination resort and to represent, serve and perpetuate the common interest and character of its membership and community.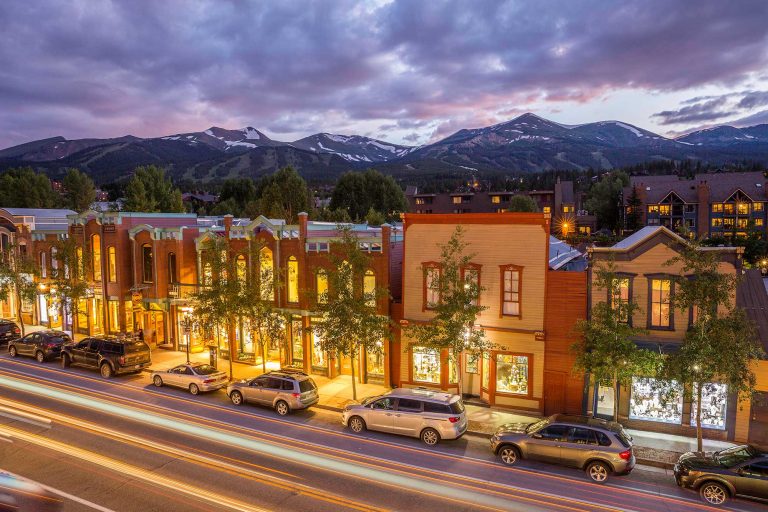 Embrace The Spirit
BLike Breckenridge™️ is a movement born of the spirit of our historic mountain town for those who call it home—whether for a weekend or a lifetime—to live by. It is a cause that connects us to each other, that we can all be a part of.